Who is Athing Mu, the 800-Meter Olympic Star?
She likes Grey's Anatomy AND might win gold!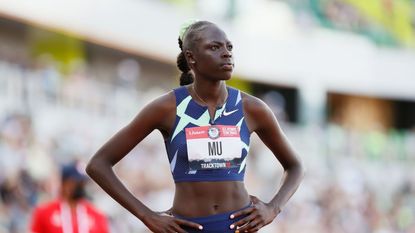 (Image credit: Steph Chambers)
During the Tokyo Olympics, we've seen countless young women athletes solidify their spots as the next generation of Olympic greats. Competitors like 13-year-old skateboarded Sky Brown, 25-year-old swimmer Simone Manuel, and, well, the entire U.S. women's gymnastics team. Joining the how-are-you-so-cool cohort is 800-meter U.S. track runner Athing Mu (pronounced "uh-thing-moe," @ every race announcer who has butchered it in the past ). The 19-year-old New Jersey native has been running track since she was six and, headed into Tuesday's 800-meter final, is considered a top contender for gold.
Mu raced in college before going pro.
Mu grew up in New Jersey and graduated from Trenton Central High School in 2020. (She however didn't run track for her high school team, instead opting to race for the Trenton Track Club, where she met her current coach Al Jennings.) She attends Texas A&M University, where she studies kinesiology. As a college freshman, she set numerous track records but decided to forge her college eligibility in order to go pro. Nike signed her and is her sponsor this Olympics.
She's one of seven children.
Mu is part of a big family: She's the second youngest of seven children. Her parents emigrated from Sudan before she was born. Mu was born one year after they arrived and was the first of her siblings to be born in America. Her older brother, Malual, runs track at Penn State University.
She holds multiple records.
Mu broke the American women's record at the 600-meter event (which is not an Olympic event) at the 2019 USA Indoor Track and Field Championships. Her time of 1:23.57 is just .13 seconds off of the world record. She also holds the 8000 meters indoor collegiate and world under-20 record with a time of 1:58.40, and the 800 meter USA collegiate record with a time of 1:57.73. She also set the women's 800-meter Olympic trials record.
Mu's a world leader in the 400-meter dash, too: She holds the fastest time by an American in 2021 in the event, which happens to be the fourth-fastest time in the world. However, she's not racing the open 400 at the Olympics. She did, quite spunkily, campaign for a spot on the 4x4 meter relay at the post-NCAA press conference. "I would love to run on the Olympic 4x4. I mean, I know experience is definitely something that I guess you look for on an Olympic team. But not going to lie, I definitely watched a couple of 4x4 races of Team USA. Watching their splits and everything—and I remember watching Allyson Felix split 48—I believe this was the 2017 London World Championships. And you know what? I split 48 today. So. Wink wink, Team USA coaches."
She's a contender for 800-meter gold.
My qualified for the 2020 Tokyo Olympics with a time of 1:56.07, the world-leading time and the second fastest time in American history. She dominated during the prelims and semifinals, and is a favorite to win gold. If she does, she'll win the U.S.'s first gold medal in the event since 1968.
Her pre-race pump-up playlist includes songs from Disney Channel.
We feel SEEN. According to her official Olympics page, she listens to "Determinate" and "Turn Up the Music" from the Disney Channel film Lemonade Mouth before races.
She's a Grey's Anatomy fan.
Her other hobbies, according to her official Team USA bio: She plays the tenor saxophone, likes photography and making YouTube videos, and is a room décor DIY-er. Olympians—they are just like us!
She wants to own a farm when she's older.
She's already planning that post-Olympic retirement life!
RELATED STORY
Celebrity news, beauty, fashion advice, and fascinating features, delivered straight to your inbox!
Megan DiTrolio is the editor of features and special projects at Marie Claire, where she oversees all career coverage and writes and edits stories on women's issues, politics, cultural trends, and more. In addition to editing feature stories, she programs Marie Claire's annual Power Trip conference and Marie Claire's Getting Down To Business Instagram Live franchise.