What Makes an Olympic Moment?
In the past it meant overcoming struggle...and winning. But why must athletes suffer to be inspiring?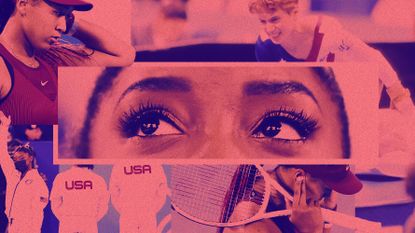 (Image credit: Getty/Susanna Hayward)
"The great ones find a way."
This quote is a part of a Tweet published by a fairly well-known writer on July 27, the day after Simone Biles exited the Olympic team gymnastics competition to take care of her mental health. The "great one" he's referring to is Kerri Strug, whose 1996 Olympic vault has re-seized the headlines this week.
Headed into the final rotation, Strug performed on the vault, despite an injured ankle. Her coach had told her she had to compete or the U.S. would lose out on gold. She landed her move, clearly in agony. People rose to their feet. Her coach carried her off the mat. On YouTube, the video of her performance is titled "Epic Olympic Moments." An inspiring music score swells. We feel all the feels.
The writer talks of Strug's "grit" and "determination." Strug surely did have grit and determination. She was a great one. The moment was epic. That doesn't mean that completing the vault while suffering an injury is what made her determined or great or epic. It also doesn't mean that Biles, by opting not to compete while battling a mental health issue, isn't determined or great or epic, as the author of the Tweet implies.
It's easy to discount those you don't agree with as Twitter trolls. This is one person's tweet. It has 9,600 likes. Not astronomical, but not negligible. Though the writer doesn't directly name Biles, the Tweet is casting a clear comparison between two athletes—Biles didn't find a way, and Strug did. Strug is a great one, and Biles is not. With the sheer mass of support Biles is receiving online, it's easy to believe—hope—that this singular message will fade into Internet oblivion without so much as another retweet.
But the problem is, this is not just one writer's opinion. This sentiment—that the "great ones" find a way, despite personal cost—has infected American sports. It's what many consider the embodiment of the Olympic spirit: Keep fighting, no matter what, to achieve greatness. The more adversity an athlete endures, the more inspiring the win. We wait with bated breath to see if Biles will compete in individual apparatus events—because if she does, and wins, her Tokyo Olympic journey will feel sensational.
But why must our athletes suffer to be considered inspiring? Why must they suffer until they win for their effort to be considered an epic Olympic moment?
Every two-to-four years, as the Games rolls around again, we hear announcers and pundits invoke the intangible, yet ever referenced, Olympic Spirit. The Olympic Creed, the guiding principle of the games, uses a quote by Baron de Coubertin to help define it: "The most important thing in the Olympic Games is not to win but to take part, just as the most important thing in life is not the triumph but the struggle. The essential thing is not to have conquered but to have fought well."
But the world of competitive athletics has hijacked and twisted this philosophy. It's not enough to "struggle" and get last—you have to struggle your way to a win. Struggle and finish at the top of the podium, and you're a lauded hero. Struggle and actually lose? You're a… well, loser. A "national embarrassment," as one Texas attorney general labeled Biles. (After receiving backlash, he apologized.) It's the plot of every sports movie, the running narrative of real-life athletics. An underdog? Can't get enough of them. An athlete who, battered and bruised, fights back to glory? Sign us up. Someone who's at the top of the game and falls from grace? Of course, but only if they rise again. Those have been the rules. No one signed up for an unhappy ending.
But in light of Biles's bravery this week, people are reconsidering "epic" Olympic moments like Strug's. That perhaps it was a toxic, win-at-all-costs culture that compelled Strug to compete injured—and not, as we'd like to believe, the "Olympic spirit." And Strug's is certainly not an isolated case: Even on that same Olympic team, 14-year-old Dominique Moceanu had to perform her floor exercise after suffering a tibial stress fracture and received no cervical spine exam, as she recently shared on Twitter.
This year's games were ripe for the age-old redemption plot. After over a year of social, political, and racial turmoil, a contentious election, and a virus that has taken the lives of approximately 4.2 million people across the globe, we are desperate to beat the odds. It's okay that we want that; everyone clings to hope during times of despair. But in truth, we are still reeling from 18+ months of anguish. There is still a virus surging, taking lives. Athletes are not immune to this pain and they are susceptible to the pressure. They, after shifting their dreams a year when the Games were postponed, are also still struggling with the fallout.
Also this year, we've seen women athletes pushed to the brinks. We've watched them struggle under the crippling weight set upon their shoulders, a weight often borne more so by women athletes of color. We make headline news of their greatness, but as soon as the narrative shifts, some label them as "failures" or "quitters." And in four years, should any of these athletes who've been disparaged decide to compete again, we will likely use their current "shortcomings" as fodder for a sports fairytale, their very own awe-inspiring underdog story.
But instead of seeing these moments as failures, instead of viewing them as moments in a comeback arc, what if we respected them as their own triumphs? What if we remembered them as moments that embody the true meaning of the Olympic spirit—to take part, to fight well?
Biles made the brave choice to drop out of competition to put her mental health first. Naomi Osaka, who, after pulling out of the French Open to protect herself from a barrage of press engagements, which triggers her anxiety (a reasoning that she has no obligation to share), candidly admitted the truth that enormous pressure played a role in her loss at the Olympics.

So, no, this year's epic Olympic moment might not be Simone Biles on top of the podium, gold hung heavy around her neck, but instead it's her cheering on her teammates from the sidelines after putting her wellbeing first. It's Osaka, standing up for herself and speaking honestly about her health and pressure. It's Katie Ledecky, who, despite an inspiring first-place win in the women's 1500 meter freestyle, is being snubbed as the queen of swimming no more—but wants everyone to chill the eff out about it. "I think people maybe feel bad for me that I'm not winning everything and whatever, but I want people to be more concerned about other things going on in the world, people that are truly suffering," she said. This year's Olympic moments include athletes being vocal about how their worth as humans is higher than the price of a medal. It also includes moments from athletes that didn't even make it to Tokyo, but are still using their voice for change.
This isn't to say that an athlete overcoming personal struggle and ultimately winning isn't inspiring, or worthy of being called an epic moment, or that they don't deserve their glory. They unquestionably do. This is to say that the winning part shouldn't be the deciding factor.
So let these moments join other historical favorites. Like in 2016, when U.S. track runner Abbey D'Agostino helped Nikki Hamblin, a competitor from New Zealand, to her feet after the two collided and collapsed in the women's 5,000 meter, sealing their fates as last and second-to-last but inspiring nations. Or in 1992, when 400-meter runner Derek Redmond painfully tore his hamstring halfway through his race and his father leaped on the track to help him hobble across the finish line.
What these moments share is that they are all bigger than sports. They represent something that can't be placed on a podium.
Stepping back from competition to protect mental health, standing up for your truths, and even trying and failing isn't a speedbump on the road to greatness. It's a moment of greatness itself.
RELATED STORY
Celebrity news, beauty, fashion advice, and fascinating features, delivered straight to your inbox!
Megan DiTrolio is the editor of features and special projects at Marie Claire, where she oversees all career coverage and writes and edits stories on women's issues, politics, cultural trends, and more. In addition to editing feature stories, she programs Marie Claire's annual Power Trip conference and Marie Claire's Getting Down To Business Instagram Live franchise.