Exclusive Q&A: Kristen McGuiness's 51 Dates
We interviewed the author of the new memoir "51/50: The Magical Adventures of a Single Life," about love, herpes, and what it's like to date sober.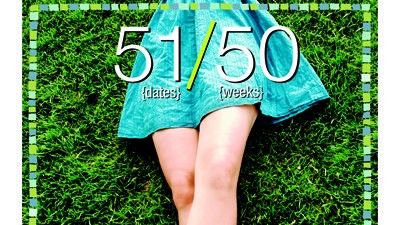 (Image credit: Courtesy of Soft Skull Press)
Kristen McGuiness went on 51 dates in 50 weeks—her reintroduction to the dating world after getting sober — and in the process learned what it actually means to get to know someone, outside of the party scene. Little did she realize, the person she'd get to know best was herself. The result of that experience is her new book, 51/50: The Magical Adventures of a Single Life (Soft Skull Press). Kristen chatted with Marie Claire about love, herpes, and what it's like to go on a date without a glass of wine as a social lubricant (the horror!).
Marie Claire: Tell me about this grand idea: going on 51 dates in 50 weeks. Why did you decide to do that?

Kristen McGuiness: Like all great ideas, it was born out of a combination of loneliness and desperation. It came to me at 1 a.m. when I was lying in bed, crying about being lonely, and I finally decided to do something about it. At that point, I hadn't been in a relationship for three years. It had been five years since a man had told me he loved me, and I'd been on a whopping three dates in the three years prior. A date a year is really not a good pace in terms of trying to meet someone, but I figured if I went on a date a week, I probably would. So I started going on blind dates, Internet dates, dates friends had set me up on. The Onion should be sponsoring this, because about 80 percent of my dates came from their personals Web site!
MC: What does the title mean?

KM: 51/50 is California state code for forced psychological evaluation. A major piece of my life, certainly, and of this story was the fact that prior to this social experiment, all of my dating had been done when I wasn't sober. I never had the chance to be in a sane relationship and be the kind of woman I wanted to be in the presence of men, because I'd always get drunk. So part of this wasn't just going out on dates, but also reclaiming that sanity.

MC: So what's alcohol-free dating really like?

KM: Everyone thinks alcohol is some truth serum, but I think it lets us mask what we're feeling, what our motives are, and who we really are. I didn't have any of that. I didn't have room for the B.S. that comes with drinking — sobriety made me incredibly honest on the dates. I walked in there as myself. And it kept most of my dates pretty sober, too, so I really got to know who they were, too. We got to know each other as people, not just prospective sexual partners.

MC: That honesty was pretty striking in the book — you even openly admitted to dates that you had herpes.

KM: My mom was not a big fan of me admitting to the world in a book I have herpes. But it was important to me to include that, because there are so many women out there who suffer from herpes and live in complete shame and secrecy about it — we all think we're the only ones, and we isolate ourselves with this "damaged goods" idea. I found through being able to admit I'm an alcoholic, and being around other people who frequently admit that, that knowing somebody else has what I have made it a lot easier for me to carry it. So I hope that by admitting I have herpes, I can help other women realize they don't have to be ashamed.
MC: Wasn't it kind of contrived going on dates when you knew you'd be writing a book about it?

KM: Actually, that meant that I was going into the dates really open-minded and observant about who these people were. Knowing I was going to write about this person made me really pay attention, where before I might have been like, "Oh, I don't like him. I'm not going to pay attention to him." And it made me realize that the more I learned about other people, the more I was able to grow and figure out what I like and don't like in a man.

MC: What was the most ridiculous date you went on?

KM: I went on some crazy dates, including one where we went to a sex shop and jousted with dildos, but the strangest one was the most boring date in history. We met online, and we had so much in common that walking in, I thought I was going to meet my soulmate. We'd lived in the same places, he was sober, too, we had similar stories, and he even looked like my dream man. But he literally did not speak. He said all of seven words to me, with about seventeen grunts in between.
MC: What did you learn about men from this experience?

KM: That they're really good people. One of my friends kept saying, since I was going on so many dates, "Do you hate men by now?" But it was exactly the opposite. I found that men are looking for their perfect mate, too. Maybe we weren't the right people for each other, but they had the same motives I did. It felt like two archeologists on the same dig where we're both looking for a magic gem. It was like, "I haven't found it yet, have you?" "Nope. Do you have it?" "Nope." "All right, well, good luck to you on your search!"
MC: What did you learn about yourself?

KM: Throughout the book, I deal with a lot of insecurity. Am I not pretty enough? Do I talk too much? I almost torture myself with those questions. But by the end I realize that the only thing I'd been lacking was faith. It can be about God, but it doesn't have to be — this world works exactly how it's supposed to. At the end of the day it's not about, "Am I skinny enough?" It's about, "Do I believe this is all going to work out as it should?"
MC: What do you hope women take away from your experience?

KM: The whole idea of "He'll show up when you least expect it" is great, but the truth is, to be just sitting there, waiting, trying not to expect it is really hard. Before I started this process, I'd be sitting at home and I literally thought someone was just going to come knock on my door — but that was never going to happen. I had to go out and find him. Once that search began I ultimately did — I have a boyfriend now, and while he wasn't one of the guys I met on these dates, I only met him because I was out enjoying my life and learning about myself. Sobriety was part of it for me, but really what it came to was being open to that adventure, and I hope to inspire other women to become open to it, too.
Anna Maltby is an award-winning journalist and editor and was most recently the executive editor of Elemental, Medium's in-house health and wellness publication. She was previously the deputy editor at Real Simple magazine and a deputy editor at Refinery29, and also held staff positions at Men's Health, Marie Claire, SELF, Fit Pregnancy, Natural Health and Condé Nast Traveler. Her writing has appeared in such outlets as The Wall Street Journal, Cosmopolitan, Glamour, O, Family Circle, Fitness, Redbook, Vogue.com, TeenVogue.com, MensJournal.com, CondeNastTraveler.com, FastCompany.com_ _and Brides.com. She received her BSJ and MSJ from the Medill School of Journalism at Northwestern University. Anna is also an American Council on Exercise–certified personal trainer and functional training specialist, a certified prenatal and postnatal exercise specialist, and a certified mat Pilates teacher. She lives in Brooklyn with her husband, two children, and two tuxedo cats.