What We're Reading: Phoebe Potts' Graphic Memoir
We're checking out Good Eggs, Before You Suffocate Your Own Fool Self, and My Lie this week.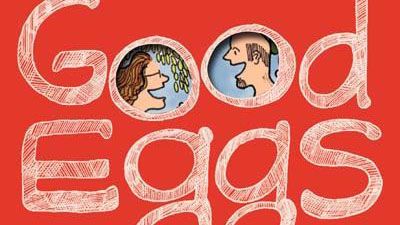 (Image credit: Courtesy of Harper Collins)
Are graphic memoirs by female artists a new trend? If so, we're loving it. Last week, we told you about Joyce Farmer's Special Exits, and this week we're gobbling up another — and a couple other books for good measure.
Good Eggs

Author: Phoebe Potts, an artist and writer.

Genre: Graphic memoir

What Happens: Potts' cute, cartoon-like drawings tell the story of her quest to conceive a baby. You'll giggle, you'll cry, you'll fall in love with the kooky-but-endearing characters.

When to Read It: When you're okay with the person next to you on the train looking over your shoulder — and maybe even laughing with you.

Details: Harper, September 21, $23.99
My Lie: A True Story of False Memory

Author: Meredith Maran, a journalist and bestselling nonfiction author.

Genre: How-Is-That-Possible?! memoir

What Happens: At age 37, Maran accuses her father of sexual abuse. Ten years later, she realizes he was innocent. Maran is one of the tens of thousands of Americans who, in the '80s and '90s, became convinced that they'd repressed memories of childhood sexual abuse, and when she realizes her memories were false, she has to pick up the pieces of this life-destroying mistake.

Why Read It: Ayelet Waldman (author of Bad Mother and the new novel Red Hook Road) says: "My Lie is a shockingly honest, stunningly nuanced book. Every parent, and everyone who has a parent, should read this searing father-daughter story." That pretty much sums it up.

Details: Jossey Bass, September 20, $24.95
Before You Suffocate Your Own Fool Self

Author: Danielle Evans, a young writer and fiction instructor at American University.

Genre: True-to-life short stories about youth and race in America

What Happens: In one story, a college student deals with an unexpected pregnancy. In another, a mixed-race girl visits her white grandmother for the summer. The much buzzed-about collection tackles what it means to be young and black or mixed-race right now, in bold, vivid prose.

When to Read It: When you're ready to be sucked in — but you're short on time. (Gotta love short stories.)

Details: Riverhead Books, September 23, $25.95
Anna Maltby is an award-winning journalist and editor and was most recently the executive editor of Elemental, Medium's in-house health and wellness publication. She was previously the deputy editor at Real Simple magazine and a deputy editor at Refinery29, and also held staff positions at Men's Health, Marie Claire, SELF, Fit Pregnancy, Natural Health and Condé Nast Traveler. Her writing has appeared in such outlets as The Wall Street Journal, Cosmopolitan, Glamour, O, Family Circle, Fitness, Redbook, Vogue.com, TeenVogue.com, MensJournal.com, CondeNastTraveler.com, FastCompany.com_ _and Brides.com. She received her BSJ and MSJ from the Medill School of Journalism at Northwestern University. Anna is also an American Council on Exercise–certified personal trainer and functional training specialist, a certified prenatal and postnatal exercise specialist, and a certified mat Pilates teacher. She lives in Brooklyn with her husband, two children, and two tuxedo cats.