My Mom and I Share the Same Husband
A mother and daughter having sex with the same man may sound hard to believe, but it's a necessity for women in one Bangladeshi tribe. Not that they're thrilled about it.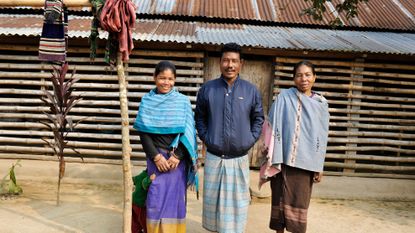 (Image credit: ERIC RECHSTEINER/PANOS PICTURES)
Marie Claire Newsletter
Celebrity news, beauty, fashion advice, and fascinating features, delivered straight to your inbox!
Thank you for signing up to Marie Claire. You will receive a verification email shortly.
There was a problem. Please refresh the page and try again.
As a child in rural Bangladesh, Orola Dalbot, 30, liked growing up around her mother's second husband, Noten. Her father had died when she was small, and her mother had remarried. Noten was handsome, with a broad smile. "I thought my mother was lucky," Orola says. "I hoped I'd find a husband like him." When she hit puberty, however, Orola learned the truth she least expected: She was already Noten's wife. Her wedding had occurred when she was 3 years old, in a joint ceremony with her mother. Following tradition in the matrilineal Mandi tribe, mother and daughter had married the same man.
"I wanted to run away when I found out," says Orola, sitting in the sunbaked courtyard of her family home in north-central Bangladesh. "I was shaking with disbelief." Orola's mother, Mittamoni, now 51, told her she must accept it. Among the Mandi, a remote hill tribe in Bangladesh and India, widows who wish to remarry must choose a man from the same clan as their dead husband. The only single males, however, are often much younger. So the custom evolved that a widow would offer one of her daughters as a second bride to take over her duties—including sex—when the daughter came of age.
"My mother was only 25 when my father died. She wasn't ready to be single," says Orola, swathed in a vibrant blue pashmina. The tribe offered Noten, then 17, as Mittamoni's new husband, on the condition that he marry Orola, too. "I was too small to remember the wedding—I had no idea it had taken place," Orola says. Devastated to discover that she was expected to share her own mother's husband, she says, "My mother already had two children with him. I wanted a husband of my own."
The situation was doubly unjust in Orola's eyes because ethnic Mandi women usually choose their own partners. The tribe's matrilineal structure means that women are the heads of household, and all property is passed down the female line. Women make the first romantic move and propose marriage. "I was excited about finding the right man," says Orola.
In recent years, many observers assumed the mother-daughter marriage custom had died out. Catholic missionaries have converted 90 percent of the tribe's 25,000 Bangladeshi members, and many once-accepted Mandi practices are now taboo. These include the rare custom of "groom kidnapping," in which Mandi women abduct potential husbands. Yet, while there are no official figures, one local leader claims there are "numerous" families who still follow the mother-daughter custom. "People stay quiet about it because having more than one wife is frowned on by the church," says Shulekha Mrong, head of Achik Michik, a powerful women's group run by Mandi female elders.
Today, Orola Dalbot is the mother of three children with Noten: a 14-year-old boy, a 7-year-old girl, and an 19-month-old girl. (Orola's mother has a son and daughter with Noten.) The family lives in a cluster of mud houses in a village with no running water. The nearest town consists of a single row of ramshackle stalls selling cooking oil and candles. Orola and Mittamoni jointly own a few acres of land, from which they make a modest living cultivating pineapples and bananas.
The three-way marital arrangement grew tense when Noten began sleeping with Orola when she was 15. "My mother knew it was inevitable that we'd have sex. But he quickly began to prefer me to her, and she hated it," Orola says. In a whisper—Mittamoni is nearb —Orola relates how her mother once slipped some wild herbs into her food to make her vomit. "While I was ill, she seized the chance to spend the night with Noten. She really loved him."
The rivalry ruined their mother-daughter bond. "She stopped being my mother," Orola says. "I couldn't turn to her for advice anymore. I felt betrayed and abandoned." Orola rebelled against her new role, taking off on solo day trips to the district capital of Madhupur to go shopping and watch Bengali movies. "I used some of the family money to buy gold jewelry," she says. "I knew I'd never have a man of my own to buy gifts for me, so I bought some for myself."
Orola became alienated from her girlfriends as well. "They spent all their time gossiping about boys, and I couldn't join in," she says. Since Mandi communities are usually very close-knit, her intense isolation drove her to consider suicide. But she soon became pregnant with her first child, giving her "a new purpose," she says.
Mittamoni, a statuesque woman, listens without apparent emotion as Orola talks. Does she feel guilty hearing Orola's words? "No, I don't," says Mittamoni. "The marriage was necessary. I couldn't have managed alone after my first husband died." Noten was the only bachelor available—most Mandis marry around the age of 18—so she had no choice but to allow him to wed Orola as well. "It was our clan elders' decision, not mine," she adds. She says she protected Orola until she grew up, and that sharing a husband was tough for her, too. "I had to step aside when Noten grew affectionate with Orola, and that was very painful," she says. Noten, who is also present, throws his hands in the air as if to say, "Don't put me in the middle of this." The gesture is so lightning fast that it's obvious he uses it on a regular basis.
But the point of co-marriage is not simply to satisfy the husband's sexual needs. Most marital practices around the world that involve multiple spouses have more to do with power and economics than sex, and the Mandi tribe (also known as the Garo tribe) is no exception. Since the Mandis are matrilineal, the idea that a man should marry a widow and her daughter is designed to safeguard the property-owning female lineages of both sides of the family. A Mandi marriage represents the consolidation of wealth between two clan lines. As a widow, Mittamoni was obliged to remarry within her first husband's clan to ensure that the union remain intact. The point of her daughter's marrying the same man helps guarantee two things: first, that the family has a fertile young woman to produce children to add to its wealth, and second, that the wife's clan holds onto its power, as her daughter protects her property when she dies.
Female elder Shulekha Mrong, a majestic-looking woman in a burnt-orange sarong, understands such clan issues, yet she opposes mother-daughter marriages. "The custom is a great injustice against young girls," she says. "They're denied choice, and it's psychologically damaging to share a husband with their own mother." She cites recent cases where young women have bolted from such arrangements, fleeing to Dhaka to work as maids or beauticians. "Mandi girls want to have genuine love relationships these days," she says.
Parvin Rema, 36, agrees. When she was 13, she and her widowed mother jointly married an 18-year-old man. "I thought my life was ruined after the wedding," she says. "My mother was 36. I didn't understand why she wanted such a young husband." But Parvin, a feisty character with a prematurely lined forehead, quickly used her wiles to become the household's alpha female. "My mother slept with our husband for the first three years. But as soon as I was old enough, I made sure he lost interest in her. I cooked him delicious curries and never refused him sex."
After a few years, she gave birth to a daughter, Nita, who is now 14. Motherhood brought powerful emotions to the surface. "When I look at Nita, I can't believe my mother forced me into this kind of marriage," Parvin says. "I feel angry and sad. How could she do that to her daughter?" Parvin is determined to make sure Nita has more life choices. "Nita is so full of hope," says Parvin. "I want her to go to college, and to decide who and when she marries."
Nita is currently studying hard at school, where she is teased by her classmates because of her unusual family setup—another reason Parvin fervently wants the tradition abolished. But she also wants her daughter to be proud of her Mandi heritage. "Mandi women have run this tribe for centuries," she says. "Now it's up to Nita's generation to ensure we run it even better in the future."
This article originally appeared in the print version of Marie Claire.
Celebrity news, beauty, fashion advice, and fascinating features, delivered straight to your inbox!