What Would You Do With 400 Million Dollars?
The Marie Claire editors weigh in.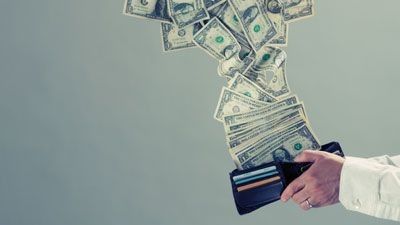 (Image credit: Marie Claire)
It will happen. Someone always wins. The Mega Millions $400 million lottery jackpot is up for grabs, which got us thinking. What would you do if you actually won?
Deanne Kaczerski, Digital Director
1. Still work. I love my job. I would get bored sitting around doing nothing.
2. Donate a huge chunk to various charities to help kids, animals, disease research, and providing grants to help innovate new technologies in third-world countries.
3. I'd have a shopping party with my friends in Paris
4. Give money to my family so everyone can live comfortably
5. buy houses, fix 'em up, and rent them out (hey, a girl needs another source of income, right?)
6. Invest in something...maybe I'd buy Detroit, clean it up, and bring back jobs to the US.
(weareheadoverfeels.tumblr.com)
Hallie Gould, Social Editor

1. Definitely still work. I've gotta get my fashion, beauty, and celeb stalking fix, afterall.
2. Buy a sick apartment (preferably duplex, preferably with fresh-cut flowers that never die and as many fancy candles as humanly possible).
3. Write a check to my parents to pay them back for all the money, time, and angsty teen moments I've put them through.
4. Give some to my brother, friends, and charity (hey, if I'm going to be rich, they should be too).
5. Uhhh, GO SHOPPPING. And buy a casual pied--terre in the Marais in Paris.
(fineleathergifs)
Kyle Anderson, Accessories Director

I would buy a lot of Chanel and diamond Rolex watches and then go get a 10 hour massage like Mariah Carey did once.
(www.reddit.com)
Jennifer Heyde, Executive Assistant to Editor-in-Chief Anne Fulenwider

1. I would keep my job. Maybe transition over to more of a contributor...
2. The very night I win: buy an exceptionally great bottle of champagne and go to a rooftop bar and drink it outside overlooking the city.
3. Pay all my and my extended family's college debts (and take care of all of my family members outstanding loans and future education bills).
4. Buy real estate all over the world:
- Loft in New York City, completely gutted to be renovated myself
- Pied--terre in Paris
- Cape Cod house in Chatham
- Villa in Tuscany and/or a place in the Greek Isles
- House next to George Clooney's on Mexico's Baja peninsula
- LA House / Apt. in San Francisco
4. Hire a private, personal travel agent and provide him/her with a list of friends and family and anytime anyone on that list wants to go anywhere, it goes on my account.
(leftphalange)
Melissa Bykofsky, Editorial Assistant

1. Buy a bigger apartment (one that actually fits a couch and coffee table)
2. Take time off work to travel the world
3. Take care of my family
4. Give my lake house an extreme home makeover
5. Set up a scholarship fund for my Alma Maters.
(www.reddit.com)
Until then, though, we're keeping our money where we can see it.
(90s90s90s.tumblr.com)
Related Stories:
The Most Heart-Warming Thing You'll See All Day (VIDEO)
What Really Happens During Finals Week
Lady Gaga Looked Crazier Than Usual This Week (PHOTOS)
Follow Hallie Gould on Twitter.