Downton Abbey Season 4, Episode 4 Recap: Welcome to 'Modernity,' Folks
Anna's tragedy looms over the Abbey as the show welcomes its first black character.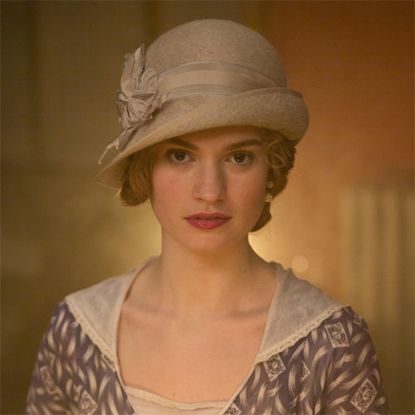 (Image credit: ITV Studios)
Spoiler Alert! Do not read on if you have not yet seen season 4, episode 4 of PBS' Downton Abbey.
Suppose your friend turned up with a bruised, bashed face, rather suddenly not acting like herself—unable to speak and seeming to tremble with fear all the time. What would you do? Scratch your head and go about your business? I doubt it. Yet that's what the sand-buried heads at Downton are doing with Anna, who was raped by a visiting valet in the last episode.
If you trust the Internet to diagnose fictional characters, Anna could be suffering from rape trauma syndrome—she appears to be in what the Rape and Incest National Network identifies as "suppression" during her outward adjustment period (opens in new tab). She doesn't want to talk about it or think about it, or confide in anyone but Hughes, and only to the most necessary degree. At the time in England, the age of consent had only relatively recently been raised to 16 from 13 (before it was 13 it was, shockingly, 10). Even the medical establishment was preoccupied (opens in new tab) with the "danger men are in" due to false accusations. So when Mrs. Hughes suggests going to the police, it's not surprising that Anna would rather not. Instead, she would like to move out of her home with Bates and back into the servants' dormitory—she says she feels the rape is her fault, that she is now not worthy of her husband—and Hughes reluctantly agrees to give her a room. For his part, Bates knows something's up, but weirdly is not wildly alarmed by Anna's sudden inward turn. Ditto Carson.
Cora, who ostensibly spends the most daylight hours with Anna, only manages pursed lips and a wide-eyed shrug at the dark behavior. Maybe Cora's just too distracted with Edna leaving Downton, in what is at least this season's third cutaway of a servant hightailing it away from the Abbey in dusky hours (see: O'Brien, whose bangs I miss; the evil nanny; Edna the first time she left). If Hughes can't convince Anna to seek solace in her husband and go to the police, at least she can bust Edna's crazy ass for sexual coercion. (Barrow is going to find a way to exploit Tom's secret, though, just wait.)
While everyone else is being completely oblivious to an obvious act of violence in their midst, something else important is happening on the show. Downton has gotten its first black character. Welcome to "modernity," guys.
On a trip to London with Mary and Tom, Rose takes the family to the Lotus Club, a tame, high-society dance hall. Mary is having a flirtation with Lord Gillingham, who wants to get married, like, yesterday. Too soon? Mary thinks so. And how does she get herself into these protracted Dylan-and-Kelly romantic entanglements? Why can't she be more like Edith, who has stopped hemming and hawing about her married boyfriend?
While Mary is busy gazing into Gillingham's eyes, Rose (whose own date has gotten smashed and made a scene) starts dancing with Jack Ross, the handsome, charming bandleader. But before they can exchange much more than a smile and a lusty gaze, Tom breaks up the interracial funtimes. Yes, Tom. The erstwhile political radical who once upon another season wanted to bomb Downton in a show of class warfare. But black people… nah, not Tom's bag. No doubt this particular racial tension—which was very real in England, which in 1919 experienced many race riots (opens in new tab)—will be one of the season's ongoing dramatic threads, along with Mary's love status and Anna's troubles. Ah, Jack and Rose. Never let go, Jack! Never let go.