Shieldmaiden Spotlight: The Vikings Return
Are you ready?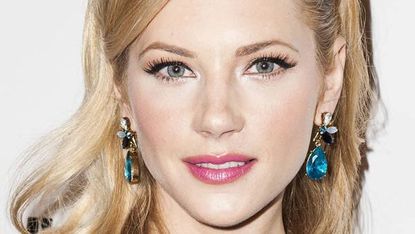 (Image credit: Getty)
Marie Claire Newsletter
Celebrity news, beauty, fashion advice, and fascinating features, delivered straight to your inbox!
Thank you for signing up to Marie Claire. You will receive a verification email shortly.
There was a problem. Please refresh the page and try again.
Spending time with Katheryn Winnick is like hanging out with that ultra-cool yet down to earth celebrity you wished was your friend. With the conversation ranging from crack-smoking mayors to on-screen threesomes and a former love of bugles, one leaves the experience with two self-directives: 1. Be cooler. 2. Enroll in the nearest martial arts class. The Canadian-born beauty who's fluent in Ukrainian and holds black belts in both Tae Kwon Do and karate hung out with MarieClaire.com to chat Vikings gossip, beauty regimes, and quite literally how to kick-ass.
Marie Claire: So you run martial arts schools? How did that start?

Katheryn Winnick: I grew up teaching self-defense and martial arts for women. It's a big passion of mine—teaching women how to defend themselves. I had my first martial arts school at 16. And three schools by the time I was 21.
MC: That's so cool! And you brought this to the Vikings set?

KW: I ran a self-defense thing for the girls in Ireland. Just to give them a quick snapshot of what they would learn. It's an actual 8-hour course that I teach. We had almost 40 girls.
MC: What kind of stuff did you show them?

KW: Like how to use a magazine as a weapon. You can take a magazine, if you're flipping through it, and roll it up nice and tight and hold it in the center--all of it together is the same as a steal rod. So if you're on the bus or especially in NY if you're on the subway and there's some weird guy across from you who's sketchy or strange…

She deftly rolls up an issue of Marie Claire and drives it onto the table with a sound that rattles the doorframe]

You can go for the head or groin. It's a way to defend yourself without grabbing a gun or anything like that.
MC: Whoa. Not going to lie I feel a little badass just knowing that now. And what a good idea to run a class when you're on location for so many months. And you shot in Ireland? How was that?

KW: Beautiful, an incredible shoot. We were shooting in the mountains. And if you've been to Ireland the people are so friendly. They're the nicest people. They just sing songs. It's totally different. They don't care what they do.
MC: How refreshing! And what about the cast, did you all get along?

KW: Honestly, the cast is so tight and close. It's fun!
MC: Okay, more directly what about Ragnar Lothbrok aka Travis Fimmel. Holy damn.

KW: [laughing] Ya he's hot. He was a Calvin Klein model before. And he's a big prankster. So for the last day we got t-shirts made up--the Calvin Klein body with the head cut-off--we got like 100 printed and everybody was wearing them the last day.
MC: Haha! That's amazing. Oh the curse of Marky Mark. It's forever. Okay now I have to be honest, I almost didn't recognize you. The eyebrows! You totally don't have any on the show. Did they like bleach them every morning for half a year? How long does that last?

KW: About a week, week and a half. I just dyed it back 2 days ago because I had my darker coming in and it looked like I had multicolor eyebrows.
MC: It must have been so freaky to shoot with no eyebrows.

KW: You get used to it and then you're like you know what? Screw it. It is what it is and you forget about it, which is nice. It's part of the character. It's fine.
MC: But you weren't allowed to wear any makeup at all for the show? Like none?

KW: There were strict rules. We had dirt on our face so we were strategically trying to contour a little here contour a little here. I was like punching my cheeks. But a lot of times your on the battlefields and you have four cameras going at once. And we don't do checks. It's a very different show. So you kind of let your ego go.
MC: Dirt? You must have a crazy skin care regime. What do you use?

KW: By Terry. Dermalogica is also really good. Love Clinique dramatic lotion. I feel like your skin drinks it up. And you don't break out! I like the simple stuff.
Celebrity news, beauty, fashion advice, and fascinating features, delivered straight to your inbox!