Girls Season 3 Episode 9 Recap: Love and Marriage, and Family Bonds
Allison Williams is engaged in real life—is Hannah getting married, too?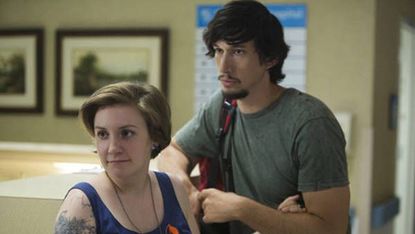 (Image credit: HBO)
Marie Claire Newsletter
Celebrity news, beauty, fashion advice, and fascinating features, delivered straight to your inbox!
Thank you for signing up to Marie Claire. You will receive a verification email shortly.
There was a problem. Please refresh the page and try again.
Do not read on if you have not yet watched Girls season 3, episode 9, titled "Flo."
"Flo," the episode named after Hannah's grandmother, could have been titled "Hannah and Her Mother's Sisters," for all the nasty family psychodrama it kicks up—"real circle-of-life shit," as Hannah says. Amy Morton, Deirdre Lovejoy, and Sarah Steele make hilariously crazy appearances as Hannah's aunts and dry, bitchy cousin, respectively, to argue over who gets the heirlooms and Grandma Flo's extra meds. What sets Girls apart from that other show we often compare it to, Sex and the City, is that we have always gotten to see a little bit of the girls' familial backstories—Marnie's mom, Jessa's dad, and Hannah's parents have all had recurring roles.
That we occasionally see the characters through the lens of a developed past helps illuminate their present states, and why they can be such assholes. In Hannah's case, her narcissism is due in large part to the fact that she's the only child of parents who, despite all of her horribleness, still think she created the sun. The whole series opened with them cutting her off financially—very, very reluctantly. (It was her parents to whom she declared the now-famous "a voice of a generation" line, remember.)
Now, with Grandma Flo (the marvelous June Squibb, whom you saw at the Oscars last night for her role in Nebraska*) on her deathbed, Hannah's mother (Becky Ann Baker) asks her to fake an engagement to Adam, so Flo can die happy. The request leads to two important conversations: Hannah bringing up the topic of marriage with Adam, and her mother revealing that she doesn't think Adam is good enough.
In the first, when Hannah tells Adam of her mother's wish, he says "but we're not getting married." What's so perfect and classic about the scene is that Bruce Eric Kaplan, who wrote "Flo" (and whom you might recognize from his New Yorker cartoons, signed BEK) understands what kind of bait this sounds like in real life. Of course Hannah is going to use her mom's strange idea to fish for Adam's sense of commitment, especially after last week's episode in which we start to see cracks in the relationship. Hannah freaks a little bit—"It might seem like I was angling to have it and I really was not"—and ends the conversation.
Later, in the hospital, when they are waiting for the latest news on Flo's ups and downs, Hannah's mother laughs at the idea that Hannah too her request seriously. ("We'll really have to get married if Grandma lives!")
"You're so special—you deserve everything and more," says her mom. "Stay open to possibilities." She then gives her parental assessment of Adam. Though he has been growing on all of us as he seems to mature, and act as Hannah's rock, to Mama, he's "odd, angry, uncomfortable in his own skin."
Have we only been seeing Adam through Hannah's eyes? Or is her mother just wrong? Unsophisticated as the Horvaths are portrayed, they are always the voice of reason and moral center in Hannah's life—textbook good parents. To me, the Hannah/Adam crack deepens.
Celebrity news, beauty, fashion advice, and fascinating features, delivered straight to your inbox!