Musicians Collaborate to Combat Sex Trafficking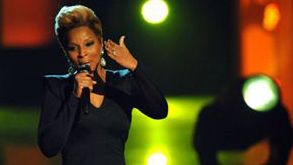 (Image credit: Alberto E. Rodriguez/WireImage.com)
It's not every day that an artist donates all the proceeds of her song to charity. However, "This Is to Mother You," a joint venture between Sinead O'Connor, Mary J.Blige and Girls Educational & Mentoring Services (GEMS) is doing just that.
GEMS is a New-York based organization with the mission to empower girls and young women who have experienced sexual exploitation and trafficking and rescue them from the streets. It is the only organization in New York and the largest provider of services in the country to sexually exploited and domestically trafficked girls and young women.
"GEMS serves girls ages 12-21 who have been victims of the commercial sex industry and has been working for the last 11 years to provide services, housing, counseling, etc. but to really change public opinion and perception on who victims are, what they need, what they deserve," said Rachel Lloyd, founder and executive director of GEMS. "It's easy for people to forget that's what is happening to American girls in our country. The song is [in part] to raise support for the program, but is really about raising awareness on this issue."
"This Is to Mother You," a powerful ballad written by O'Connor features Blige and introduces Martha B., a member of GEMS. Originally released by O'Connor in 1997, the song has been remastered and produced by Doc McKinney and Ali Shaheed Muhammad.
"When I saw the lyrics I fell in love with the song," said Blige. "All I ever wanted to do is encourage women and know they could make it if I could make it."
O'Connor agreed. "I think the work GEMS does is fantastic. I hope it inspires people in America to really take this message onboard. But not only in America, in other countries like Ireland and all around Europe because obviously, these are issues that affect people all over the world. Hopefully what will come out of this is inspiration. It's a real honor for me and a subject I can identify strongly, being a survivor myself."
A survivor led organization, GEMS' philosophy is about survivor voice, and "This Is to Mother You" speaks directly to the cause. The track introduces Martha B., a survivor and member of GEMS. "The song speaks to the alumni's, the survivors. It speaks directly to what we're trying to put out there: letting girls that don't know yet that they are going to be survivors. That we're here to mother them, we're here to support them, we're here to love them and they're not alone in this world. We're survivors. We're fighters and we will overcome."
Production-wise, Martha said being in the studio with Blige was a beautiful experience and the track is to mother all the girls that are still in the streets, juvenile facilities and high schools. "The ones that the pimps haven't gotten to, the ones the pimps are working on, the ones that the pimps have and the ones who have gotten away from their pimps. It's for everybody. You're not alone. I'm here, I love you, I care about you. It's a powerful message and I'm very honored to be a part of this whole experience."
"This Is to Mother You" is available for download December 2, where all the proceeds go directly to GEMS.
Annie Reuter is a freelance writer and music blogger who covers concerts and music festivals around the country. In constant pursuit of the next show to attend and band to interview, Annie keeps up her own music blog, You Sing, I Write, where you can read more on the latest up-and-coming bands.