Send a Girl to College with Global Give Back Circle
Help support an amazing cause for young women in Kenya.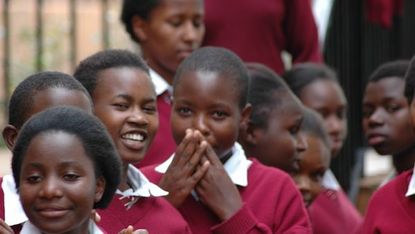 (Image credit: Archives)
For many of us, the transition from high school to college is as seamless as it is automatic — the most stress probably comes from forcing lingering parents off campus and ordering dozens of books for fall classes. But for young girls in Kenya, the journey to an institution of higher education is much less promising. Because elementary and high schools in Kenya are either free or low cost, continuing education often comes to a grinding halt before college—where tuition costs skyrocket and are simply out of reach.
To apply for college in Kenya, students must first indicate whether or not they will need a loan to expense the cost of attending. More often than not, confirming "yes" for loan assistance means that an application is tossed into a pile to wait among hundreds of other in-need applicants. The average wait time between applying for a college loan and matriculation ranges on average from 4 months to almost 2 years. During this gap period, most girls lose sight of college and choose domestic employment or are married off by their families instead.
Enter Global Give Back Circle. The charity mentorship program, founded by former consultant Linda Lockhart, fights to secure the futures of Kenyan girls who would otherwise not have a chance to go to college. Through a partnership with Microsoft, Global Give Back Circle pairs women executives from companies across the U.S. (Macy's, Citibank, and Clinton Global Initiative to name a few) with girls from poor, underserved Kenyan towns. Volunteers maintain relationships with their mentees via e-mail and Skype from high school throughout the college placement process, ensuring that the girls stay on task and motivated during the gap period.
Notably, Global Give Back Circle and Microsoft have developed two Information Communication Technology (ICT) labs in Kenya for its participants. The 9-month ICT program gives the girls access to state-of-the-art HP computers where they learn computer skills, communicate with their mentors, and surf the web. Once a student finishes the ICT program, Global Give Back Circle ensures that they enroll in a college or university. The program provides all funding (about $11,500 per student) to get the girls from high school, through the ICT lab program, and through college.
In short, Global Give Back Circle is awesome. A charity designed to empower young women, give them the tools to succeed, and encourage them to give back to their own communities? Count us in! You can get involved by becoming a mentor or donating money to help a student through the program. Just go to

globalgivebackcircle.org and click the "Get Involved" tab.