Green as a Thistle
Support two causes with eco-friendly beauty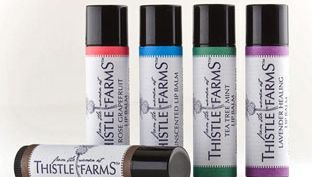 (Image credit: Archives)
Socially conscious shopping doesn't have to stop at buying green. Let your eco-friendly beauty purchases do double duty by checking out Thistle Farms, a line of all-natural bath and body products that benefits female abuse victims. Finding fantastic new beauty products will feel even better when you know you're supporting two great causes.
Thistle Farms is a non-profit business run by women who have survived lives of violence, prostitution, and drug abuse. It began in 2001 as the cottage business of Magdalene, a two-year residential community in Nashville, Tennessee.
The Rev. Becca Stevens founded Magdalene in 1997 to give women with a criminal history of prostitution and addiction a safe home and a way to recover. During her stay, each woman is provided with an individualized plan that includes medical care, therapy, education and employment, all at no cost.
Magdalene provides services for 30-35 women at a time, and has served more than a hundred women in the past decade. Two years after leaving the program, 75% of former residents are still clean and employed. Magdalene has become the model for several other programs, including one that will begin this summer in Rwanda.
Thistle Farms natural bath and body products are hand-made by the women of Magdalene and all proceeds support the program. The business helps teach the women the job skills, responsibility and cooperation.
The thistle is symbolic for the women of Magdalene because the plant grows on the streets and alleys where they once walked. Considered a weed, thistles have a deep root that can shoot through concrete and survive drought. Though the flowers appear prickly, they contain a soft, royal purple center.
Thistle Farms uses environmentally friendly practices and their products are made with natural ingredients like soybean-based ecowax, olive and coconut oils, sunflower seeds, and organic lavender from their own field.
Try out these products, available in Citrus Vanilla, Lavender, Rose Grapefruit, Tea Tree Mint, and Tuscan Earth fragrances at ThistleFarms.org.
Celebrity news, beauty, fashion advice, and fascinating features, delivered straight to your inbox!