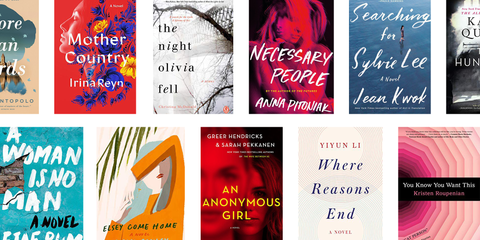 Since the first week of January, a fresh slate of women's fiction—a genre that covers a lot of ground, but one I consider to be books that star strong, multifaceted female characters, written by women—has been rolling out, and, trust me, there's more than enough reading material to last you through every beach vacation and road trip you take until the weather turns chilly again.
There's the new novel by Jill Santopolo, whose debut, The Light Between Us, was a New York Times bestseller and a Reese Witherspoon's Book Club pick, and is being adapted into a movie as we speak. Cat Person author Kristen Roupenian just came out with a handful of short stories (fair warning: It's not what you'll expect). And there's the timely, gripping new novel by Irina Reyn, which examines immigration and health care in modern America from a heartbreaking perspective. Below, the books we can't wait to read this year.
(P.S. If you love books, and want someone to chat about them with, considering joining our book club, #ReadWithMC. Find out more here.)
'The Other's Gold' by Elizabeth Ames
This book is unexpectedly charming in its portrayal of four women who meet in college and hold on tightly to their friendship through adulthood. The structure is whip-smart: The book is told chronologically, but split into four parts, one for each woman's greatest mistake. And the characters grow increasingly three-dimensional—sometimes in shocking ways—with every chapter.
Out August 27
'After the End' by Clare Mackintosh
I devoured this book on a rainy Sunday, and then felt dizzy afterwards—like the book had almost knocked me over. Put simply, After the End is about the worst thing that can happen to anybody: A couple's young child is diagnosed with an aggressive form of cancer. When the book starts, Dylan, not yet 3, is brain-damaged and has been ill for a year, and his parents are a pillar of strength for him. When they're asked to choose whether to extend Dylan's life by a few months or end his suffering, they fall on different sides. Halfway through the book, the novel splits into two different timelines—if they'd chosen one path or another—and though I usually hate that Sliding Doors-type of narrative tool, it works beautifully here.
Out June 25
Editor's Pick
'Searching for Sylvie Lee' by Jean Kwok
I was only about two-thirds of the way through Jean Kwok's Searching For Sylvie Lee when I began telling everyone I know: "I've found this book, you need to read it." This novel follows first-generation Chinese-American Amy Lee, whose beloved sister, Sylvie, goes missing after a visit to see their dying grandmother in the Netherlands, where Sylvie—but not Amy—grew up. It's a thriller, it's an immigrant story, and it's also a romance. I love a lot of books, but none quite like this one. The moment I finished it, I tried to restart it, but trust me, the first read is the most magical. This is a story like no other.
Out June 4
Editor's Pick
'Necessary People' by Anna Pitoniak
I liked Pitoniak's 2017 debut, The Futures, but I fell hard for her second novel, Necessary People. I was so mesmerized by this story that I took the longer subway route to drinks more than once so I'd have extra time to savor it. Necessary People is about Stella Bradley and Violet Trapp, best friends with wildly different backgrounds who consider themselves family. Violet came from nothing, shedding her past when she left her childhood home for college, and Stella is a pharmaceutical heiress with effortless beauty and charm. When Stella begins to crave what Violet's ambition has brought her, the story descends into the delicious and the thrilling.
Out May 21
Editor's Pick
'The Farm' by Joanne Ramos
Consider this The Handmaid's Tale of 2018. At upscale retreat The Farm, women are treated like royalty, with one catch—over the course of nine months, they have to commit themselves to creating the perfect child for a super-rich clientele. Jane, a poverty-stricken, Philippines-born immigrant, agrees to trade in these nine months of her life for the luxuries provided by The Farm. In the vein of The Circle, but somehow more penetrating and realistic, Jane finds herself slowly realizing exactly how much she's given up, and how little power she truly has in a situation dictated by what those with money can do to those who don't.
The Farm is #ReadWithMC's June book club pick, so be sure to read along with us and post your review on social media to be included in the site's roundup.
Out May 7

Editor's Pick
'The Girl He Used to Know' by Tracey Garvis Graves
Of all the books I've read so far this year, this one is in my top three. It's a romance, but not a typical love story. And it's about living with a developmental disorder, but Jonathan and Annika's story is not about that disorder. I loved the raw, open telling of this story, the cast of supporting characters who gently guide Annika through her daily life, and the author's refusal to allow a neurological impairment to define a character. It's among the most tender stories that touch on disability I've ever read, but it's also so much more than that—it's a perfect read for anyone looking for a gentle, bittersweet love story.
Out April 2
'A Lily in the Light' by Kristin Fields
A Lily In The Light draws you in immediately. After a normal day, Esme's little sister, Lily, wanders out of their family home and goes missing. The family splinters, and Esme, a budding ballerina, moves to California to pursue dance, spending her adolescence there rather than face the shell her family has become. Then, years later, the unimaginable: A girl is found that might be Lily. The timeline flits between past and present, but the storytelling is sharp, and it's easy to see young Esme in the older version, alone in California and trying to carve out a path independent of her sister. Even in its brightest parts, however, there's a sadness that permeates every chapter of this book.
Out April 1
Editor's Pick
'The Island of Sea Women' by Lisa See
In this bittersweet novel that spans more than 50 years, Lisa See tells the story of Mi-ja and Young-sook, two best friends who live in a kind of feminist utopia on a Korean island. In the small community of Jeju, women risk their lives to dive and train their daughters to do the same, while men remain at home to nurture young children. Mi-ja and Young-sook have what they think is an unbreakable friendship, one cemented by a thousand dangerous dives, but their families cannot allow them to remain on equal footing.
Out March 5
'A Woman Is No Man' by Etaf Rum
This eagerly anticipated debut novel from literature professor Etaf Rum, who you might know as the creator of popular Instagram account @booksandbeans, flits between past and present, from Palestine to America. It stars Isra, a young woman who marries quickly in Palestine, and Deya, Isra's Palestinian-American daughter in present-day Brooklyn. Deya wants to go to college; her grandmother wants her to follow in her mother's footsteps and marry quickly.
Out March 5
'Mother Country' by Irina Reyn
Irina Reyn's latest novel is at once a study of human relationships and of modern America. Nadia, a Russian-born senior home attendant in south Brooklyn, suffers through the endless see-saw of U.S. immigration, racist politics, and her exasperating part-time jobs—but the one thing she cannot accept is her longtime separation from her daughter, whose fate is in the hands of the Homeland Security. Then, Nadia's daughter loses access to the medicine she needs, which causes Nadia to spiral. A modern portrait of America through the lens of the women it fails the most.
Out February 26
'The Huntress' by Kate Quinn
The titular character in The Huntress is a Nazi assailant who, after committing heinous atrocities is able to disappear unscathed—but not untracked—at the end of World War II. Inspired by a true story, The Huntress weaves together the individual tales of three women whose journey to find the infamous criminal eventually brings them to Boston and the home of a young teenager. If you like period dramas, thrillers, female-fronted sagas, or all three, you'll want to snag your copy soon.
Out February 26
'I Owe You One' by Sophie Kinsella
Sophie Kinsella has been the reigning queen of crowd-pleasing fiction for more than a decade (you probably know her best as the author of the Shopaholic series). No matter how troubling the political climate, you can count on Kinsella to bring you some joy and laugh-out-loud moments. I Owe You One follows Fixie Farr, whose generous, charitable nature is challenged by her father's death, a handsome customer who writes an IOU, and the reappearance of a childhood crush.
Out February 5
'The Night Olivia Fell' by Christina McDonald
This novel, the first book for adults by children's author Christina McDonald, is being touted as a combination of Big Little Lies (the book, not the HBO series) and Reconstructing Amelia, both of which I loved. Abi Knight wakes to find out that her beloved daughter has fallen off a bridge, leaving her brain-dead—but she must remain on life support...because she's unexpectedly pregnant. The police can't help, so Abi must figure out what happened on her own.
Out February 5
'More Than Words' by Jill Santopolo
Jill Santopolo's first novel for adults, The Light We Lost, a post-9/11 love story, was a sensation. Now, Santopolo returns with the tender More Than Words, which follows the careful, measured Nina, a young heir to her father's hospitality empire. When her father dies and unspeakable truths about his life emerge, Nina must decide if she can continue to let him dictate her future. This book is slower than The Light We Lost, but stay with it. It is a love story of a sort—Nina's love story, with herself.
Out February 5

'The Atlas of Reds and Blues' by Devi S. Laskar
Devi S. Laskar used her own harrowing experience of a home invasion to inform her writing of The Atlas of Reds and Blues, a novel told from the point of view of an American-born child of Bengali immigrants, known as Mother, who lies bleeding after an unfounded police raid. Flat on the ground, Mother considers deeply the questions that have dictated her life. The entire novel takes place over the course of a single morning, as Mother lies waiting for help, and the effect is devastatingly potent.
Out February 5
'Where Reasons End' by Yiyun Li
In her wrenching, critically acclaimed new novel, Yiyun Li makes outward the inner life of a woman whose teenage son has died by suicide. Powerless and purposeless, the protagonist imagines carrying on a conversation with her son without context, without preamble, and without any of the mundane details of daily life between them. It's shattering and yet, somehow, beautiful.
Out February 5
'The Winter Sister' by Megan Collins
I love a good family-driven suspense novel, and this one doesn't disappoint. In Megan Collins' debut, Sylvie returns home to take care of her sick mother, more than a decade after the (unsolved) murder of Sylvie's sister, Persephone. The mystery of who killed Persephone hangs over the characters as Sylvie reacquaints herself with her childhood home, until staggering, sudden truths come out.
Out February 5
'The Suspect' by Fiona Barton
After the success of her first two novels The Widow (2016) and The Child (2017), best-selling author Fiona Barton is back with another thrilling tale about two women who go missing in Thailand. When journalist Kate Waters is put on the case, her reporting quickly becomes personal—and a reminder of the media's importance, now more than ever. The Suspect is also Marie Claire's February book club pick, so check out the reviews to determine if your opinion is in the majority. Learn more about #ReadWithMC here.
Out January 22
'Elsey Come Home' by Susan Conley
Described as "perfect" by Judy Blume herself, Susan Conley's new novel follows Elsey, a woman living in Beijing struggling to reconcile her identities as painter, mother, expat, individual, and wife. When the book opens, Elsey is drinking heavily and descending rapidly into misery. Her husband suggests she take part in a retreat, where she meets a handful of strangers who change her life. It's a necessary look at the identity crisis women can face when the world forces them into boxes.
Out January 15
'You Know You Want This' by Kristen Roupenian
In the afterglow of the shattering success of New Yorker short story "Cat Person," you probably heard that its author, Kristen Roupenian, netted a book deal. Roupenian's collection of short stories is finally here, and it's...bleak. Two Marie Claire staffers told me they simply didn't know how to describe it. Roupenian has a gift for turning mundane social situations into a haunting scene of catastrophe, and she puts that talent to use here. If you can stomach it, it's a stirring read.
Out January 15
'An Anonymous Girl' by Greer Kendricks and Sarah Pekkanen
Greer Kendricks and Sarah Pekkanen follow up their debut as co-authors, The Wife Between Us, with An Anonymous Girl, a novel about a woman who signs up for a psychology study that promises to test her "ethics and morality." If you read The Wife Between Us, you already know not to underestimate this writing duo: Kendricks and Pekkanen specialize in brilliantly crafted characters and intimate truths—and they're pretty good at a mind-boggling twist, too.
Out January 8
'The Only Woman in the Room' by Marie Benedict
Maybe you've never heard of Hedy Lamarr, the real-life Nazi-era actress and scientist, but after reading Marie Benedict's fictionalized account of Lamarr's life, you won't be able to stop thinking about her. Lamarr was a screen siren, the heir to a massive fortune, and the co-inventor of technology we still use in Wi-Fi and Bluetooth today. When she invented the technology, the U.S. Navy wasn't receptive to using it—even though it could have helped fight the Nazis—and it wasn't until the '60s that her invention was taken seriously. A lawyer by trade, Benedict writes about Lamarr's life with a biographer's precision.
Out January 8
•••
For more stories like this, including celebrity news, beauty and fashion advice, savvy political commentary, and fascinating features, sign up for the Marie Claire newsletter.