Editors handpick every product that we feature. We may earn commission from the links on this page.
The Best New YA Books Coming In 2019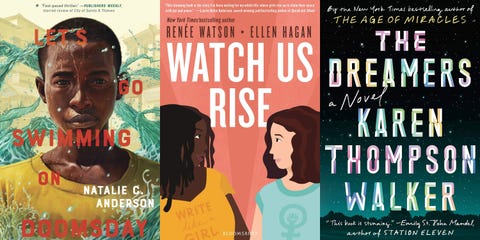 It's winter, half the country is covered in snow, and it's time to snuggle up with a fleece blanket and a mug of hot tea and dive into your next favorite YA novel. The genre is perfect for winter hibernation—my favorite YA books are equal parts sincere, heartbreaking, and unflinchingly honest. The kind you can zip through in an afternoon or two.
And though, in the parlance of Demi from Colton's season of The Bachelor, I am an "older woman," I have no qualms about reading these Young Adult novels. The explosive 2018 success of YA book-turned-Netflix movie To All The Boys I've Loved Before proved it once and for all: YA is for everybody. And whether you're knee-deep into the YA world, or trying it out for the first time, there are a ton of YA picks for 2019 you'll fall in love with. Like these...
'Let's Go Swimming On Doomsday' by Natalie C. Anderson
This potent, brutal read by Natalie C. Anderson follows Abdi, a refugee forced to become a child soldier for a notorious terrorist group. It's one of the most anticipated YA novels of 2019, and for good reason—you won't be able to forget this story of a young boy robbed of his own childhood.
'Girl Gone Viral' by Arvin Ahmadi
This novel, the second by Arvin Ahmadi, is like a fast-paced Black Mirror episode with an endearing teenage protagonist. Opal lost her dad almost a decade ago, but she knows she can rely on code—she's considered a prodigy, a frontrunner in the field. And when code becomes the key to finding out what happened to her dad, she'll do whatever it takes.
'Shout' by Laurie Halse Anderson
You've probably already read Laurie Halse Anderson's shattering 1999 novel Speak, which sold millions of copies, was translated into more than a dozen languages, and became a movie starring Kristen Stewart. The novel followed a young girl grappling with post-traumatic stress disorder and social isolation in the aftermath of a brutal rape. Part of its power was Anderson's vivid prose—because Anderson, like her protagonist Melinda Sordino, is a survivor. Her memoir, inspired by #MeToo as well as the 20-year anniversary of Speak, is a brilliant, beautiful piece of writing.
'Last Seen: The Murderer Next Door' by Sara Shepard
Shepard is best known as the tour de force behind the Pretty Little Liars novels, but she's also had success with other series'—like The Amateurs, a trilogy that follows a group of teens trying to solve a murder before they become victims themselves. Technically, this book came out at the end of 2018, not in 2019, but forgive me for cheating here, this one's just so freaking good.
'How to Make Friends with the Dark' by Kathleen Glasgow
Remember when we talked about 1999's Speak? Consider this a sister story to Laurie Halse Anderson's runaway hit. It's about Tiger, a young girl who has only ever had her mom—and then loses her. This is a meditation on grief, a reflection on survival, a beautiful, illuminating story about a girl left alone to decide what happens next.
'Two Can Keep a Secret' by Karen M. McManus
Karen M. McManus' latest has all the elements of a good YA thriller: A small town, a cache of secrets, a handful of murders, and missing teenage girls. Now that Sara Shepard's The Amateurs trilogy has wrapped (sob), this one is next up on my reading list.
'Watch Us Rise' by Renée Watson and Ellen Hagan
If the resistance were symbolized by a YA novel, this would be it. This intersectional, layered novel has two authors and two female protagonists, and covers a wide breadth of subjects—institutionalized racism, how we undermine young women, feminism in the modern age—with a clear message: Girls are going to come out on top.
'Come Find Me' by Megan Miranda
In Megan Miranda's latest, two teenagers in neighboring counties have nothing in common—except for the family tragedies that have shaped their lives, and the weird, inexplicable radio frequency they keep picking up on. Is it a coincidence? And what else do they have in common? This is at once a thriller and a romance, with a touch of sci-fi thrown in for good measure.
'Internment' by Samira Ahmed
This novel, never more timely, takes place in a present-day America that rounds up Muslims and sends them to internment camps. A rogue president holds Muslim Americans accountable for the country's wrongs, and punishes them as such. Layla, a teenager trapped in an internment camp, fights against the system. It's hard to escape the overtones in this novel, but that's the point—you're forced to consider them head-on.
'On The Come Up' by Angie Thomas
You might have already heard of Angie Thomas, who penned the book that became the acclaimed 2018 movie The Hate U Give. This time around, Thomas grapples with Bri, the teenage daughter of a deceased hip-hop legend. Bri wants to follow in her dad's footsteps, but she faces adversity at every turn—at school, at home, and with everything she has to handle in between.
'The Dreamers' by Karen Thompson Walker
What if someone you knew and loved went to sleep, and didn't wake up—but wasn't dead, merely dreaming? This novel takes place in a small town ravaged by a condition that leaves its inhabitants sleeping, their brainwaves off the charts, with no sign of waking up. Walker asks fundamental questions about being awake, being asleep, and all of the islands of consciousness between.
This content is created and maintained by a third party, and imported onto this page to help users provide their email addresses. You may be able to find more information about this and similar content at piano.io