33 'Bachelor' Breakups That Were the Most Dramatic of All Time
You won't be able to hear the words "It's okay," the same way again.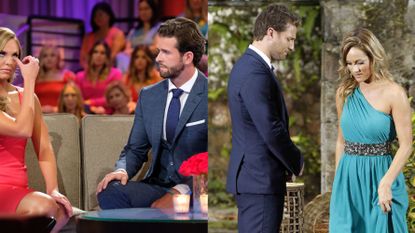 (Image credit: Getty Images)
If you claim you watch The Bachelor because you love seeing people fall in love, I have a lake in a desert to sell you. Ninety percent of the time, we watch for the drama, and the drama alone. Putting 30 people in a room and having them compete to find love is pretty much prime for dramatic impact, and the producers don't shy away from that. Some drama is better than others, of course, but the best drama stems from the breakups. While the Bachelor franchise can claim a few successful relationships, when the lovebirds do end things, many happen either off-camera or are rather uneventful. But not here—here we've got the 27 most dramatic on-camera breakups in Bachelor history.Pass the popcorn.
Desiree and Brooks
For the entirety of her season, Desiree made it clear to the audience: Brooks was the one. However, Brooks didn't feel the same way, and completely blindsided Desiree during the Fantasy Suite dates in Antigua, telling her he wanted to leave. What resulted was one of the most excruciating moments in Bachelor history, with Desiree coming close to quitting the show and leaving. Thank god she didn't, though, because she ended up accepting Chris Siegfried's proposal at the end of the season, and the pair now have two children together.
Ali and Jake
Ugh, this one hurt to watch—after hometowns, Jake Pavelka and his contestants regrouped in Los Angeles for the rose ceremony. But before that could happen, Ali visited Jake and tearfully admitted that she had to choose between staying on the show and keeping her job as an advertising account manager. She eventually chose to leave, but came back as The Bachelorette.
Colton and Cassie
America is still reeling from this event, and the Fence Jump Heard 'Round The World that followed. Basically, after weeks of other contestants telling Colton that Cassie wasn't there for the right reasons, Cassie revealed to him that she wasn't ready to get engaged at the end of the series, and she was leaving. Colton pretty much begged Cassie to stay, promising that they could make it work because he loved her. But in this case, love might not have been enough.
Hannah and Luke P.
Let's be real: Luke P. was the epitome of toxic, perhaps the most toxic contestant in Bachelor history. Since the very beginning of Hannah's season, he was aggressive with the other contestants and weirdly smug about his position in the house. That came to a screeching halt when Luke P. presumptuously tried to guilt and shame Hannah for even thinking about getting intimate with any of the final four during her fantasy suite dates. His condescending tone and self-righteous energy caused something to finally snap in Hannah, and she rightfully kicked him and his moral high ground to the curb. 'Atta girl!
Hannah and Jed
Speaking of toxic, let's talk about Jed. The musician had Hannah and all of Bachelor Nation fooled with his nice guy act. He won over the season 15 bachelorette with his baby blues and his guitar strumming and ultimately was the last man standing—er, kneeling. However, it all turned out to be a farce. While the show was airing, it was revealed that Hannah's Prince Charming was in a secret relationship; the woman that he was dating told People that Jed had assured her that he was only going on the show for publicity, so when her boyfriend ended up getting engaged on national television, she was quick to sound the alarm. Hannah only found out about the existence of Jed's other girlfriend after the fact, and in a tearful confrontation, she gave him back the ring and ended their short-lived engagement.
Peter and Rachel
You'll never feel the same way about your eyelashes again. In one of the most emotional exits in Bachelor history, Peter and Rachel, whose connection had seemed so strong all season long that he was far and away the front runner, couldn't come to mutual terms about what they wanted in the end (meaning of the show). Peter couldn't promise Rachel a ring and Rachel didn't want to leave with just a boyfriend. Ultimately, instead of enjoying a fantasy suite date, they had a tearful, emotional exit.
Kaitlyn and Nick
"...No?" With one word, Nick's heart shattered for the second time on national television. Kaitlyn Bristowe stopped him from getting down on one knee and proposing because she didn't share the same feelings for him. Nick wasn't happy, to say the least—"I don't want to sit here and say things that are hurtful. You don't want to be with me, you don't feel what I feel, you don't love me."
Nick and Andi
Andi Dorfman broke up with Nick Viall in her season finale, but Nick wasn't done with her quite yet. While there were no fireworks after their breakup during the season, After the Final Rose was another story. When Nick said "If you weren't in love with me, I'm just not sure why you made love with me," Andi was done and confronted him about his "below the belt" statement.
Kasey and Ali
NOTE TO EVERYONE: Do not do what Kasey did here to anyone! Ever! In season six of The Bachelorette, Kasey had Ali's name tattooed on his body, revealing the six-inch ink on a two-on-one date. It didn't score him the rose, and Kasey was left in the cold. Literally.
Rachael and DeMario
Early in her season of The Bachelorette, Rachel was ambushed by DeMario's ex-girlfriend on a group date. The ex claimed that she and DeMario had been in a relationship for six months until he ghosted her to come on The Bachelorette, and Big Rach listened to both sides argue until she completely lost it and very kindly instructed him to GTFO. Byeeee!
Vienna and Jake
This is more of a "good riddance" breakup than anything else. After months of their relationship being dissected in the tabloids, Vienna and Jake sat down for a special talk with Chris Harrison to hash things out. It's awkward, contentious, and the venom being spewed between the pair makes you happy they didn't take that walk down the aisle.
Carly & Kirk
Carly, you know, of Carly & Evan, was originally one half of Carly & Kirk (on the second season of Bachelor in Paradise). That is, until the finale, when Kirk blindsided Carly and ended things on the same day she was expecting a proposal. Luckily, Carly returned for the next season and found her future husband, Evan Bass.
Nick and Liz
Nick was caught off-guard by Liz's appearance at the Bachelor mansion; they'd hooked up in the past after attending Jade and Tanner's wedding, but Liz had essentially ghosted him. As if things weren't already weird enough between the pair, rumors about their past made some of the other women see Nick in a new light, something that he was very upset by. The drama boiled over in a huge way on a super awkward group date, and Nick eventually just sent her home.
Clare and Juan Pablo
Juan Pablo is a notable Bachelor because of how palatable the contestants' distaste for him was (he makes a second appearance on this list a little later). In this instance, Clare had nothing left to give to Juan Pablo, and burned his entire house down when, in the season finale, he declined to pick her. (He chose Nikki, but didn't get down on one knee.) "I thought I knew what kind of man you are, what you just made me go through—I would never want my children having a father like you," Clare spat at Juan Pablo in her exit. She later revealed that he had made some inappropriate comments in their previous time together.
Rozlyn and, well, Everyone
Rozlyn, a contestant on Jake Pavelka's season, had an affair with a staffer of The Bachelor! It's very awkward, just like Chris Harrison said. "She had a physical relationship with a producer on our show," Chris Harrison told People. "You cannot do that. There is no gray area.... Other girls on the show saw it. The producer confessed more than once and to more than one person. I cannot make that any clearer."
Joe and Kendall
Kendall pissed off every single member of Bachelor Nation when she decided to end things with Grocery Store Joe in paradise. She was thrown off-guard by Joe's straightforwardness and spun into an emotional tailspin that resulted in a really painful conversation. After dragging Joe through the mud via her flirtation with Leo (we'll get to him later), Kendall wasn't so sure that the loyal grocery's feelings for her were as deep as he claimed. Frustrated and disappointed, Joe made an early exit from the island, leaving Kendall alone and regretting her choice.
(All's well that ends well, though; the couple reunited soon after and have been together ever since!)
Andi and Juan Pablo
I told you he'd be back. Juan Pablo never learned. Andi dumped Juan Pablo in truly epic fashion after Fantasy Suites because she felt a lack of sincerity from him and that his words were empty. "You don't know why I'm nervous about you meeting my family because all your response is 'it's okay.' Everything's always 'it's okay,' and I want to die if I have to hear 'it's okay' again. I can't handle it." Andi went on to become The Bachelorette, and named her book—you guessed it—It's Not Okay.
Molly and Jason and Melissa
This breakup is considered to be a series-saving moment for the show: During the season's After The Final Rose special, Jason wound up breaking things off with his fiancée, Melissa, in order to give his runner-up, Molly, a second chance. Melissa was rightfully upset, but it all worked out. Jason and Molly ended up getting married and have a daughter together; Melissa is also happily married with three children.
Kalon and Emily
Kalon was immediately eliminated when Emily got word that he'd referred to her daughter, Ricki, as "baggage" in conversations with the other contestants. Emily rightfully tore into him, saying, "If you had asked me about Ricki, you would see she is the furthest thing from baggage, and anyone with the tiniest heart could see that. It makes me sad for you, not for me." Get 'em, Emily!
Dean and Kristina
Fan favorites from their respective seasons of The Bachelor and The Bachelorette, Kristina and Dean seemed to be a perfect match once they reached paradise. But the arrival of Danielle (who was also on Kristina's season of The Bachelor) almost immediately set fire to the foundation that the couple was building. Dean started putting Kristina on the back burner, electing instead to spend the majority his time in Mexico making out with the new arrival. Sick and tired of playing second fiddle, Kristina made a huge statement by eliminating herself in a rose ceremony. But not until after giving a lovely speech about why she deserved so much better than what she was getting. Take that, Deanie baby.
Arie and Becca
Arie's season went from uneventful to controversial when he decided that after getting down on one knee, he no longer wanted to marry Becca. He dumped her on-camera to get back together with his runner-up, The Other Lauren B, and it aired completely un-cut and un-edited for the audience, which many fans found to be cruel and unnecessary. It didn't help much when, the next evening, Arie proposed to The Other Lauren B during the After the Final Rose special. But Becca went on to become The Bachelorette and got her own love story out of it, so it's all good.
Becca and Her Ex-Boyfriend
Before Arie handed Becca the final rose (and subsequently snatched it back), Becca had a surprise visitor: her ex-boyfriend! He popped up to beg for his girl back, but Becca wasn't having it and showed him the door. Sorry, buddy—you snooze, you lose.
Colton and Tia
Long before his epic fence jump, Colton was in Paradise specifically to work things out with Tia. Their relationship had been rocky from the start, but things grew was especially vulnerable when Becca (Colton's ex and Tia's friend) stopped by the beach. Colton, who realized that his heart wasn't in it, broke things off, and the couple cried without ceasing.
Benoit and Clare
It was love at first sight when Benoit saw Clare for the first time, but things weren't quite mutual in this Bachelor Winter Games romance. Clare admitted to not feeling the same way, and Benoit, gentleman that he is, tearfully praised Clare's spirit and beautiful smile. Shockingly enough, the two got engaged after the show. Not shockingly, they called off the engagement two months later.
Brad and, well, Everyone
At the end of his season, Brad Womack had to pick between DeAnna Pappas and Jenni Croft, and uh, he picked no one. It was a first for the show, and we've never been the same since.
Annaliese and Kamil
Annaliese hadn't had the best luck with the men of Bachelor in Paradise, but when Kamil came around, she thought she'd found The One. Not too quick, though: Annaliese (and the rest of America) was blindsided during the Bachelor in Paradise reunion when Kamil decided that dumping Annaliese on national television in front of all of her friends was the right move. It wasn't.
Ben and Olivia
Olivia was an early frontrunner on Ben's season, having been bestowed the First Impression Rose, but that didn't last long. Olivia thought Mrs. Ben Higgins was in her future, but Ben didn't feel the same way, eliminating Olivia during a two-on-one date on a beach in the Bahamas and leaving with Emily. Olivia was alone, sobbing on the beach. It's actually brutal, even if Olivia was that season's villain.
Becca and Blake
We were so sure that Becca was going to give her final rose to Blake, but in a last minute move, she actually sent the Colorado sales rep packing! The breakup was so emotional that Becca literally had trouble breathing, and Blake legit wept into a hand towel. Please pass the tissues.
Chris, Ashley I., and Kelsey
Two on one dates are always terrible, but when Ashley I. and Kelsey joined Chris in the Badlands, things got...well, bad. The two women argued back and forth until Chris ended up just breaking up with both of them, flying away in a helicopter all by himself.
Justin and Ali
Justin was picked over Kasey and his ill-suited tattoo, but Ali came to find out that Justin secretly had a girlfriend back home in Canada—because said girlfriend called Ali to let her know—and was, naturally, pissed. "Justin, I think this is especially difficult for you because you probably really miss your girlfriend in Canada." Ali slammed him, and he exited, refusing to even speak to Ali.
Kendall and Leo
When Kendall confronts Leo about getting cozy with some of the other women in Paradise behind her back, his true colors come out. The Fabio lookalike goes on the defensive, claiming that Kendall had been faking her interest in him the whole time (gaslighting 101). Right before the final rose ceremony, Leo makes a terrible toast that results in things getting physical between him and Grocery Store Joe. Needless to say, that was officially a wrap for his budding romance with Kendall.
Ben and JoJo
This was a tough one. Season 20's Ben Higgins broke the cardinal rule of The Bachelor universe (saying I love you before the final rose ceremony) not once, but twice. He said it first to JoJo the night before the final rose ceremony and then once again the next day—when he broke up with her for good! As if that wasn't enough of a violation, Ben turned right around and popped the question to Lauren, complete with a beautiful Neil Diamond ring. Talk about savage.
Ashley and Bentley
Bentley may be one of the biggest douchebags in Bachelor history, and he seems to be pretty fine with that. Bentley spent the entire time on the show complaining about not being attracted to Ashley, and not hiding his disgust for her. Well, except to Ashley. Right before leaving, Bentley told cameras, "So, I'm going to make Ashley cry. I hope my hair looks OK." Ugh.
•••
For more stories like this, including celebrity news, beauty and fashion advice, savvy political commentary, and fascinating features, sign up for the Marie Claire newsletter.
Marie Claire email subscribers get intel on fashion and beauty trends, hot-off-the-press celebrity news, and more. Sign up here.