The 20 Best Political Podcasts to Prepare You for the 2020 Election
These podcasts have our vote.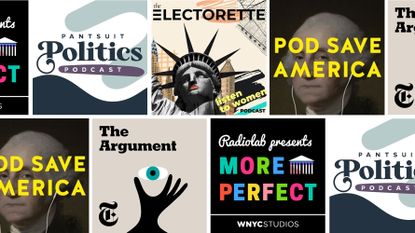 (Image credit: Design by Morgan McMullen)
Marie Claire Newsletter
Celebrity news, beauty, fashion advice, and fascinating features, delivered straight to your inbox!
Thank you for signing up to Marie Claire. You will receive a verification email shortly.
There was a problem. Please refresh the page and try again.
When it comes to choosing a podcast, most of us tend to gravitate toward darker territories. (Read: We get lost in true-crime stories too crazy to be real.) Or we'll find ourselves trying not to laugh in public about a topic that's definitely NSFW. But with the 2020 presidential election looming, there's never been a better time to expand your podcast horizons with a new topic of conversation: politics.
Even just a few months in, the 2020 election is shaping up to be another dumpster fire. Candidates for the Democratic nomination dropping like flies and Trump vying for reelection by playing up his worst xenophobic impulses; it's enough to give you whiplash. That's why we've rounded up the best politics podcasts out there.
The 2020 election may be hectic and intense already—and we're still more than six months out—but it's also incredibly crucial. So tune into these political podcasts to make sure you're well informed about what issues are at stake and are getting nuanced analyses of topics facing different communities today. These 20 podcasts, on everything from reproductive rights to healthcare to student debt forgiveness to the border crisis, will help you cut through the noise and focus on what's important. Listen up—and then get ready to vote.
1. The Weeds
Twice a week, hosts Matthew Yglesias, Ezra Klein, Dara Lind, Jane Coaston, and other Vox writers dive deep into national issues. Vox is known for its extensive political explainers, so consider this podcast the mother-of-all explainers. The podcast features hour-long episodes on family leave, why we still have troops in Iran, and more.
2. Talking Feds
There's something about a good roundtable discussion that gets the people (me!) going. Host Harry Litman brings well-known former prosecutors onto his show to discuss the most notable criminal cases and events going on today. If you've ever found yourself questioning the verdict of a case, this podcast is definitely worth a download.
3. Pantsuit Politics
Female hosts sharing great insights about current events? Count us in. Hosts Sarah Stewart Holland and Beth Silvers do just that with 'Pantsuit Politics.' The two friends often have opposing political views but come together to create dialogues about vital issues.
4. The Oath with Chuck Rosenberg
In this podcast—named for the oath presidents take when they're sworn into office—Chuck Rosenburg interviews big-named political figures who once served as high-ranking individuals, providing insight into what goes on behind-the-scenes. Think of it as a helpful guide to all the madness you read in daily headlines.
5. The Argument
Wouldn't it be nice if everyone just stopped and listened to each other? Okay, maybe that's a pipe dream, but New York Times Opinion columnists David Leonhardt, Michelle Goldberg, and Ross Douthat are getting us all a little closer to that reality. Every week they sit down to discuss an issue, explaining all sides of an argument.
6. Pod Save America
Hosted by former Obama staffers Jon Favreau, Tommy Vietor, and Jon Lovett, Pod Save America gives U.S. politics a brutally honest read. This trio is not afraid to speak up and call people out—from critiquing the President's racist language toward four female congresswoman to openly discussing plans for impeachment. Plus, they reliably get some of the most impressive political guests to come on and get grilled.
7. The Brown Girls Guide to Politics
A'shanti F. Gholar is reclaiming the political discourse for women of color. Her podcast, The Brown Girls Guide to Politics, provides black and brown women a space to stay informed, be engaged, and feel supported in an otherwise male-dominated political space.
8. Can He Do That?
We can all agree that Trump's time in office has been far from ordinary, to be overly polite about it. He's made decisions and statements that other presidents—maybe even just other human beings?—wouldn't dare repeat. So the Washington Post is finally answering the mind-boggling question on everyone's mind with their appropriately-named podcast: Can He Do That?
9. Left, Right & Center
You've heard of two sides to every story, right? Well how about three? Left, Right & Center is here to tackle hot-button political issues from all three points of view, with a guest from each side each week and host Josh Barro acting as the center. If you've ever wondered, "What can the other side possibly be thinking?" then here's a great chance to find out every week in a civilized manner. Screaming matches strictly prohibited.
10. Two Broads Talking Politics
Two midwestern moms are looking to make a difference. Their show, Two Broads Talking Politics, centers around candidates, activists, and authors all looking for a way to piece our country back together again.
11. The NPR Politics Podcast
The NPR Politics Podcast will keep you up to date on the latest in politics, taking you on campaign trails, behind closed doors, and into the fire with some of America's top political leaders. You don't want to miss it. It's a comprehensive look at the current political moment.
12. The Weekly List
There's a new normal with Trump in office, and Amy Siskind of The Weekly List is here to capture it all. Each week, Siskind reviews the current administration's decisions and puts into perspective just how destructive they are to the current state of democracy.
13. More Perfect
Don't sleep on the Supreme Court: The decisions made there are some of democracy's most important. More Perfect seeks to explore the noteworthy cases that have shaped our justice system and how they've, in turn, shaped our society. Brought to you by the production-happy, history-loving folks at Radiolab.
14. Political Gabfest
Anyone who thinks political discourse is stuffy and boring hasn't listened to Political Gabfest yet. This podcast—hosted by Emily Bazelon, John Dickerson, and David Plotz—is filled with smart analysis, top-notch humor, and all the political news you could ask for.
15. Powerhouse Politics
If you want to know the who's who and what's what in politics, you want to tune in to this podcast. Hosted by ABC News' Chief White House Correspondent Jonathan Karl and Political Director Rick Klein, Powerhouse Politics is a deep dive into the people and events shaping our nation, so you not only know what's happening but exactly why it's happening and who made it happen.
16. On One with Angela Rye
Angela Rye is brutally honest...which, in politics, is rare. Lucky for us she has her own podcast, On One, where she gives her unfiltered opinion on politics, culture and race relations in America.
17. Mueller, She Wrote
Mueller, She Wrote is an in-depth, snarky analysis of the ever-changing Trump-Russia investigation. Hosted by three brilliant women with incredibly poignant political commentary, this podcast will keep you updated on all things juicy— from the latest White House charades to shocking D.C. scandals.
18. Women Belong in the House
Women uplifting women? We're all for it. That's why you should listen to Women Belong in the House, which centers around the females running for office, shaping our justice system and making it count.
19. The Electorette
Found: A politically savvy podcast for intersectional feminists. The Electorette features women who are leading the fight for equality, from Thalia Gonzalez, author of Girlhood Interrupted, to Rita Bosworth of The Sister District Project.
20. FiveThirtyEight Politics
FiveThirtyEight Politics is an extension of Nate Silver's popular website of the same name. The podcast features Silver and his team, as they share their notorious statistical analysis and critical opinions about our current political climate.
...
For more stories like this, including celebrity news, beauty and fashion advice, savvy political commentary, and fascinating features, sign up for the Marie Claire newsletter.
Celebrity news, beauty, fashion advice, and fascinating features, delivered straight to your inbox!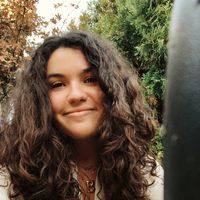 Bianca Rodriguez is the Fashion & Luxury Commerce Manager at Hearst Magazines, covering fashion, beauty, and more for Cosmopolitan, Elle, Esquire, Harper's BAZAAR, and Town & Country. She likes lounging about with a good book and thinks a closet without platform sneakers is a travesty.