Congresswoman Ilhan Omar Clapped Back at Donald Trump In Exactly the Right Way
Quoting Maya Angelou is always a boss move.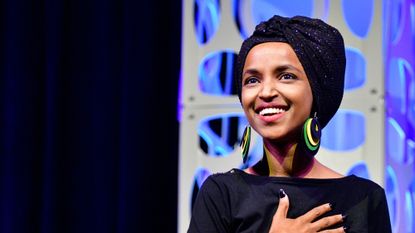 (Image credit: NurPhoto)
Ilhan Omar, the U.S. Representative for Minnesota's 5th congressional district. is the latest target of President Trump's racism (opens in new tab). On Wednesday evening, at a rally in Greensboro North Carolina, the President delivered a speech criticizing the work of Alexandria Ocasio-Cortez (N.Y.), Ayanna Pressley (Mass.), Rashida Tlaib (Mich.) and Ilhan Omar (Minn.)
"These congresswomen are helping the rise of a militant, hard left. They never have anything good to say, which is why I say, 'If they don't like it, let them leave.'"Trump said. "They don't love our country, and in some cases I think they hate our country."
He also tweeted that the four women should "go back and help fix the totally broken and crime infested places from which they came. Then come back and show us how."
All four of the congresswomen are citizens of the United States, and the only one not born in the U.S. is Rep. Omar, who immigrated to the United States as a Somalian refugee. Trump made sure to capitalize on this during his campaign rally, falsely accusing Omar of supporting al Qaeda (opens in new tab). "Send her back. Send her back," chanted the audience at the rally. Trump did nothing to mitigate the hateful speech. (That said, he's since stated (opens in new tab) that he "was not happy with it.")
Before Trump could even attempt to backtrack, Rep. Omar made it perfectly clear that she is exactly where she belongs.
Omar began her defense against Trump by quoting the late Nobel prize-winning author Maya Angelou. She took an excerpt from Angelou's famous poem "Still I Rise," and tweeted it in response to the hateful speech.

You may shoot me with your words,You may cut me with your eyes,You may kill me with your hatefulness,But still, like air, I'll rise.-Maya Angelou https://t.co/46jcXSXF0BJuly 18, 2019
See more
Then she laid down the law. As former first lady Michelle Obama would say, "When they go low, we go high." And that's exactly what Omar did, writing, "I am where I belong, at the people's house and you're just gonna have to deal!"
👋🏽 I am where I belong, at the people's house and you're just gonna have to deal! pic.twitter.com/W0OvDXGxQXJuly 18, 2019
See more
Following the campaign rally, #IStandWithIlhan flooded Twitter. politicians, celebrities and everyday citizen spoke up to show their support for the congresswoman.
#IStandWithIlhan against attacks from this racist president, and we should all remember this definition of patriotism. https://t.co/PzFT1bNfF2July 18, 2019
See more
.@IlhanMN's courage is extraordinary. It is beyond comprehension how much of the fight for equality has fallen on this one woman's shoulders as she continues to fight for her right to a voice. Unequivocally: #IStandWithIlhanJuly 18, 2019
See more
"Lock HER up""Send HER back""Grab HER by the pussy""Look at HER. I don't think so""Maybe SHE wasn't allowed to have anything to say""If I weren't HER father...""Blood coming out of HER wherever""SHE got schlonged"So many reasons #IStandWithIlhan #ThursdayThoughts pic.twitter.com/O89iSu4H68July 18, 2019
See more
Now that's how it's done.
For more stories like this, including celebrity news, beauty and fashion advice, savvy political commentary, and fascinating features, sign up for the Marie Claire newsletter.
subscribe here (opens in new tab)
RELATED STORY
Alexis Jones is an assistant editor at Women's Health where she writes across several verticals on WomensHealthmag.com, including life, health, sex and love, relationships and fitness, while also contributing to the print magazine. She has a master's degree in journalism from Syracuse University, lives in Brooklyn, and proudly detests avocados.