Editors handpick every product that we feature. We may earn commission from the links on this page.
Books and Movies About Ruth Bader Ginsburg to Honor Her With
"Ruth Bader Ginsburg gave us hope," said Felicity Jones, who played her in On The Basis Of Sex.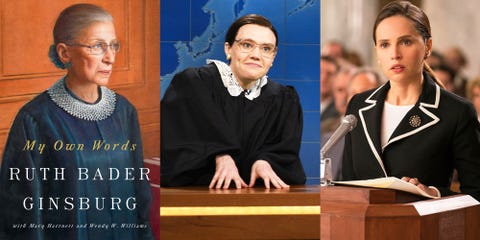 Focus Features
Getty Images
Put simply, Ruth Bader Ginsburg was a legend. When the Supreme Court justice of 27 years passed away in September of 2020, the loss of a giant was felt everywhere, and especially by women. Through sharing what she meant to us—"Ruth Bader Ginsburg is the only proof I'll ever need that superheroes don't wear capes"—or re-reading our favorite quotes by her, we all have different ways of mourning her and honoring the legacy she left behind.
Few people put it better than Felicity Jones: "Ruth Bader Ginsburg gave us hope, a public figure who stood for integrity and justice—a responsibility she did not wear lightly," said Jones, who portrayed the powerhouse in the biopic On the Basis of Sex. "She will be missed not only as a beacon of light in these difficult times but for her razor-sharp wit and extraordinary humanity. She taught us all so much."
Ginsburg paved the way for women's rights and fought for us every single day of her life. But believe it or not, she didn't become a cultural icon until late in life. Here are some of the movies, TV shows, and books about her, so you can learn more about the justice's life and honor her everlasting legacy.
'Notorious RBG: The Life and Times of Ruth Bader Ginsburg' by Irin Carmon and Shana Knizhnik
Dey Street Books
amazon.com
Inspired by the famous Tumblr page, its creator and Shana and award-winning journalist Carmon set out to create a book for the ultimate Ruth lover. It features archival photos, documents, and illustrations you've never seen, while also looking très chic on any coffee table.
'My Own Words' by Ruth Bader Ginsburg
Simon & Schuster
amazon.com
There's no better way to get to know the trailblazer than from her autobiography. It features a collection of Bader Ginsburg's speeches, writings, and interviews dating all the way back to when she was just a teen. It's the ultimate history lesson.
This content is created and maintained by a third party, and imported onto this page to help users provide their email addresses. You may be able to find more information about this and similar content at piano.io