Political Books to Read If You're Not Burnt Out From Election Coverage
Some will inspire you, others will make you quite angry.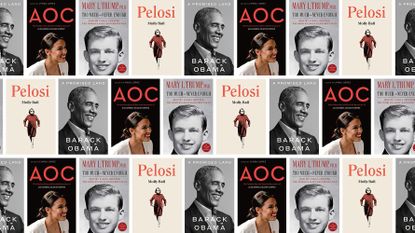 (Image credit: Design By Morgan McMullen)
To say the 2020 election has been a long time coming would be an understatement. Aside from a seemingly endless news cycle, an election year typically provides us with some incredible new political books, as proven with this year's brand-new titles, like Stacey Abrams' Our Time Is Now and President Barack Obama's highly-anticipated memoir, A Promised Land. If you're feeling fired up for Election Day or, you know, have just been dying to get your hands on Mary L. Trump's book, add these 2020 political titles, ahead, to your reading list.
1/21
'Pelosi' by Molly Ball
No matter what you think about Speaker of the House Nancy Pelosi, it's impossible not to admit she's one of the most powerful—and grittiest—women in America. In Pelosi, journalist Molly Ball takes us inside her world.
Available May 5, 2020
2/21
'Daughter of the Heartland' by Senator Joni Ernst
Senator Joni Ernst (R-IA) is facing one of the most competitive Senate races this election, running against Theresa Greenfield. For those looking to learn more about the sitting senator, Ernst's memoir Daughter of the Heartland reflects on her life growing up in rural Iowa and the lessons she's learned throughout her political career.
Available May 26, 2020
3/21
'Our Time Is Now' by Stacey Abrams
Fair Fight Founder Stacey Abrams is here to remind us that voter suppression isn't a partisan issue—it's an American issue—and we deserve to take back our democracy.
Available June 9, 2020
4/21
'Five Days' by Wes Moore and Erica L. Green
Wes Moore, CEO of the Robin Hood Foundation, and journalist Erica L. Green recount the death of Freddie Gray in 2015, highlighting the history of police brutality in Baltimore and the breaking point for the city.
Available June 23, 2020
5/21
'Use the Power You Have' by Pramila Jayapal
Rep. Pramila Jayapal (WA-07) wants to inspire more women of color to run for office in her book, Use the Power You Have: A Brown Woman's Guide to Politics and Political Change. After reading Rep. Jayapal's story going from a 16-year-old Indian immigrant to one of the most powerful women in Washington, D.C., it's hard not to feel energized to make change.
Available June 30, 2020
6/21
'Too Much and Never Enough' by Mary L. Trump
By now, you're probably familiar with Too Much and Never Enough—the book published by President Donald Trump's niece, Mary L. Trump, that reveals the previously untold details of President Trump's young life and the "toxic" family that shaped him.
Available July 14, 2020
7/21
'AOC' by Lynda Lopez
AOC: The Fearless Rise and Powerful Resonance of Alexandra Ocasio-Cortez is an ode to the one and only Rep. Alexandria Ocasio-Cortez (NY-14), where 17 writers study the work of the groundbreaking Latinx politician and the promising future she has in store for her.
Available August 11, 2020
8/21
'She Will Rise' by Katie Hill
In She Will Rise, former congresswoman Katie Hill writes about the misogyny and double standards she faced after essentially being forced to step down from Congress when nude photos of her were leaked on the internet last year. Today, she's decided to reclaim her power.
Available August 11, 2020
9/21
'Hoax' by Brian Stelter
Remember the days when "fake news" wasn't a term in our vernacular? Yeah, me neither. In Hoax, CNN anchor and chief media correspondent Brian Stelter analyzes the president's relationship with Fox News and what the people inside the conservative media empire really think about the president's rhetoric.
Available August 25, 2020
10/21
'Melania and Me' by Stephanie Winston Wolkoff
Call Melania and Me the distant cousin of Mary L. Trump's Too Much and Never Enough. This time around, the first lady's ex friend shares intimate details about her experiences with Melania Trump told through the rise and fall of their friendship.
Available September 1, 2020
11/21
'Disloyal' by Michael Cohen
To say President Trump's former personal lawyer and "fixer" doesn't hold back in Disloyal would be an understatement. In Michael Cohen's memoir, he discusses everything from the president's racism to his willingness to lie and manipulate, all dating back to his 2016 presidential campaign.
Reminder: Cohen was sentenced to three years in prison after pleading guilty to campaign finance violations and other crimes. He's now under house arrest.
Available September 8, 2020
12/21
'What Can I Do?' by Jane Fonda
Jane Fonda is sounding the alarms about the existential threat of climate change in What Can I Do? My Path from Climate Despair to Action. Throughout the book, the 82-year-old recounts her experiences as a climate change activist, including the weekly Fire Drill Friday protests she hosted in Washington, D.C., where she would frequently get arrested on the steps of the Capitol. You can read an excerpt from the book here.
Available September 8, 2020
13/21
'Speaking for Myself' by Sarah Huckabee Sanders
Former White House Press Secretary Sarah Huckabee Sanders recounts what it was like working for President Trump from 2017 to 2019, while detailing what she believes is it at stake for our country.
Available September 8, 2020
14/21
'Rage' by Bob Woodward
Yes, this is that Bob Woodward book that revealed President Trump purposely withheld information about the dangers of COVID-19 from the public. Unfortunately, that's not even the half of it.
Available September 15, 2020
15/21
'American Rule' by Jared Yates Sexton
If you enjoy writer and political analyst Jared Yates Sexton's tweets, you'll appreciate his new book, American Rule: How a Nation Conquered the World but Failed Its People. It focuses on the events in history that led us to where we are today—a nation that repeatedly claims "this is not who we are" when this is, actually, how we are.
Available September 15, 2020
16/21
'Find the Helpers' by Fred Guttenberg
While Find the Helpers is not a conventional "political book," Fred Guttenberg is the father of Parkland shooting victim Jaime Guttenberg, whose life has inherently become political since that tragic day on February 14, 2018. Intertwining his experiences losing his brother during 9/11 and his 14-year-old daughter to gun violence, Guttenberg shows readers how to find hope within the darkness and fight to make lasting change.
Available September 22, 2020
17/21
'Rise Up' by Reverend Al Sharpton
In Rise Up, Reverend Al Sharpton studies the path that led our country to where it is today, using his wisdom to teach readers powerful lessons and concluding with a eulogy to George Floyd.
Available September 29, 2020
18/21
'Trust' by Pete Buttigieg
Former Democratic presidential candidate and mayor of South Bend, Indiana, Pete Buttigieg reminds us that trust is the foundation of democracy—helping us understand how to build it back in the middle of a pandemic and financial crisis.
Available October 6, 2020
19/21
'Finding Latinx' by Paola Ramos
In Finding Latinx, Paola Ramos takes us on a journey towards the long-overdue representation of Latinx people through the term "Latinx," inspiring a collective sense of identity and solidarity.
Available October 20, 2020
20/21
'The Purpose of Power' by Alicia Garza
Black Lives Matter Co-Founder Alicia Garza's memoir, The Purpose of Power: How We Come Together When We Fall Apart, is an action guide on how to organize and the impactful lessons she's learned over the years creating a global movement. As she recently wrote in an Instagram post, "This is a book I wish I had when I started organizing...I hope it inspires you to either keep going or get started."
Available October 20, 2020
21/21
'A Promised Land' by Barack Obama
In November, President Barack Obama is set to release his highly-anticipated first memoir since he left office, A Promised Land. In the first of two volumes, POTUS 44 provides an honest reflection of the highs and lows of his presidency, and the importance of preserving our democracy.
Available November 17, 2020