The Steamiest Jane Austen Adaptations, Based on Eye Contact
Since eye contact is all we have now, really.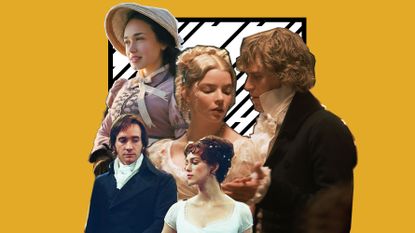 (Image credit: Design by Morgan McMullen)
Since March, my world—much like yours—has taken a turn. I've baked too many loaves of banana bread; online shopping has reached terrifying levels; and I now own a collection of very fashionable face masks. But thanks to these stylish and lifesaving tools, I've been left to communicate with romantic interests with just my eyebrows and longing stares. As the months drag on, I can't help but think that I now resemble a character in a Jane Austen novel. While the idea of living in the 19th century isn't exactly appealing to me, a modern-day woman, Austen may just convince me of its advantages with the courting of it all.
As I pondered which Austen heroine I'd most like to be, I took a look at the author's book-to-movie adaptions in hopes of learning something about bawdy eye-contact. What I found was a whole lotta bonnets, love letters, countryside walks, and a hefty amount of miscommunication between two people who very much love each other. While I wish I could include every retelling ever on this list, you and I would be here for an eternity—so instead I stuck to the fan-favorites. In the spirit of sexy eye-contact and in honor of Austen-lovers everywhere, I present to you a ranking of the steamiest Austen adaptions. Oh, how I love cinema!
13.Love & Friendship (2016)
Starring: Kate Beckinsale, Xavier Samuel, Morfydd Clark, Emma Greenwell, Chloë Sevigny and Tom Bennett.
Premise: In this adaptation of Austen's Lady Susan, recently widowed Lady Susan Veron (Beckinsale) is keen on playing matchmaker for her troubled daughter Frederica (Clark) while staying at her brother-in-law's home in Churchill. There's a lot of deception, secret letters, and walks in the gardens. So, uh, classic Austen.
Why it's #13: I found myself more frustrated with Lady Susan than invested in her and her daughter's escapades. (Hot take, I know.) Major props to the wonderful Chloe Sevigny as Alicia though; without her the movie would feel less fun.
12.'Mansfield Park' (1999)
Starring: Frances O'Connor, Harold Pinter, Lindsay Duncan, Jonny Lee Miller, Embeth Davidtz, and Alessandro Nivola.
Premise: Fanny Price (O'Connor) is sent from her home-by-the-sea to a countryside estate to live with her wealthy aunt. There, she falls in love with their son Edmund (Lee Miller) but is constantly reminded of her unwealthy upbringing. Things take a turn when a pair of hot siblings show up, and everyone wants some action.
Why it's #12: Until Sandition this was the *only* Austen movie to feature a sex scene, and it still doesn't get me hot and bothered. This is probably because Fanny's personality strayed far from her sad-girl roots. No one has done this novel real justice yet, TBH. Screenwriters, take note.
11.'Northanger Abbey' (2008)
Starring: Felicity Jones, JJ Feild, Carey Mulligan, William Beck, and Liam Cunningham.
Premise: Bookworm Catherine Morland's (Jones) dreams come true when she gets to live out her wildest fantasies in Bath, finding herself receiving affections from, not one, but two men. Huzzah! Our heroine visits a mysterious gothic castle, and things get ~spicy.~
Why it's #11: Morland's horny dreams about her crush, Henry Tilney (Feild), were arguably the best part of this film. If it weren't for these reveries, I truly believed they were going to end up enemies, which is maybe what Austen would've wanted—but not me.
10.'Bride & Prejudice' (2004)
Starring: Aishwarya Rai, Martin Henderson, Anupam Kher, Naveen Andrews, and Indira Varma.
Premise: In this Pride & Prejudice remake, American hotelier Will Darcy (Henderson) meets farmer's daughter Lalita Bakshi (Rai) at a wedding, and romantic entanglements interspersed with super catchy musical numbers follow.
Why it's #10: Just cause it's a Bollywood adaption doesn't mean it's short on steamy eye-contact. In fact, that means there's a whole lot of it. Unfortunately, I found myself focusing more on the foot-tapping musical numbers, like "No Life Without Wife," than Lalita and Darcy's chemistry.
9.'Emma' (1996)
Starring: Gwyneth Paltrow, James Cosmo, Alan Cumming, Jeremy Northam, and Toni Collette.

Premise: When you're as rich and beautiful as Emma Woodhouse (Paltrow), you're allowed to meddle in other people's love lives—even if the men you're surrounded by (particularly your sister's brother-in-law and your potential match) hate it. It's practically Jane Austen law.
Why it's #9: Once I realized Emma was 21 years old and Mr. Knightley (Northam) was 37 years old, I mentally checked out. Something about a large age difference just doesn't really set the mood for me, even if it was the societal norm of the period.
8.'Sense and Sensibility' (1995)
Starring: Emma Thompson, Kate Winslet, James Fleet, Hugh Grant, Alan Rickman, and Harriet Walter.
Premise: Upon the death of Mr. Dashwood, his surviving family members are forced to move into a smaller home on a large countryside estate. There, the Dashwood sisters, Elinor (Thompson) and Marianne (Winslet), find themselves dealing with matters of the heart.
Why it's #8: Thompson's first attempt at writing a screenplay is as lovely as you think it would be. This may be in part because we're seeing Austen through female eyes. Or maybe it's because Rickman's deep voice just does something to me. Overall, what some of the characters lack in chemistry, is made up for by the really good plot.
7.Bridget Jones's Diary (2001)
Starring: Renée Zellweger, Colin Firth, Hugh Grant, Gemma Jones, and Celia Imrie.
Premise: Thirty-something Bridget Jones (Zellweger) is unlucky in love and spends her days pining after her boss at "Pemberley Publishing," Daniel Cleaver (Grant). Desperate to make a change, she sets out to better herself in the new year. If only the annoying yet attractive Mark Darcy (Firth) could get out of the way!
Why it's #7: This loose Pride and Prejudice adaption is fun, and checks all the necessary boxes for beloved early '00s romantic comedies: a love interest with great hair (Grant), a smoking problem, and a woman who thinks she doesn't know how to flirt but does. You'll eat it up, but still long for the banter of the Regency era.
6.'Emma' (2020)
Starring: Anya Taylor-Joy, Johnny Flynn, Mia Goth, Bill Nighy, Josh O'Connor, and Callum Turner
Premise: Emma Woodhouse (Taylor-Joy) is rich, beautiful, and has a knack for getting into other's people's business. So why would she pass up an opportunity to set up her friend, Ms. Harriet Smith (Goth), with one of the most eligible bachelors in town?
Why it's #6: Emma has been retold again and again in Hollywood, but this is the best Regency-era adaption yet. The dialogue is impeccable, the love triangles are grand, and watching people confess their love under a large tree is now my favorite way to spend an afternoon.
5.'Clueless' (1995)
Starring: Alicia Silverstone, Brittany Murphy, Paul Rudd, Stacey Dash, and Donald Faison.
Premise: Posh Beverly Hills high schooler Cher Horowitz (Silverstone) has it all but still finds herself bored with day-to-day high school dramatics. When new girl Tai Frasier (Murphy) shows up, Horowitz decides to give her a makeover (and make her a match) worthy of Emma Woodhouse.
Why it's #5: The impact this movie has had on pop culture is legendary, from "As If!" to plaid on plaid pantsuits. I like to think Jane Austen would be proud of Amy Heckerling's Emma adaption. While the chemistry is there between all of the characters, the roadblock of Cher ending up with her ex-step-brother can be hard to get past. But in the name of Paul Rudd in flannel, I'm happy to put my prejudice aside.
4.'Persuasion' (1995)
Starring: Amanda Root, Ciarán Hinds, Susan Fleetwood, Corin Redgrave, and Fiona Shaw.
Premise: Anne Elliot's (Root) fate of being a spinster might change after all when her handsome ex-fiancé, Captain Wentworth (Hinds), returns from the Napoleonic Wars a single man. It's a classic "will they or won't they" scenario.
Why it's #4: The only note I wrote while watching this movie was, "I love a man with one singular facial expression that says everything." Captain Wentworth gives Mr. Darcy a run for his money, and frankly, I'm obsessed.
3.'Pride and Prejudice' (1995)
Starring: Jennifer Ehle, Colin Firth, Crispin Bonham-Carter, Susannah Harker, and Julia Sawalha.
Premise: The Bennet sisters find themselves entangled with hunky newcomers Mr. Darcy (Firth) and Mr. Bingley (Bonham-Carter) as they attempt to find love in a society where class rank is everything.
Why it's #3: It's the Austen mini-series adaption that started it all. The show catapulted Colin Firth to stardom, thanks in particular to his post-jumping-into-a-lake attire, which left more than just Elizabeth Bennet (Ehle) hot and bothered. If this was your first introduction to Austenland, then you only trust this Darcy. And, if it wasn't, then, well, you know where this is going. . .
2.'Pride & Prejudice' (2005)
Starring: Keira Knightley, Matthew McFadyen, Judi Dench, Rosamund Pike, Simon Woods, and Donald Sutherland.
Premise: When handsome and conveniently rich Mr. Bingley (Woods) and Mr. Darcy (McFadyen) show up in town everyone wants a piece. Well, everyone except Elizabeth Bennet (Knightley), who finds Mr. Darcy more annoying than charming. But, of course, things change.
Why it's #2: Joe Wright's adaption initiated a whole new cohort of Austen fans. I truly believe whatever adaption of Pride and Prejudice you watched first is your go-to. For me, it's the one-facial-expression wearing McFayden. His longing eye contact gave me some serious goosebumps, and I cried crocodile tears at the ending for no other reason than I wish someone would walk through the morning dew to tell me that they loved me.
1.'Sanditon' (2019)
Starring: Rose Williams, Theo James, Anne Reid, Kris Marshall, and Kate Ashfield.
Premise: Charlotte Heywood (Williams) gets the opportunity of the 19th century when a wealthy family agrees to take her in at their seaside home in Sanditon. There, she meets a group of interesting characters, including a very handsome man named Sidney Parker (James).
Why it's #1: This unfinished Jane Austen tale finally gets its own adaptation in this eight-part series. And, my god, it is a lust-filled production. It has sex, drama, POC representation, questionable bathing suits, and best of all: a naked Theo James! Its only fault? There are currently no plans for a season two, and after watching the season 1 finale, I haven't stopped internally pleading for more. Run, don't walk, to stream this Austen adaption.
Bianca Rodriguez is the Fashion & Luxury Commerce Manager at Hearst Magazines, covering fashion, beauty, and more for Cosmopolitan, Elle, Esquire, Harper's BAZAAR, and Town & Country. She likes lounging about with a good book and thinks a closet without platform sneakers is a travesty.