Editors handpick every product that we feature. We may earn commission from the links on this page.
The Steamiest Jane Austen Adaptations, Based on Eye Contact
Since eye contact is all we have now, really.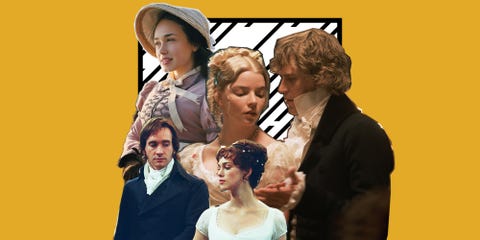 Design by Morgan McMullen
Since March, my world—much like yours—has taken a turn. I've baked too many loaves of banana bread; online shopping has reached terrifying levels; and I now own a collection of very fashionable face masks. But thanks to these stylish and lifesaving tools, I've been left to communicate with romantic interests with just my eyebrows and longing stares. As the months drag on, I can't help but think that I now resemble a character in a Jane Austen novel. While the idea of living in the 19th century isn't exactly appealing to me, a modern-day woman, Austen may just convince me of its advantages with the courting of it all.
As I pondered which Austen heroine I'd most like to be, I took a look at the author's book-to-movie adaptions in hopes of learning something about bawdy eye-contact. What I found was a whole lotta bonnets, love letters, countryside walks, and a hefty amount of miscommunication between two people who very much love each other. While I wish I could include every retelling ever on this list, you and I would be here for an eternity—so instead I stuck to the fan-favorites. In the spirit of sexy eye-contact and in honor of Austen-lovers everywhere, I present to you a ranking of the steamiest Austen adaptions. Oh, how I love cinema!
---
This content is created and maintained by a third party, and imported onto this page to help users provide their email addresses. You may be able to find more information about this and similar content at piano.io