The 'Behind Her Eyes' Cast: Your Complete Guide
At least we can solve one of the show's mysteries!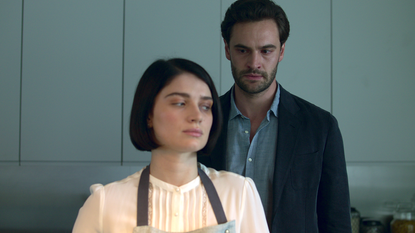 (Image credit: Netflix)
At this point, prestige TV has gotten the entire psychological thriller genre down to a science. The latest example of this expertise in weaving confusingly twisty, supremely disturbing stories is Behind Her Eyes, Netflix's adaptation of the bestselling 2017 novel by Sarah Pinborough. The limited series explores the increasingly tangly love triangle between married couple David and Adele and David's assistant Louise, which builds up across the six 50ish-minute episodes to a finale so jaw-dropping that it launched the hashtag #WTFThatEnding shortly after the book was released in 2017—and which will almost certainly start trending once again as the world starts zooming through the TV adaptation. Amid this plethora of mind-boggling mysteries is likely the nagging feeling that you've definitely seen the people on your screen before. Thankfully, that's one mystery we can solve, with no spoilers necessary: Here's your guide to the cast of Behind Her Eyes.
1/7
Simona Brown as Louise
Single mom Louise rolls into her first day of a new job only to discover that her new boss is the (married) man she hooked up with the night before. An auspicious start! Things only get worse from here, as she strikes up yet another ill-advised relationship with David's wife Adele.
Brown is a British actress with a practically spotless record when it comes to joining prestige TV adaptations of bestselling novels: She's starred in The Little Drummer Girl, The Night Manager, and The Casual Vacancy, and also had a guest role in Outlander in 2018. She also took on the lead role in Netflix's Kiss Me First the same year.
2/7
Tom Bateman as David
David appears to have an idyllic marriage to Adele, but—shocker!—all is not as it seems, as evidenced by his many secrets that bubble up throughout the series.
An accomplished actor on both the screen and stage, Bateman is another Brit whose resume includes films like Murder on the Orient Express, Snatched, and Cold Pursuit, and TV series such as Beecham House and Vanity Fair. His offscreen life is full of fun facts: Bateman was born and raised in Oxford, has 12 siblings (!) including a twin named Merlin, and has been dating Daisy Ridley since 2017.
3/7
Eve Hewson as Adele
Of course, it takes two to tango—or, you know, to construct the facade of a seemingly perfect marriage—and Eve is just as full of secrets as her husband, many of which are explored bit by bit in flashbacks to her mysterious past.
Hewson, born Memphis Eve Sunny Day Hewson, is about as Irish as it gets: She was born and raised in Dublin, and her dad is Bono. Casual. Her feature film debut was in 2008's The 27 Club, and she has since starred in films including Bridge of Spies, Robin Hood, and Tesla.
4/7
Robert Aramayo as Rob
Rob features heavily in the flashbacks into David and Adele's past, but seems to have come to a tragic end sometime between then and the present. Would it surprise you to learn that here, too, all is not as it seems?
Like the rest of the star-studded cast, Oxford-educated Aramayo has an impressive list of credits: You may recognize him from his roles in Nocturnal Animals, Mindhunter, or Antebellum, or from his arc as young Ned Stark in Game of Thrones. Next up, he'll appear as Beldor in the much-hyped Lord of the Rings series on Amazon Prime.
5/7
Tyler Howitt as Adam
Adam is Louise's son and main priority, and just might be the only character in the show who's not hiding any life-or-death secrets. There had to be one!
He may have only started acting three years ago, but this isn't Howitt's first foray into high-profile TV: He previously appeared as Billy Costa in three episodes of HBO's His Dark Materials. His first role came in 2018, when he played Reggie in an episode of U.K. children's series Apple Tree House.
6/7
Nichola Burley as Sophie
Sophie is the classic onscreen best friend, always there to commiserate with Louise over a glass of wine—though it would take a lot more than a casual girls night for Sophie to help Louise find her way out of that messy love triangle.
Burley is an English actress and professionally trained dancer. She's previously popped up in Downton Abbey, Death Comes to Pemberley, Wuthering Heights, and the original British version of Shameless.
7/7
Georgie Glen as Sue
Sue works in David and Louise's office as a secretary. Fortunately for her, she successfully avoids getting swept up in their seemingly endless maze of drama. Way to stay above the office politics, Sue!
Scotland-born Glen has appeared in dozens upon dozens of films and TV shows since the mid-'90s, making the real question here where haven't you seen her before? Some of her most recent credits include The Crown, Call the Midwife, The Hitman's Bodyguard, and Jackie.
Celebrity news, beauty, fashion advice, and fascinating features, delivered straight to your inbox!
Andrea Park is a Chicago-based writer and reporter with a near-encyclopedic knowledge of the extended Kardashian-Jenner kingdom, early 2000s rom-coms and celebrity book club selections. She graduated from the Columbia School of Journalism in 2017 and has also written for W, Brides, Glamour, Women's Health, People and more.