20 New Books by Asian Authors to Get Excited About
We rounded up the best new 2021 book releases by Asian American and Pacific Islander authors, from Senator Mazie K. Hirono's 'Heart of Fire' to Helen Hoang's 'The Heart Principle.' Order them here.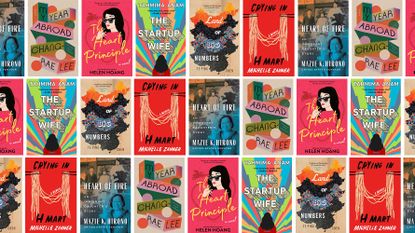 (Image credit: Design by Morgan McMullen)
Yes, Asian American and Pacific Islander (AAPI) Heritage Month is in May, but we should be reading books by AAPI authors year-round. From Senator Mazie K. Hirono's Heart of Fire to Michelle Zauner's Crying in H Mart to Helen Hoang's The Heart Principle, Marie Claire rounded up the must-read 2021 book releases by Asian and Asian American authors. Browse through our favorites, ahead, and if you want to stand in solidarity with the AAPI community following the surge in AAPI hate crimes over the past year, learn how to do so here.
1/20
'My Year Abroad' by Chang-Rae Lee
In Pulitzer Prize finalist Chang-Rae Lee's My Year Abroad, Pong Lou, a Chinese American entrepreneur, brings Tiller, an American college student, on a trip across Asia and helps him dramatically transform his view of himself and the world.
Available February 2, 2021
2/20
'Land of Big Numbers' by Te-Ping Chen
Journalist and author Te-Ping Chen takes readers through the modern diaspora of the Chinese people through compelling stories that help us understand what freedom and reinvention truly means.
Available February 2, 2021
3/20
'Unfinished' by Priyanka Chopra Jonas
As Priyanka Chopra Jonas told Marie Claire, her debut memoir Unfinished is "where the real her is on display," discussing everything from childhood bullying to the skin-whitening commercials she used to participate in.
"I call it the in-between-interviews book. I've been in so many interviews in my life, but nobody knows what happened in between them," she says. "I'm not someone who shares my vulnerabilities, my fears. And somehow in the process of writing this book—because it was so cathartic—I happened to go to those places."
Available February 9, 2021
4/20
'Kink' Edited by R.O. Kwon and Garth Greenwell
If it's edited by R.O. Kwon, you know it has to be good. Kwon and Garth Greenwell's Kink is an anthology about love, sex, and desire from a prolific roster of writers.
Available February 9, 2021
5/20
'The Dating Plan' by Sara Desai
If you're looking for a light, fun read, Sara Desai's The Dating Plan—Marie Claire's April book club pick—is a story about two people who plot a fake engagement and may or may not end up falling for each other! You can read an excerpt from the book here.
Available March 16, 2021
6/20
'Heart of Fire' by Mazie K. Hirono
Senator Mazie K. Hirono's Heart of Fire is about her journey to becoming the first Asian American woman in the U.S. Senate, but at its core it's a heartwarming ode to her mother and her grandmother. You can read Marie Claire's interview with Senator Hirono here.
Available April 20, 2021
7/20
'Crying in H Mart' by Michelle Zauner
Michelle Zauner's Crying in H Mart—Marie Claire's May book club pick—is based on the indie rockstar's viral New Yorker essay of the same name, where Zauner grapples with her mother's death and how it has shaped her identity. Expect a lot of tears while reading this one.
Available April 20, 2021
8/20
'Anna K Away' by Jenny Lee
Jenny Lee returns with the highly-anticipated sequel to Anna K—a modern retelling of Anna Karenina. In Anna K Away, the story picks up where Anna K left off after a scandalous sex tape and the death of one of the main characters. FYI, Anna K is being transformed into a TV series!
Available April 27, 2021
9/20
'Dial A for Aunties' by Jesse Q. Sutanto
Part thriller, part rom-com, Jesse Q. Sutanto's Dial A for Aunties will give you the good laugh we could all use these days. After main character Meddelin Chan ends up accidentally killing her blind date, she calls in her aunties as reinforcements to help get rid of the body.
Available April 27, 2021
10/20
'The Secret Talker' by Geling Yan
Geling Yan's novel, The Secret Talker, is a mystery centered on main character Hongmei, the perfect wife, who starts to receive emails from a stalker who knows her deepest secrets. In a quest to find out who the stalker is, she must dive deep into her past while figuring out how to uncover the stalker's own secrets.
Available May 4, 2021
11/20
'Tokyo Ever After' by Emiko Jean
Á la Princess Diaries, Izumi "Izzy" Tanaka, a Japanese American growing up in a small white California town, discovers her father is the Crown Prince of Japan, which officially makes her royalty. When she travels to Japan to meet her father, she finds out being a princess isn't all it's cracked up to be.
Available May 18, 2021
12/20
'Heart & Seoul' by Jen Frederick
When Hara Wilson's father unexpectedly dies, the Korean adoptee heads to Seoul to rediscover her roots...and just so happens to find a forbidden love.
Available May 25, 2021
13/20
'Impostor Syndrome' by Kathy Wang
If you're looking for a story about women in tech with a dose of Russian espionage, you'll enjoy Kathy Wang's Impostor Syndrome.
Available May 25, 2021
14/20
'House of Sticks' by Ly Tran
Ly Tran's coming-of-age memoir, House of Sticks, is a moving recount of how Tran and her family immigrated from a small town in Vietnam to a two-bedroom railroad apartment in Queens, and how she forged her path in a new culture.
Available June 1, 2021
15/20
'The Little Book of Jeong' by Charlotte Cho
Charlotte Cho, co-founder of Soko Glam and author of The Little Book of Skin Care, will release her second book, The Little Book of Jeong, where Cho shares personal stories about how jeong, a Korean word that describes a deep emotional connection you can share with someone, has helped fulfill her life and can do the same for others.
As the K-beauty expert wrote on Instagram, "In many ways, we need jeong more than ever, with less importance placed on deep connections and more on superficial, social media driven ones. It's a reminder I myself need everyday, and is needed for our current and future generations."
Available July 1, 2021
16/20
'The Startup Wife' by Tahmima Anam
Tahmima Anam's The Startup Wife explores an essential question for couples: Can you be both romantic partners and business partners? Newlyweds Asha and Cyrus, who built a successful app and social media platform, are about to find out.
Available July 13, 2021
17/20
'So We Meet Again' by Suzanne Park
Forced to move back home after being laid off, Jessie Kim reunites with her childhood nemesis and accepts his help to re-launch her Korean cooking YouTube channel. Turns out, the rivalry (and then some...) continues all of these years later!
Available August 3, 2021
18/20
'Afterparties' by Anthony Veasna So
Following Anthony Veasna So's tragic death in December 2020, the author "on the brink of stardom," as The New York Times calls him, will release his debut collection of stories about everyday Cambodian-American life.
Available August 3, 2021
19/20
'Seeing Ghosts' by Kat Chow
A deeply moving exploration of grief, Kat Chow's Seeing Ghosts is a detailed recount of three generations of family history, and what it means to lose, love, and hope.
Available August 24, 2021
20/20
'The Heart Principle' by Helen Hoang
Helen Hoang returns with The Heart Principle—a story about a violinist named Anna Sun who struggles with burnout. To ease her stress levels, she decides to have a bunch of one-night stands. That is, until one of the one-night stands slowly starts to look more and more like a relationship: one her family disproves of.

Available August 31, 2021
Marie Claire email subscribers get intel on fashion and beauty trends, hot-off-the-press celebrity news, and more. Sign up here.