Who Is Alden Ehrenreich From 'Fair Play'?
The star of the Netflix thriller has already appeared in one of the biggest films of the summer.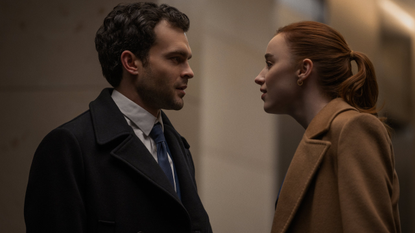 (Image credit: Sergej Radovic / Courtesy of Netflix)
If you want to watch a truly jaw-dropping exploration of gender dynamics and male fragility in relationships, look no further than Fair Play. The Netflix thriller written and directed by Chloe Domont begins with Emily (Phoebe Dynevor) and Luke (Alden Ehrenreich) on top of the world, as the two financial analysts get engaged despite their workplace-forbidden relationship. However, when Emily gets an unexpected promotion and becomes Luke's superior, the change in status pushes their relationship to the brink as they struggle to adjust to the new normal. The tense, surprisingly bloody film is propelled by stellar, layered performances from Dynevor, who's best known as the beloved Daphne Bridgerton, and Ehrenreich, an actor who may be a familiar face to sci-fi fans.
Though Ehrenreich has already worked with acclaimed filmmakers including Francis Ford Coppola, Park Chan-wook, and the Coen Brothers, the Los Angeles-born actor is currently having one of the biggest years of his career. Read on to learn more about the rising star.
He's starred in a Star Wars movie, a supernatural romance, and an Old Hollywood comedy.
The 33-year-old actor's first major role was starring in Francis Ford Coppola's 2009 noir film Tetro, and he went on to appear in Coppola's subsequent film Twixt, as well as Sofia Coppola's 2011 commercial for the Miss Dior Cherie, which starred Natalie Portman. He went on to star in the 2013 supernatural teen romance Beautiful Creatures, and in 2016 he had a lead role in the Coen Brothers' 1950s-set comedy Hail, Caesar!. He also played young Han Solo in the 2018 film Solo: A Star Wars Story, winning the role over 3,000 other actors including Taron Egerton, Rami Malek, and Aaron Taylor-Johnson. His other films include Stoker, Blue Jasmine, Rules Don't Apply, and The Yellow Birds, as well as the 2020 TV adaptation of Aldous Huxley's novel Brave New World.
He was discovered by Steven Spielberg.
Ehrenreich got his first professional acting gigs thanks to a genuine film legend. While attending a friend's bat mitzvah reception, he was discovered by Steven Spielberg, who watched a short comedy video he appeared in. Ehrenreich was then contacted by DreamWorks Studios, which Spielberg helped found, and met with its casting director.
"He was in a bat mitzvah video that my daughter acted with him in for their best friend," Spielberg told Entertainment Tonight in a 2016 interview. "They showed me the video and I loved it and I got him an agent. That's sort of how it all began. I thought he had a lot of promise in comedy. I didn't know he was going to rogue [into] drama. He was so funny in this video, I thought, 'I have found the next really funny comedian.' But most of his choices have been in drama and people don't know how really funny he is."
2023 has been his biggest year yet.
After a brief hiatus from acting, Ehrenreich started off this year by co-starring in the fan-favorite horror-comedy Cocaine Bear. He followed that up with a supporting role in this summer's record-breaking drama Oppenheimer, where he had a scene-stealing role as a Senate aide working with Robert Downey Jr.'s Lewis Strauss. Next up after these roles, he's set to star alongside Dominique Thorne in the Marvel/Disney+ series Ironheart.
Ehrenreich also released his first short film Shadow Brother Sunday this year, which he wrote, directed, and starred in as a man who considers betraying his successful actor brother's privacy by selling his personal computer to the paparazzi. In an interview with The Wrap, the filmmaker revealed that he shot his short on film partly because he was inspired by seeing how Christopher Nolan directed Oppenheimer.
"I'd always planned on shooting on film, but this was where I was like, when we're looking at the budget, I was like, I can't show up to the Oppenheimer premiere if I shot on digital, I would be banned because there's no one that's more staunchly about that than him. That was a really good inspirational kick in the pants. We shot on 35mm, which I'm so happy I did because that was really important to me."
He joined Instagram this past January.
Ehrenreich quietly joined Instagram at the beginning of this year, where he shares photos of his friends, family, and daily life along with his projects. In an interview with GQ UK, he revealed why he decided to get an account.
"I never was interested in any of that. I didn't want to post photos of my Egg McMuffin in the morning or whatever," he told the outlet. "But then I recognised how valuable it is as a tool to be able to tell people about my own projects – ones that don't necessarily have a studio marketing budget behind them, like my short, and the theatre space I'm opening in LA. That was in tandem with realising that I've been taking photographs for five years, I've been drawing my whole life, and it felt like this was somewhere I could share those forms of creative expression. I'm probably not hitting any of the things that make you really popular on Instagram, but I'm enjoying myself."
Celebrity news, beauty, fashion advice, and fascinating features, delivered straight to your inbox!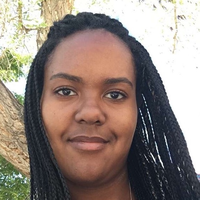 Contributing Culture Editor
Quinci LeGardye is a Contributing Culture Editor who covers TV, movies, Korean entertainment, books, and pop culture. When she isn't writing or checking Twitter, she's probably watching the latest K-drama or giving a concert performance in her car.