Here's Your Preview of the Super Bowl Commercials Everyone's Going to Be Talking About
Because, let's be real, you're not at the party for the sport.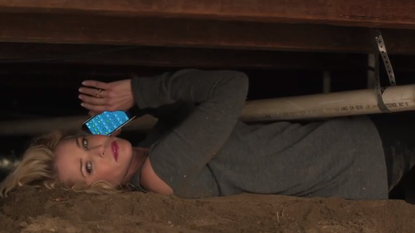 (Image credit: YouTube)
Our favorite part of the Super Bowl has nothing to do with guys tossing around an allegedly deflated football. Like 87.3% of the female population, we've always gravitated towards the halftime show and the commercial interludes as opposed to the game itself. And if the 2015 teasers are any indication, we'll be as disinterested in America's favorite pastime as ever thanks to a killer ad lineup that includes the Victoria's Secret Angels, Kim Kardashian, Mindy Kaling, and one very important cause. Here, find out what we're most excited for:
1. Chelsea Handler and Sarah Silverman for T-Mobile
What happens when Handler and Silverman put their heads together? Brilliance, duh. It's hard to tell what's really going in this behind-the-scenes teaser for their new T-Mobile ad, but we love watching these ladies showcase the non carrier's wifi calling "without any grace, style, or class," as Handler puts it.
2. Steve Buscemi and Danny Trejo for Snickers
This parody of that famous Brady Bunch scene where Marcia Brady gets smacked in the face with a football is what commercial dreams are made of. Throwing Buscemi and Trejo into the mix is the cherry on top of the Super Bowl sundae.
3. Always #LikeAGirl Campaign
Always will be the first feminine care brand to advertise during the Super Bowl AND is doing so on behalf of social change with their #LikeAGirl campaign, which seeks to change the perception of the phrase. Bravo!
4. Kim Kardashian for T-Mobile
February 1 will not go down as Super Bowl XLIX, but rather the official commencement of the #KimDataStash movement. The reality star has a self-deprecating message for the all poor souls who can't see her latest #OOTD, beauty look, or exotic vaca because their data plan is falling short: upgrade your plan, so you don't miss a single #selfie.
5. Lindsay Lohan for Esurance
According to a report by TMZ, Lindsay Lohan was spotted filming a Super Bowl ad with the car insurance company. Since the rumors began, the irony has not been lost on us...or anyone.
6. Mindy Kaling for Nationwide
Last week, we shared Mindy's first off-the-charts-cute teaser for Nationwide. It's birthed the hashtag #InvisibleMindy and we foresee it trending on the big night.
7. The Angels for Victoria's Secret
Candice Swanepoel, Lily Aldridge, Karlie Kloss, Behati Prinsloo, Alessandra Ambrosio, and Adriana Lima are suiting up and putting the guys' football uniforms to shame. Gisele Bündchen may not make an appearance in the ad, but it's still a reminder that even when the Patriots lose, Tom Brady wins.
8. Katie Couric and Bryant Gumbel for BMW
The ad, which premiered on the Today show today, features a clip of Couric and Gumbel, two former co-hosts of the show, in 1994, talking about this thing called the internet and debating the meaning of the @ symbol. It then flashes to modern day, where the pair tries to decode the new electric BMW. See what they did there?
9. A Handsome Man and His Puppy for Budweiser
Much to our delight, there's plenty more "Puppy Love" to go around as far as the American lager giant is concerned. In this iteration, a handsome gentleman's best pup goes missing and he proceeds to post "Lost Dog" signs all over town. We all know how this ends.
10. Pierce Brosnan for Kia Sorento
Nobody puts 007 in the corner—except himself, maybe? Pierce Brosnan plays an aging action star whose idea of a car commercial involves exploding cabins, missile launchers, and driving on windy mountain roads at 200 miles per hour—the ad exec pitching him has different ideas.
11. UltraViolet #GoodellMustGo
If you were outraged with NFL commissioner Roger Goodell's actions, or lack thereof, concerning the highly-publicized cases of domestic abuse in his league, equal rights group UltraViolet is right there with you. Before the game on Super Bowl Sunday, their ad will flash the hashtag #GoodellMustGo to drive the point home.
12. NO MORE's PSA
For the first time ever, the NFL will run a TV spot DURING the Super Bowl that directly deals with domestic violence. The ad is based on an actual 911 call placed by a woman pretending to order pizza to escape her abuser. The league teamed up with No More, an organization that raises public awareness about domestic violence and sexual assault.
You should also check out:
The Best Super Bowl 48 Commercials for Women
Katy Perry Promises Female Empowerment, High Spirits At Super Bowl Halftime Show
Celebrity news, beauty, fashion advice, and fascinating features, delivered straight to your inbox!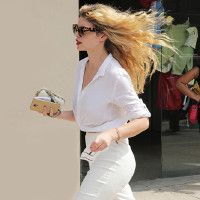 Lauren is the former beauty editor at Marie Claire. She love to while away the hours at coffee shops, hunt for vintage clothes, and bask in the rough-and-tumble beauty of NYC. She firmly believes that solitude can be a luxury if you've got the right soundtrack—that being the Rolling Stones, of course.