What the Country's First All-Female Mosque Means For Muslim-American Women
In a word: community.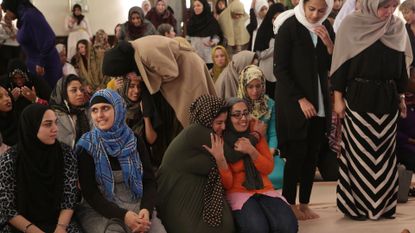 (Image credit: Alexa Pilato)
Marie Claire Newsletter
Celebrity news, beauty, fashion advice, and fascinating features, delivered straight to your inbox!
Thank you for signing up to Marie Claire. You will receive a verification email shortly.
There was a problem. Please refresh the page and try again.
On January 30th, more than 150 Muslim women gathered in downtown Los Angeles to pray together—for the first time—at the Women's Mosque of America. "It was always a childhood dream of mine to build a Mosque before I died, but I had no idea it would be a women's Mosque," says founder and co-president M. Hasna Maznavi, 29.
The Women's Mosque of America is the first all-female place of worship for Muslim women in the United States. Traditionally, Islamic places of worship are segregated between men and women with male Imams leading prayers and giving sermons. The women are given another space, away from the men.
"Segregation between genders isn't a bad thing necessarily because it's a very intimate physical space. You're standing very close to the person next to you," explains Maznavi. She says the real problem is the treatment of women's spaces in American Mosques, which are often cramped and completely cut off from the main area, making it hard to interact with the rest of the congregation and religious leaders.
According to a 2011 study by the Islamic Society of North America, 63% of mosques scored fair or poor on a scale for women-friendly mosques.
Hind Makki, a well-known Muslim-American activist and founder of Side Entrance, a blog devoted to documenting Muslim women's prayer spaces around the world, says that the formation of the Women's Mosque of America is a response to the exclusion of women from a lot of Mosques across the country. "In the U.S, the Mosque is now the place where the community gets together to learn about the faith, and you can't have that kind of space without women and girls," she explains, adding that the fact that Muslim women are taking matters into their own hands shows that Islam itself is not against female empowerment, but it's how some people interpret it. Wrongly, she points out.
In fact, women were at the center of Islam when it was founded—only to be erased by thousands of years of revisionist history. Maznavi discovered that fact a few years ago, after delving into a dedicated study of Islam. She soon realized that current cultural practices regarding Muslim women are very different from the early days of the religion, and that there were once thousands—yes, thousands—of female Muslim scholars after Islam was founded.
"But even though these women existed, Islamic law was mostly written down by men, so the female voice and perspective were largely left out," she explains.
And this is where Maznavi hopes to change things. "The Women's Mosque of America's vision is for a worldwide Islamic renaissance, shaped by female scholarship and leadership," she says.
Tanzila Ahmed, a Muslim-American activist and writer in Los Angeles, says she attended the Women's Mosque of America's first prayer because she was intrigued by the concept. "For so long, as Muslim women, we've been told how we should practice Islam, and as Americans, our stories have been pushed to the margins," says Ahmed. "I think this space means that I will be able to finally find a community where I can finally find a spiritual practice where I feel accepted."
You should also check out:
Muslim Fashionistas Put a Stylish Spin on the Hijab
Celebrity news, beauty, fashion advice, and fascinating features, delivered straight to your inbox!
Jennifer Chowdhury is an independent journalist based in New York City and Bangladesh. She covers the South Asian and Muslim diaspora with a specific focus on gender rights. She is passionate about covering stories on women of color around the world whose voices are stifled by patriarchal attitudes, systematic racism and socioeconomic burdens.