Hipsters in Hijab: What Does a Muslim Woman in America Look Like?
For Marwa Atik, who creates scarves for fashion-conscious Muslim women, the answer seemed to be missing in mainstream media.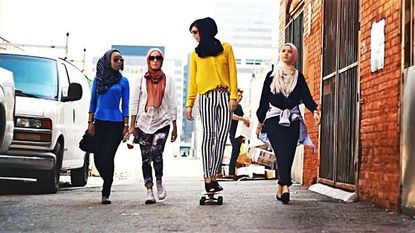 (Image credit: Sahar Jahani)
When the late British essayist Christopher Hitchens wrote in 2010 "we have no assurance that Muslim women don the veil as a matter of their own choice," he clearly hadn't spoken to Marwa Atik. As the co-founder and lead designer of the Los Angeles-based Vela Scarves, Atik is at the helm of a social-media fuelled fashion trend among Muslim American hijabis.
It all started when the 23-year-old—who graduated from the Fashion Institute of Design and Merchandising in Los Angeles in 2009—decided to adorn one of her hijabs with a zipper trim, betting that "people will either love this or hate it." Turns out, they loved it. So much so that Atik started a Facebook page for people to place orders.
Three years later, Atik and her sister, Tasneem Atik Sabri, 29, now work full-time out of a downtown Los Angeles studio and are responsible for starting hashtags like #chichijab and #hijabfashion. Atik, whose family is originally from Syria, was also featured in the viral video sensation known as Mipsterz, which is featured in this month's magazine.
Marie Claire spoke to her about melding modesty and style and how she manages to debunk cultural, religious, and gender stereotypes simultaneously.
Marie Claire: When did your interest in fashion start?

Marwa Atik: I was interested in fashion the minute I put on my scarf [for the first time] in 8th grade. I was such a nerd! I would go through my closet with my sister and make these flashcards with each clothing item on them and note what could be put together. Then I'd shuffle them up and pick out an item to wear.
MC: Did your style change?

MA: Yes. Before I wore the scarf I was a complete tomboy. I just didn't care. But I noticed when I put on the scarf I gained this feeling or responsibility to act like a lady. One of the biggest lessons the hijab taught me is that you have to rely on your words, your personality, and the way you speak with people to make them change their mind about how they perceive you.
MC: Is it challenging to dress modestly and stylishly at the same time?

MA: Sometimes when I go to Forever 21 and H&M, I find a shirt that has the perfect drape and the perfect fabric that I want, but it's not long sleeve. That's kind of a buzz kill. I think most of my fashion sense comes from the challenge of having to dress modestly while still being fashionable. Right now, I'm only designing scarves, but soon I'll be doing a street-wear line that will feature shirts long enough to hit mid-thigh and with long sleeves. Despite those constraints, they will still be really on point in terms of style.
MC: What makes Vela's scarves different?

MA: Vela has a certain trademark in how we tie our scarves, which we post videos of on YouTube. We were the first to create a scarf that is very specifically wrapped around the neck and tied in a knot. This tying method is used in order to show all elements of the scarf design and it's created a trend in hijab fashion. On top of that, our scarves have been known to have overlay fabric, ruffles, lace, zippers, etc. I try to keep pace with fast fashion, so every six weeks or so I'm always coming out with a new design or color. A lot of my friends who are non-Muslim also wear my scarves, but around their necks, so they are very versatile. Also, I think people really identify with [the brand] because I'm a hijabi girl who is designing for other hijabi girls.
MC: Your scarves are all about self-expression, but often people associate wearing the hijab with the stifling of female expression. How do you respond?

MA: It's such a big misconception that any woman who wears a hijab is oppressed. I think it comes from the media. The truth is, I don't feel oppressed. I don't identify myself as someone that's being attacked. At the end of the day, I'm an American who is also Muslim.
A lot of times the people who think we're oppressed or wearing a hijab by force often haven't met a hijabi or talked to any of us. Some of us actually like it when people approach us and ask questions as to why we wear it.
MC: So how do you answer that question: Why do you wear it?

MA: I dress modestly so people and society can see me for my personality, how I talk, and for who I really am, rather than how I look in a provocative sense. The beauty of the hijab is it doesn't restrict you from wearing whatever you want to go with it. You find your own modesty and you dress according to that—as long as you have the right intentions that's all that really matters.
MC: You and your scarves were in the viral Mipsterz video. What did you think about the response?

MA: I felt like the inaccuracy of Muslim stereotypes is something that society has to discuss, so I was really excited that a different image of hijabi women was being brought up. One thing that came up, though, was people saying: "Oh these girls are trying to identify themselves as being American." That stumped me. I'm not trying to be an American—I am American. I'm also a fashion designer, who loves to skateboard and snowboard, and volunteer doing community service with my mosque. I have so many sides you can't categorize: traditional Muslim, California girl, fashionista. People want to put a label on me and I always tell them, don't even try.
Celebrity news, beauty, fashion advice, and fascinating features, delivered straight to your inbox!