Awesome Pro Wrestler Makes a Stand for Equal Pay
WWE's "divas" only get a fraction of the wages and screen time.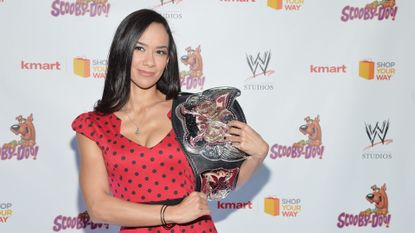 (Image credit: Getty)
During her acceptance speech at Sunday night's Oscars, Patricia Arquette spoke out (opens in new tab)against the wage gap in America—and we may already be seeing some positive change.
The world of professional wrestling is undoubtedly male dominated, so when a female World Wrestling Entertainment exec cheered Arquette, one of her employees called her out (opens in new tab). Pro wrestler AJ Lee, a three-time Divas Champion and mega-popular wrestler both in and out of the ring, made the gutsy move to stand up for herself and her colleagues.
She retweeted WWE exec Stephanie McMahon, who had praised Arquette for fighting for women's rights. But then, Lee used that praise against her, pointing out the WWE's hypocrisy for paying women less than men and giving them less screen time.
RT @StephMcMahon: Thank You @PattyArquette for having the courage to fight for #WomensRights on such a grand platform. #UseYourVoiceFebruary 25, 2015
See more
@StephMcMahon Your female wrestlers have record selling merchandise & have starred in the highest rated segment of the show several times,February 25, 2015
See more
@StephMcMahon And yet they receive a fraction of the wages & screen time of the majority of the male roster. #UseYourVoiceFebruary 25, 2015
See more
The comments came after the hashtag #GiveDivasaChance (opens in new tab) started to trend during Monday night's Raw broadcast. In the three-hour show, women only got 30 seconds of actual wrestling time, BuzzFeed (opens in new tab) notes. And though the "Divas," the name for female wrestlers, have their own reality show (opens in new tab), it's focused on personal drama and not athletic ability.
McMahon and her father, WWE chairman and CEO Vince McMahon, both acknowledged Lee's comments and thanked her for speaking out. Though it doesn't seem monumental, it's a big step for an industry that has been accused of marginalizing women for years.
Thank you @WWEAJLee, I appreciate your opinion. #UseYourVoiceFebruary 25, 2015
See more
You should also check out:
Patricia Arquette Just Gave an Amazing Oscars Speech About Equality for Women (opens in new tab)
These Will Be the Biggest Feminist Issues of 2015 (opens in new tab)
It Will Take 81 Years to Close the Gender Wage Gap (opens in new tab)
Megan Friedman is the former managing editor of the Newsroom at Hearst. She's worked at NBC and Time, and is a graduate of Northwestern's Medill School of Journalism.