Nigeria Passes Law to Ban Female Genital Mutilation
The terrifying rite of passage has no choice but to die out.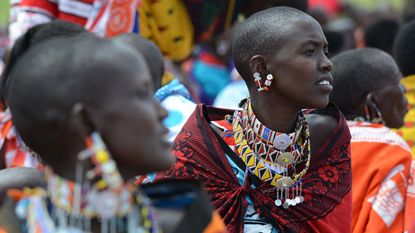 (Image credit: Archives)
Update, 5/28: After years of women's rights and public health campaigns seeking to eradicate the dangerous—if deeply ingrained—practice of female genital mutilation in Nigeria, the country's president has signed a bill this week to do just that.
The new law not only bans FGM, but it also prohibits men from battery, forcing their wives out of their homes, and abandoning them with no food or shelter.
Original story, 4/9: It's easy to assume that the controversial practice of female genital mutilation (FGM) is an ordeal forced on young women by men in tyrannical, paternalistic cultures. But in a new interview with Bettina Shell-Duncan, an anthropology professor at the University of Washington who has studied FGM for years, Olga Khazan of The Atlantic pulls back the curtain.
In the practice of FGM, popular in parts of Africa and the Middle East, a society elder or other community member (usually a woman) slices off all or part of a woman or girl's clitoris and labia during a ceremony to mark puberty or marriage. According to the World Health Organization, there are about four types of FGM—in infibulation, for example, the cut edges of the labia minora are stitched together, leaving only a tiny opening for urine and menstrual blood.
A 1996 trip to work with a community in northern Kenya was a revelation for Shell-Duncan. Her local friends were disgusted to realize that—uncircumcised—she had married and even had kids. To them, it was unheard of.
The anthropologist told the Atlantic that some women she worked with prepare for the ritual with tetanus shots, antibiotics, and disposable razors (instead of the old-school ritual knife)—and they do so willingly, considering it a sign of maturity to withstand the severe pain. Families sometimes seek out (ostensibly safer) clinics to perform the operation. Shell-Duncan witnessed one girl dancing joyfully at her wedding ceremony shortly after being cut—and after turning down painkillers.
Ultimately many women in these places volunteer willingly to be circumcised. It's part of their culture, and they think the practice should continue.
The United Nations, UNICEF, the International Confederation of Midwives, and the International Federation of Gynecology and Obstetrics have campaigned against FGM, calling for health workers worldwide to mobilize against it. That's because there are no health benefits, only risks, for the girl who has FGM. In addition to being traumatic and painful, it's associated with infections and infertility. And the WHO found that mothers who'd had the procedure were more likely to have stillborn or low-birth-weight babies. There's also the issue of whether minors can really consent to this cutting.
And yet, despite declining FGM numbers overall, it's all too prevalent in Ethiopia, Sierra Leone, and Egypt, where some 80 percent of teen girls suffer FGM.
Shell-Duncan is part of a five-year research project, led by the Population Council, which hopes to reduce FGM by at least 30 percent in 10 countries over the next five years. "What we need to understand is that people are doing this because they want to assure the future for their girls, like every parent everywhere," she told The Atlantic. Uncircumcised, a girl could be rejected by society; she might be unable to marry or have children.
Here's hoping we're telling a very different story five years from now.
You should also check out:
Women's Rights Overseas: The Abortion Battle in Ireland
The 10 Biggest Supporters of Women's Rights in the U.S. Government
Marie Claire email subscribers get intel on fashion and beauty trends, hot-off-the-press celebrity news, and more. Sign up here.
Maria Ricapito is a writer who lives in the Hudson Valley.