I Tested 4 Different Selfie Gadgets to See If They Actually Work—Here's What Happened
But first...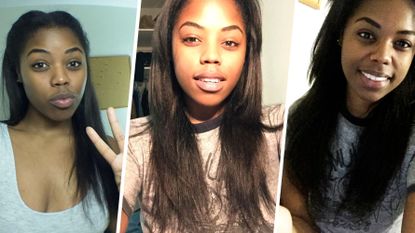 (Image credit: Archives)
The only thing more important than how many songs and apps you can store on your phone is how good your camera is. Creating the right aesthetic on Instagram is an art form and requires not only the best editing apps, but the best camera accessories as well. So to help you on your quest for the gadget that gives you the most like-worthy photo, I've tested out some of the top accessories.
Here is a un-enhanced photo taken with my iPhone 6. My room has extremely poor lighting and I took this 50 times before deciding on this, well, rather bland one.
verdict: Definitely not Instgram ready.
Nova
The Nova is an amazing little LED flash that is so small and thin, it can fit right inside your wallet. The external flash and your phone by downloading the free app and connecting them through bluetooth. To use, hold the Nova where you need light and click away. You can choose from gentle, warm, neutral, bright, or custom flash options, depending on where you are, what time it is, and you know, what you want the pic to look like.
Verdict: A million thumbs up. Nova makes your picture look somewhat professional—once you get the hang of the lighting. And since it works in full light, you can think of it as a build-able flash. Win.
Nova, $59; novaphotos.com
Camkix Remote Shutter
The mortal enemy of a perfect selfie is the shaky hand. You've got the positioning just right, but when you go for the shutter button you wind up with a blurred effect (and not in the artsy kind of way). Enter: The Camkix remote shutter. Another bluetooth pairing buddy, all you do is position, click, and your photo is focused. Also, their app has some pretty awesome effects like a skin-smoothing filter.
Verdict: This is perfect for when you're trying to squeeze in your whole crew or for the let-me-get-my-whole-outfit selfie.
Extendable Universal Selfie Stick with Bluetooth Remote, $19.99; camkix.com
Ztylus Light Ring
NOTE: I took this one in the dark to show you how this really works. I am not crazy.
The light ring is similar to the Nova except it attaches to the back of the Ztylus phone case. It comes with diffusers and dimmers to control the light as well as side-knobs to control the temperature of the photo.
Verdict: The light ring involves a little bit more knowledge of photo editing, but with some experimenting is a great accessory. I would use this attachment for those times when the light is so bad but the photo moment is just *too* good.
Ztylus LED Light Ring Attachment, $60; ztylus.com
Ztylus 3-in-1 Lens
The basic camera lens is alright but you're actually missing out on so much and you don't even know it. Ztylus' phone case and attachable lenses are so much fun to play with and really make a difference in your photos.
Macro lens:
The macro lens is most effective when taking detail shots. Selfies with this lens were more focused—which can be good or bad, depending on how you're feeling about your skin that day.
Verdict: I'll definitely be using this lens when shooting nature (flowers!) and attempting to make my feed look less amateur.
Circular Polarizer lens:
The CPL lens cuts glare and reflection from your pictures. The difference is best seen in outdoor photos. This lens gives you a wider view of everything and is good for fitting in more people or background elements.
Verdict: This works best for outdoor photos or mirror pics (because we all have a love-hate relationship with those).
Fisheye lens:
I had the most fun with this lens. It gives a little tweak to an otherwise normal photo to make it new and cool!
Verdict: um, YES. Do you see those peace signs? (I may have posted this to Instagram already.) The only downside is you have to master taking selfies with the back facing camera. Once you conquer that, your selfies will be better and so will your staged brunch pics.
Ztylus Camera Kit with 4-in-1 lens for iPhone 6, $100; ztylus.com
Simedar Jackson is an esthetician, content creator, and lover of sci-fi fiction living in Brooklyn, New York. She is passionate about creating space for Black and Brown people in the beauty and wellness industries by providing access to culturally nuanced education and services that meet their needs. You can find them doing their skincare routine, reminding friends to reapply SPF, and watching reruns of Love Island.