"The Pay Gap Is Just Too Large": NYC's First Lady Sounds Off on Women's Soccer and Today's Parade
Chirlane McCray takes charge.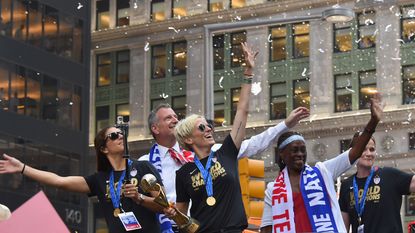 (Image credit: Archives)
Hosting today's ticker tape parade for the world champion U.S. women's soccer team was a no-brainer for New York City First Lady Chirlane McCray.
"It was pretty clear this was an opportunity we could not possibly pass up—this is New York City, home of the women's rights movement and the birthplace of International Women's Day," McCray told Marie Claire.
The parade itself is a historic milestone for the city, its first ticker-tape parade for a women's team. "They're a long established tradition for men," McCray says, "and today, we're signaling to the world that this is something to celebrate: the players and the sport and the fact that we've never done this before."
But, despite the U.S. team's historic Women's World Cup victory and today's groundbreaking celebration, a sexist undercurrent still persists—as was widely reported earlier this week, the women's teams are being paid a shocking 40 times less than the men's teams.
"The pay gap is just too large," McCray says of the disheartening news. "This sends a very bad message to girls and women. Anything we do to honor and celebrate athletics for girls and women will help us make strides in the right direction—the parade helps, the extraordinary viewership numbers for the game help. That sends a message that there is a demand out there. There is a desire. People have to set an example by paying their players and pushing others to do the same."
But McCray's not getting discouraged any time soon—in fact, she's pushing harder for women to get what they deserve. "The only way we're going to bring about change is if women go after what they want and really work for it, push for it, and demand it," she says. "Anything worth doing is a challenge, and if we shy away from it, we're not going to make any progress. Women should go after whatever it is they want so we can push the needle of progress forward."
Celebrity news, beauty, fashion advice, and fascinating features, delivered straight to your inbox!
I'm the features editorial assistant at Marie Claire. Before working at MC, I spent time in the production department at The New Republic and writing about politics for Bustle. When I'm not writing, you can find me museum-hopping, practicing mediocre yoga, and stalking pugs on Instagram.