World Cup Champion Kelley O'Hara on Winning, the Pay Gap, and What Comes Next
It's been a wild ride.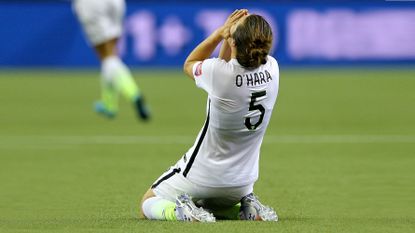 (Image credit: Archives)
The celebrations afor the world champion U.S. Women's Soccer Team haven't stopped. Between a rally in LA, the first NYC ticker tape parade ever to honor a women's team, and an issue of Sports Illustrated on which each player had her own cover, it's fair to say life has been a little bit insane for midfielder Kelley O'Hara and the rest of her team. "We got to go onstage with Taylor Swift!" O'Hara tells Marie Claire. "That was so cool. She's such a sweetheart."
But nothing beats the stage in the middle of the field, set up after O'Hara and her teammates fought their way to a historic World Cup victory. "Being up there and lifting that trophy and having the gold confetti come down on us, being able to look up and see it all rain down, was so incredible," she says. "I'll remember that forever."
In the contest for mind-blowing moment, there is a close second: scoring the winning goal in the team's 2-0 semifinal victory over Germany, a feeling she describes as "surreal."
And now she gets to enjoy it. "I'm really happy with the way America has rallied around us," she says. "It's been a wild ride."
What about the widely reported pay gap controversy—that women were paid 40 times less than their male counterparts, despite the fact that the women won and the men lost—that emerged in the days following their victory? O'Hara is glad the issue has become a talking point. "The more attention brought to it, the better," she says. "At the end of the day, as a team we're doing all we can to close it and to spread equality, but it's going to take time. I think our victory absolutely helps."
What's next for the star? She's heading back to her home team, the New Jersey Sky Blue, and hopes to win a championship with them in September. In the meantime, she won't see a lot of down time. "I'm not getting a ton of sleep," she said, "but it's all been worth it."
I'm the features editorial assistant at Marie Claire. Before working at MC, I spent time in the production department at The New Republic and writing about politics for Bustle. When I'm not writing, you can find me museum-hopping, practicing mediocre yoga, and stalking pugs on Instagram.