Cate Blanchett Speaks Out About the Sony Hacks
Quite frankly, she was too busy to care.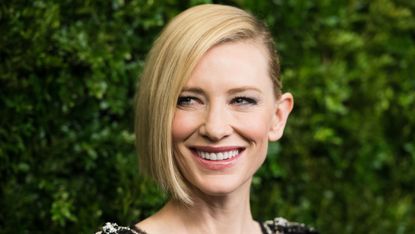 (Image credit: Getty Images)
When Cate Blanchett won an Oscar for her role in Blue Jasmine last year, she used her time on stage accepting the award to call attention to Hollywood's treatment of women, calling out "those in the industry who are still foolishly clinging to the idea that female films with women at the center are niche experiences."
The New York Times' Maureen Dowd wrote about the powerful speech on March 4. A few months later, when the Sony hacks unleashed a flood of personal emails, it was reported that writer Aaron Sorkin emailed Dowd about her article and Blanchett's award.
"Year in and year out, the guy who wins the Oscar for Best Actor has a much higher bar to clear than the woman who wins Best Actress," Sorkin's email to Dowd said, according to a report in the Daily Beast. "Cate gave a terrific performance in Blue Jasmine but nothing close to the degree of difficulty for any of the five Best Actor nominees."
In a recent GQ interview, Blanchett reveals she wasn't sweating over Sorkin's shade.
"No, no, I don't read that shit," Blanchett said, two martinis deep into the interview. "No, I'm interested in talking about what the Sony hack means, but in terms of trolling through it to find out about who said what about who…I didn't assume that it could have had anything to do with me...I knew that it was hacked, but I didn't go and troll over the broken bones and identify the dead bodies. I didn't do that. I was doing other stuff."
The Carol star did, however, pay attention to the discussions that followed the hacks about the shocking differences in salaries for men and women in her industry. Hacked emails revealed that Jennifer Lawrence made less than her male American Hustle costars.
"It just feels like the industry has the same conversation every year, and I think that's a fabulous conversation," she says. "We'll be back here like Groundhog Day next year having the same f--king symposium. It just has to shift."
Cheers to that.

Follow Marie Claire on Instagram for the latest celeb news, pretty pics, funny stuff, and an insider POV.
Kate Storey is a contributing editor at Marie Claire and writer-at-large at Esquire magazine, where she covers culture and politics. Kate's writing has appeared in ELLE, Harper's BAZAAR, Town & Country, and Cosmopolitan, and her first book comes out in summer 2023.