This Girl Is on Fire: Why Gymnast Simone Biles Should Be on Your Radar (If She Isn't Already)
She's been compared to Michael Jordan, LeBron James, and Tom Brady—and she's just getting started. With three World Championship titles and routines more difficult than any other gymnast has ever attempted, 18-year-old Simone Biles is poised to become the star of the 2016 Summer Olympics.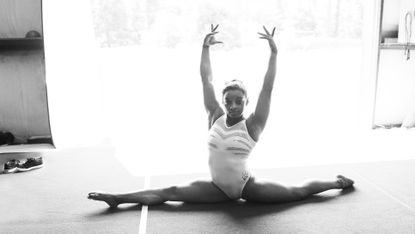 (Image credit: Christian Witkin)
Her coach called it the "save of the century." In the second-to-last rotation of the individual all-around finals at the World Gymnastics Championships in Glasgow, Scotland, in late October, 18-year-old gymnastics dynamo Simone Biles came thisclose to falling off the balance beam. She over-rotated on a front flip and pitched forward, squeezing the beam tightly with both hands to keep from falling off as a collective gasp rose from the crowd. (They weren't used to seeing a misstep from an athlete who is so flawless, people often joke that she's a robot.) "I don't even know how I managed to stay on," Biles says. Then, on the floor, her final event of the night and typically her strongest, she made another mistake, stepping out of bounds with both feet. "It wasn't my best meet," she says. "I was disappointed in how I went out there and made those mistakes."
It might not have been her best, but it was still best in the world—and landed her in the record books: That night, she became the first woman to win three consecutive titles.
When the competition wrapped later that week, she had four gold medals to add to her collection, including one for Team USA's victory over China and Great Britain, bringing her total to a record-setting 10—the most gold medals held by any woman in World Championships history. "I kind of blow my own mind," Biles says. "I don't believe it for a second, but then I'm like, Wow, I actually did that! I wish I could crawl out of my skin and see it happen from a different perspective because it's just so weird and crazy."
Why the mistakes Biles made didn't matter is the key to her success: She's so superior, she can afford to mess up. Her routines are jaw-dropping, holy-shit-did-she-just-do-that hard. So tough, in fact, that the combined start value (the assigned minimum number of points based on the difficulty) of her routines in Glasgow was a whole point ahead of her closest teammate—a wide margin in a sport where victories are often determined by tenths of a point. Her own ridiculously good teammates can't catch her ("Simone is in her own league," two-time Olympic gold medalist Aly Raisman has said), and the rest of the world has to settle for second ("We wouldn't win the gold anyway, so we were very relaxed," China's Shang Chunsong told the Associated Press after her team took silver). USA Gymnastics president Steve Penny has compared Biles to Michael Jordan, LeBron James, and Tom Brady, and gymnastics royalty Mary Lou Retton has said she may be the "most talented gymnast I've ever seen in my life, honestly." At this point, it seems like the only way Biles wouldn't win gold in the 2016 Summer Olympic Games in Rio de Janeiro this August is if she decides not to show up. "Every year, I think of Worlds as the big meet, but now, it's the Olympics," Biles says. "I'm blessed to even have the opportunity to think about it and work for it. I'm ready."
It's hard to believe Biles may never have been a gymnast if not for some bad weather. When she was 3, Biles moved from Columbus, Ohio (where she was in foster care), to Spring, Texas, to live with her grandfather Ron Biles and his wife, Nellie. Her mother was addicted to drugs and alcohol, and couldn't care for her four children. After two years of upheaval—going back to Ohio when her mother got out of rehab, only to return to foster care—Ron and Nellie officially adopted Biles and her younger sister, Adria. (Another relative adopted her older brother and sister.) "It's very fortunate my two daughters were too young to remember any of those years," says Nellie, whom Simone calls mom. "What they remember most is the life they had with us."
About a year later, 6-year-old Biles was supposed to be on a field trip with her day care to a local farm, but when the sun turned to rain, the kids ended up at Plan B: Bannon's Gymnastix in Houston. Biles showed off, doing a roundoff back handspring on the trampoline, which her brother had once taught her in their backyard. She caught the eye of the coaches: "She was this little petite thing, full of muscles—like a little jumping bean," says Biles' longtime coach, Aimee Boorman. They sent her home with a letter, asking her parents to consider enrolling her. "The lightbulb went off and I said, 'Why not?'" Nellie says. "I figured it would save my furniture, because she was now going to jump around somewhere else." She signed her up the very next week, and by the time Biles was 8, she was already competing at Level 8 (out of 10) against kids twice her age. "She just took off," Boorman says. "She really had an aptitude to learn new skills. She was kind of a daredevil...we knew if we were patient with her, she could learn to do anything."
Biles spent the next several years competing at meets around the country, until 2011, when she missed making the U.S. National Team by one spot. "It was devastating for her," Nellie says. She knew the girls who made the team were better, in part, because they were putting in more hours at the gym, Nellie adds, so Biles made the decision to be homeschooled. "It was very sad," Biles says. "Even being a senior in high school last year, I was still sad. I would be like, Oh, my gosh, I wish I could go to prom. But then I think, You know what? A lot of people can't say they've ever done what I do—they'll never have this opportunity."
The decision paid off: A year later, at age 15, she made the national team, and in 2013, at 16, she won her first world title, which is the first time she says it hit her just how talented she was. "I didn't think I deserved to be there," she says of the 2013 World Championships in Belgium. But when she won, "I was like, Wow, I actually can do this with all of these high-performing, world-class athletes. It felt like my hard work had paid off and that I needed to start believing in myself."
Two more world titles and three national titles later, in November, she was enjoying a much- deserved week off following her whirlwind performance in Scotland. "We need a mental and physical break," she says. "Márta [Károlyi, who coaches the national team] said we didn't have to go to the gym but we should probably work out a little bit, like running or conditioning." Before long, though, she'll be back at it, training 32 hours a week at World Champions Centre, the gym her parents opened in 2014. Before the 2016 Olympics, she wants to add a more difficult second vault to her repertoire, perfect her uneven bars routine (typically her lowest-scoring event), and focus on precision. "I'm always trying to push myself to the limit to see what I can do," she says. "It's my strong will that I've always had since I was a kid. If they said, 'Do five pull-ups,' I would always want to do 10." With Biles, there's no limit in sight.
This article appears in the January issue of Marie Claire, on newsstands now.
Follow Marie Claire on Instagram for the latest celeb news, pretty pics, funny stuff, and an insider POV.
Celebrity news, beauty, fashion advice, and fascinating features, delivered straight to your inbox!
Kayla Webley Adler is the Deputy Editor of ELLE magazine. She edits cover stories, profiles, and narrative features on politics, culture, crime, and social trends. Previously, she worked as the Features Director at Marie Claire magazine and as a Staff Writer at TIME magazine.