Meet Dua Lipa, the Music Industry's Next Obsession
Her new single "Last Dance" will be your go-to party anthem.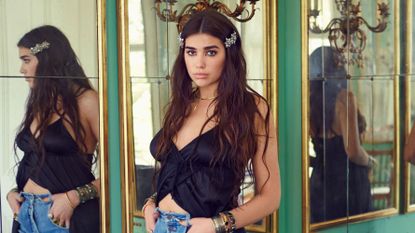 (Image credit: Nicole Nodland)
"Was this hike my idea?"
Starry-eyed newcomer Dua Lipa, 20, is looking down a gravelly dip in Los Angeles' Runyon Canyon. Behind her loom the Hollywood Hills, which also happen to provide the backdrop for her first-ever music video "New Love." The trippy four minutes play out like the dreamy Snapchats of a younger Lana Del Rey—if, you know, Del Rey didn't take life so damn seriously. Lipa lights cigarettes with birthday candles, gets impromptu (and real!) tattoos, and swigs a jug of milk while wandering around a supermarket in a silk kimono.
"Yes, it was," she admits, navigating a narrow corner. For a moment, she loses her balance. "I nearly fell on a cactus!" she calls out from ahead. I scramble to catch up.
On the outside, Lipa has that whatever-is-clever vibe that typifies L.A.-born cool kids. Fact is, her first stretch of time in the city was just over a year ago when she began recording her debut album, dropping this summer and full of catchy, carefree anthems sung with a salty-sweet attitude. She grew up toggling between her family's home in war-torn Kosovo and the U.K. One of her earliest music memories was discovering Nelly Furtado, whom she cites as an idol, at age 6. (Her music tastes had evolved by 10: "I was so into G-Unit.") At 15, when most kids are planning curfew-breaking schemes, Lipa was living on her own in a London apartment and attending music school.
Terrifying, right? "No, I was really excited! I could chill with my friends whenever," she says.
Things that faze Lipa: that first moment onstage, meeting A$AP Rocky, how Darwinian the music industry can be. Things that don't: dealing with laundry and landlords—she's been doing that since before she was even old enough to drive.
A move like that so young inspires big things, like poise—which she has in spades—and small things, like when we reach a fork in the trail and, while I stand there scratching my head, she decisively veers us right. The trail, of course, leads us to the vista we've been chasing: the vast spectacle of Los Angeles unfolding below us.
Lipa asks a man nearby to take our photo, and his slack-jawed reaction says it all: She is stunning in that "Victoria's Secret Angel off-duty" kind of way. That's why it's no surprise to learn that she worked as a professional model for a hot second after being scouted at a Topshop in London's East End. But her motivations were a little atypical. "I did it so I could meet people in music," she says. "Then they told me to lose weight, and I was like, Ha! Fuck no. I love eating too much." The man snaps some pictures with our phones. Lipa thanks him, and we head back the way we came. Along the way, she gushes about a Jean‑Michel Basquiat biography, bomber jackets, and, again, Furtado.
Later, I scroll through my camera roll. It's us in various poses, mugging and grinning. In the last, her face is tilted toward the sun and her left arm is spread out to the sky, like a bird. Like she might fly away.
This article appears in the March issue of Marie Claire, on newsstands now.