Game of Crowns: A Deep Dive into the Miss Universe Competition
Is there more to it than smiles and big hair?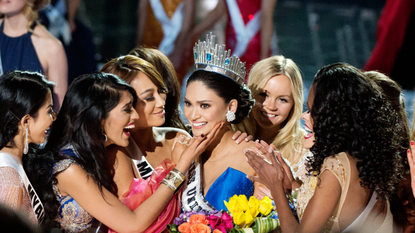 (Image credit: Getty Images)
"Slow down, Kosovo! Kosovo! Slow. Down." Mirjeta Shala, Miss Kosovo 2015, is walking too briskly toward the edge of the stage at The AXIS Theater at the Planet Hollywood Resort & Casino in Las Vegas. It's three days before the Miss Universe pageant goes live on December 20 and the umpteenth rehearsal doing this minute-long walk, and Shala's pace is trying the patience of Lu Sierra, the pageant's runway coach. "Don't rush the judges!" she calls out. Who looks more confident, she asks, "a woman who looks like Speedy Gonzales or a woman taking her time?" Go too fast and you don't look relaxed, confident, like someone worthy of representing The Universe. Plus, speed isn't your friend when you are in four-inch heels in front of a live audience of 5,000 and a global television audience of nearly 1 billion.
The world has changed, and so has Miss Universe—sort of. It is still an unabashed beauty pageant, but its promotional materials seem to acknowledge a new era of go-girl empowerment. The Miss Universe website explains, "We encourage every woman to get out of her comfort zone, be herself, and continue to define what it means to be confidently beautiful." But given the universal standards of beauty that the pageant upholds—a low BMI; a head of long, usually straight hair; a face practically spackled with makeup—the message can perhaps most generously be interpreted as an open invitation: We've established our definition of confident beauty, but feel free to come up with your own!
Miss Universe began in 1952, when Catalina Swimsuits, which sponsored Miss America, pulled out of that pageant, after the winning queen refused to tour in one of its bathing suits, announcing she was "not just a pinup." Catalina then launched Miss Universe—it was, as one columnist described in 1984, a "cupcake-come-lately" pageant, compared with the more earnest, established Miss America competition—and in 1996, Donald Trump bought a stake in the pageant's parent organization, vowing to give it a glitzier, hipper, more modern sensibility. His reign ended last year, after the presidential hopeful offered some unsavory remarks about Mexican immigrants: "They're bringing drugs. They're bringing crime. They're rapists." Univision, the Spanish-language broadcaster that helped grow the television viewership of the pageant internationally, promptly severed ties, and various countries pulled out of the competition, including Mexico and Panama. Trump sold the pageant to talent agency WME|IMG in September.
Already an easy target, the pageant this past year reached a new level of public ridicule, mostly aimed at the host, Steve Harvey, and the catastrophic mess he made by accidentally crowning Ariadna Gutierrez-Arévalo, Miss Colombia, as the winner (the crown actually belonged to Miss Philippines, Pia Alonzo Wurtzbach). A mistake he corrected two painful minutes later.
Paula M. Shugart, the president of the Miss Universe Organization, deflects criticism of the show by defending its contestants, who have undeniably worked hard to reach for their shot at victory. Maybe they want a leg up in their careers as actresses or models. Or maybe they come from disadvantaged countries and are desperate for any way up or out. (Sierra recalls coaching one young woman from a war-torn country on how to walk. "You can have my foot, I'll give it to you," the young woman told Sierra. "Just get me out of my country.") "It's easy to say they're Barbies, airheads, not real women," says Shugart, standing in the audience that Thursday during rehearsals. "But the second you take time to get to know somebody, then it's really hard to say that."
Some of the women have been competing since toddlerhood in local shows, working their way up to conquer the biggest regional competition necessary to represent their country at Miss Universe. Most contestants find sponsors to pay for travel and clothing—costs can run into the tens of thousands—and in countries where Miss Universe has a higher profile (like, say, the Philippines, where 1 million compatriots celebrated Miss Philippines at her homecoming parade), their "Miss" is crowned months ahead of the big day. They have time to practice that tricky turn at the end of the runway and to study the art of answering sometimes inane, open-ended questions ("Why should you be the next Miss Universe?"). Others come to the event practically cold. "I found out I was Miss Ireland in November on a Friday—it was my first pageant— and I left for Miss Universe the next Tuesday," says Joanna Cooper, who at 5'5" is championing the cause of petite models.
In the three days before the televised competition, the contestants (who arrived weeks earlier) are operating under an air of fatalism. Though the results are known only to the pageant's leadership, the 15 finalists have already been selected following an untelevised preliminary competition—which consists of runway performances (swimsuit and evening gown) and two 4-minute-long interviews with a panel of seven preliminary judges—earlier in the week.
In order to reach the theater each day, the contestants traipse through Planet Hollywood's crowded casino, where fans or paparazzi from their own countries occasionally spot them. Some women are dressed for this—or, perhaps, to intimidate the competition—wearing towering heels and evening gowns every bit as snug and sparkly as the ones they'll be wearing the night of the pageant. They look the part compared with the contestants who dress for comfort for the 14-hour workday: Miss Spain, Carla Barber Garcia, a 25-year-old med student about to embark on training in plastic surgery, is wearing jeans and a flowy black top. Tourists are either oblivious or snap a photo as the women, in a gaggle of sequins and a haze of perfume, walk past the slot machines.
To some degree, the contestants have a good idea of who will end up in the final 15. Some countries, such as the Philippines, Colombia, and Mexico, have national manias for pageants, with strong institutional backing in place; those contestants almost always end up in the final 15. Miss USA, too. She's furnished with a publicist, a wardrobe, and a makeup artist, as well as coaching—all paid for by Miss Universe, the parent organization for Miss USA.
Miss USA 2015, Olivia Jordan, is a tall and lean 27-year-old from Oklahoma. When her acting and modeling career did not take off following college, her father suggested she "do something that will help people." Pageants, with their emphasis on causes (Miss Universe's official charitable platform champions the fight against HIV/AIDS), seemed to offer that, and she won Miss Oklahoma and Miss USA the first time she entered each. Sitting in her Planet Hollywood hotel room, where she has lived for the past three weeks, she says she's prepared for any outcome. "This is a huge goal, but almost a starting point to launch into other opportunities," she tells me. "Especially in entertainment, where my passion is." She may have been ready for it to be over, too: For three weeks, she had been sharing a tiny hotel room (with Nena France, Miss Great Britain), which is by now cluttered with sparkling dresses, fading flowers, and fake eyelashes. Contestants can't have guests, and see family only once during the pageant weeks, which include rehearsals, filming, and some sightseeing. Alone time is almost nonexistent—each woman is assigned a "supervisor," a maternal figure (mostly middle-aged women from all walks of life—nurses, interior designers, no former contestants) for moral support and to keep everyone on schedule.
Weeks earlier, Miss Ukraine, Anna Vergelskaya, approached Jordan: Would she do a video with her to thank the U.S. for its support of Ukraine as it warred with Russian-backed separatists? Jordan was hesitant; she was all too aware of 2014's controversy when Miss Lebanon was seen in a selfie with Miss Israel. "I didn't want to offend anyone," Jordan says, "so I said, 'Let me check with the pageant.'" In the end, she followed the pageant's advice and politely backed off rather than risk the drama—What if it offended Miss Russia?
There's something familiar-feeling about Jordan—she's impeccably blonde, with a decidedly goofy, self-deprecating quality that suggests she isn't taking anything too seriously. Even her smile, when she walks down the runway and pauses for the judges, seems to suggest that this whole happening—her beauty, her walk, pageantry in general—is a bit of an in-joke between her and anyone watching.
"What is the craziest thing you have ever done?" It's the day of the pageant, and Harvey is doing a run-through of the show, lobbing practice questions to three women randomly chosen to play the part of the finalists. Miss Netherlands, Jessie Jazz Vuijk, a friendly model and DJ, offers her reply: "I'm not sure I can share these things with you," she says with a laugh. "I'm supposed to be a Miss, and Misses are supposed to be like angels!" Great answer—funny, real, flirty. But it probably wouldn't have worked for the judges, who traditionally seek some perfectly calibrated ideal of feminine confidence, an answer that is cheerful, professional, not too personal.
Some are working harder on preparing for the interview questions than others. Miss Philippines, for example, a petite, busty, well-known actress in her country, has a slightly battered black notebook full of possible questions ("If for one day there were no rules, and you could do anything, what would you do?") that she reviews frequently. Miss Mexico, Wendy Esparza, a soft-spoken 24-year-old born and raised stateside, is getting nervous, very nervous, about how she would do with those final questions. Her parents had been hardworking immigrants, and she isn't sure how much she wants to open up about the experience. "But I'm ready to share more," she says. Some part of her is afraid that if she did well, the public would think that the Miss Universe team was just compensating for Trump's anti-immigrant rhetoric.
But Mexico almost always makes it to the final round. "I really, really want this job," Esparza tells me. And it is a job, a fairly grueling one, with a salary (which the Miss Universe Organization wouldn't disclose); typically, Miss Universe tours the world, raising awareness for issues affiliated with the pageant along with one of her own choosing.
The preparation takes hours. For the opener, all of the contestants change together in one big tent reached via a five-minute, chilly outdoor walk. To enter the tent is to inhale the overwhelming scent of what Miss Philippines calls "pageant smell": a treacly, pungent mix of dozens of hairspray brands, mingled with as many types of tanning lotion, topped off with the vaguely burning aroma of hair being curled on a hot iron. Onstage, they are highly stylized pictures of idealized femininity; inside the tent, they are stripped bare with no time (or room) for modesty as they stuff themselves into Spanx and molded bra cups.
And then there are the finishing touches: Hairstylists spritz a bit of hairspray onto the girls' bottoms to keep their swimsuits from riding up. No one uses duct tape to prop up cleavage, so far as Sierra knows, but she does know some contestants use it on their nether parts during the swimsuit competition, to keep things smooth. ("It doesn't hurt!" Sierra says. "There's no hair there!") Some keep their stuff locked in the tent; Miss Ireland was tipped off by a predecessor whose gown was stolen on competition day. She warned Cooper that she was going to "a crazy house."
The judges (former NFL pro Emmitt Smith, actress Niecy Nash, blogger Perez Hilton, and former Miss USA Olivia Culpo) look for three things: beauty, confidence, and, for the final five contestants, the ability to answer a question intelligently and with poise. But mostly, says Sierra, "They're looking for that It factor—someone who retains your attention."
Roughly 20 minutes into the show, after the final 15 are announced, only the lucky finalists (there are three more elimination rounds—final 10, five, and three) continue to prep and primp backstage, where the atmosphere is quiet and focused. "At that point, the only [ones] you can ask if you look all right are your hair and makeup people," says Miss Philippines. The rest of the contestants, who are still part of the show—they are often onstage, as each round is announced—console themselves in the tent. At the commercial break, Miss Netherlands is crying, along with a handful of others. They are all told so often to be confident, it can come as a shock to learn their optimism about winning was, at least in this case, misplaced. Sometimes contestants refuse to go back onstage. Then it falls to one of the pageant staffers to rally them. "We tell them family and friends are still happy they're here," says Roselie Monte, who is in charge of the supervisors. "Then we kiss them, dry their tears, and call hair and makeup." Some of the women who have been eliminated along the way, like Miss Great Britain, look almost relieved, or at least happy raise-the-roof thing when she walks by. "It wasn't my destiny!" says Cynthia Roger Samuel, Miss Lebanon, grandly. Lisa White, Miss Singapore, heads straight to craft services and fills her plate. "There's lots of chips and chocolate!" she tells another contestant.
The women rush backstage to watch the swimsuit round. Onstage, Miss Mexico looks slightly stunned, her smile a bit stiff; contestants alternate among four smiles—big with teeth, small with teeth, closed-mouthed, and a "flirt"—but in the moment, looking natural can go out the window. Other girls filter in backstage to see who's still in play. "Miss Philippines, of course," says Sarah-Lorraine Reik, Miss Germany, a little bitterly.
And then, in the final moments, Harvey mucks it all up. The onlookers can read the lips of Maja Čukić, aka Miss Montenegro, which seem to say: "This is bullshit." All hell breaks loose. Colombians in the audience rush to the stage and boo and stamp their feet. (Just over a week later, some Colombians in Barranquilla would ring in the new year by burning effigies of Harvey and Miss Philippines.) Sitting in the audience, a handsome young man rumored to be Miss Colombia's boyfriend says to me, "It wasn't God's will."
It's tough to argue that this particular show on that particular night, which had the soap-operatic drama of a cinematic spoof, was good for women. But ask the 80-plus contestants, and they'd likely say otherwise. "When you're a model, you're selling the product," Miss Netherlands says. "When you're a Miss, it's about you."
Earlier in the evening, when Miss Mexico exited backstage after learning she hadn't made it to the final 10, she looked more relaxed than she had in hours. She was disappointed, but she flashed a genuine smile. "I feel calm," she said. She seemed relieved by her own reaction to such profound disappointment: Now she knew herself even a little bit better, and she liked what she found...
This article appears in the April issue of Marie Claire, on newsstands now.