Why Tribeca Is the Best Film Festival for Women
And how it's making waves that ripple through the entire industry.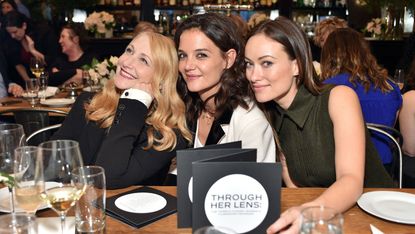 (Image credit: Getty)
Fixing sexism in an industry as visibly dominated by it (opens in new tab) as Hollywood is can seem like an impossible problem with very few potential solutions. But film festivals might just be one.
"In the independent film world, we're seeing women get more opportunities to make their first film," says Genna Terranova, director of festival programming at Tribeca Film Festival. "A lot of films that we have are first films."
This year, one-third of the feature films at Tribeca were directed (opens in new tab) by women. Compare that to the Toronto Film Festival (opens in new tab) with 26%, Sundance (opens in new tab) with 25%, Cannes (opens in new tab) with 15%, Venice (opens in new tab) with 13%, and Berlin (opens in new tab) with 11%. (A recent study found (opens in new tab) that female filmmakers make up 19% of top Hollywood jobs, and only 9% of directors.)
So, how do you make a film festival "good for women"?
"Every year we want to try different things," says Terranova. "We don't want to do anything just for the sake of doing it."
This time around that meant supplementing the lineup with the Daring Women's Summit (opens in new tab), which featured speakers like Samantha Bee discussing feminist comedy and Rosie Perez speaking on the philanthropic work she does to promote women and minorities. Through Her Lens, a three-day workshop for emerging female filmmakers in partnership with Chanel, also took place last fall after TFF 2015.
2016 marks the fourth year of the Nora Ephron Award for female filmmakers at Tribeca, which includes a $25,000 prize. The honor went to Rachel Turrand, who wrote, directed, and edited Adult Life Skills (opens in new tab), about a woman struggling with growing up and finding herself.
Some initiatives aren't female-focused but benefit women nonetheless, like Tribeca Film Institute's TFI Network, a day of meetings for underrepresented filmmakers to pitch their projects to industry professionals. Director Ingrid Jungermann attended a year ago—and this year, her movie Women Who Kill was a festival selection that went on to win the award for Best Screenplay in a U.S. Narrative Feature Film.
Terranova is quick to emphasize that women's submissions aren't graded on a curve. "When we're watching movies we're looking for quality," she says. "Women need to be held to the same standard as other filmmakers, or men, so that's the standard we go by. We can certainly give women the platform, but women have to do the work and it has to be better than good work for us to change the numbers."
And it looks like both tactics are working out. When press members pick up their credentials, among other festival materials are handouts listing the films that are directed by women and that are female centric. Movies like All This Panic, a documentary about how teenage girls grow up today, Haveababy, another documentary film on a Youtube competition for a free round of IVF, and All We Had, Katie Holmes' directorial debut about an impoverished single mother trying to raise her daughter well, all give voice to women's stories in new and remarkable ways. Women do quality work, and Tribeca Film Festival promotes it, through measures small and large.
Something that often goes overlooked is the fact that the Tribeca Film Festival is led by women—in addition to Terranova, co-founder Jane Rosenthal is executive chair, and Paula Weinstein serves as executive vice president—which shows the advances that can happen when women are in charge. Now that the festival is seeing more first films by women, the goal, according to Terranova, is to have more women making their second and third narratives. "That's harder [than making the first]," she says, "and that's where, hopefully, things will begin to change."
"I think there's a wave of women's voices that are coming," she adds. "We're very optimistic that these are programs that are necessary until they're not. Hopefully we'll come to that day where we don't have to be talking about percentages of women every year."
Follow Marie Claire on Facebook (opens in new tab) for the latest celeb news, beauty tips, fascinating reads, livestream video, and more.
I'm the features editorial assistant at Marie Claire. Before working at MC, I spent time in the production department at The New Republic and writing about politics for Bustle. When I'm not writing, you can find me museum-hopping, practicing mediocre yoga, and stalking pugs on Instagram.