The Surprising Way DJ'ing Is Helping Haiti Rebuild
When I taught a master class in music there, I learned so much about the people, the country—and myself.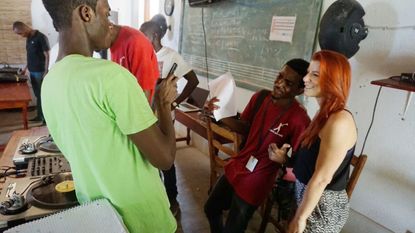 (Image credit: Courtesy DJ Michelle Pesce)
Marie Claire Newsletter
Celebrity news, beauty, fashion advice, and fascinating features, delivered straight to your inbox!
Thank you for signing up to Marie Claire. You will receive a verification email shortly.
There was a problem. Please refresh the page and try again.
We've all heard the story before: young, white idealistic woman travels abroad in search of something new and exciting. Whimsically interacts with locals. Dances with friendly strangers at sunset on the beach. Cries on the flight home because she doesn't want to leave. She's learned so much about herself, and her life is forever changed.
We all know that girl, right? That trope is what made me a bit hesitant to share my own travels abroad. But this summer, the trip I took to Haiti shifted my perspective enough that I wanted to open up about what I learned from the experience.
I'm no missionary, so I wasn't going to Haiti to dig wells or feed orphans. Although these compassionate ideas do sometimes run through my head, hip-hop is what brought me to Haiti. I'm a DJ.
Four years ago, I met David Belle at a wedding, where he introduced me to the organization he runs, Artistsfor Peace and Justice. It's a nonprofit that supports communities in Haiti through education, healthcare, and arts programs. A few years, a few shared gigs, and many Biggie lyrics later, I learned that the organization had recently opened a music school in Haiti, the Audio Institute. An always curious traveler, I knew I had to get there. Given that Haiti is still rebuilding from the massive earthquake that leveled the country six years ago, I was fascinated by how a legit music school gets created in that environment—and how it thrives.
Audio Institute is one of two divisions at Artists Institute, Haiti's first scholarship-only college for art and technology. Founded in partnership with Lionel Richie and Quincy Jones' We Are The World Foundation in 2013, the institute is located in the beautiful coastal town of Jacmel. It gives Haiti's underprivileged youth opportunities in music through education, employment, and professional support. What really got me is that graduates of Audio Institute's sister school, the decade-old Ciné Institute, are able to earn up to 20 times the Haitian national average salary.
I had to see for myself.
I thought that if schools like the Artist Institute were popping up, Haiti might be well on its way to recovery from the devastating earthquake that struck in 2010. When it suddenly hit, the earthquake took 220,000 lives and left 1.5 million people homeless. That's a third of Los Angeles, where I live, without anywhere to go. When I was invited to teach a masterclass at the Audio Institute about being a female business owner, DJ'ing, and marketing, I thought that surely rebuilding must have greatly progressed.
I was wrong.
Nearly $13 billion in private and public aid was poured into Haiti after the earthquake. And yes, a large amount of the rubble is cleared, and there are some new buildings or construction underway. But amongst the progress, portions of the capital of Port-au-Prince are crumbling. Poverty, disease, and a food shortage are problems that an unstable government is not fixing. And many of the organizations that raised money and spoke the loudest about helping Haiti, have failed. The money is gone and Haiti still needs sustainable development.
I wanted my class to do more than just teach the art of getting a party going. I developed a curriculum to teach the room full of inquisitive students how to turn their passion for music into a business. I explained the importance of marketing and branding, delving into how to find your identity behind the turntables and reinforce it with visuals that pop, a signature sound, and a logo that expresses your personality, as well as how to find and cultivate relationships that could turn into paying gigs.
Sharing with them some memorable video moments like DJ'ing on Good Morning America and the Grammys, I saw my own experiences with new eyes. It made me even more appreciative of the opportunities that I've had in this business. An added bonus was that I was able to share a strong belief of mine: the importance of using turntables and learning on real vinyl. DJ'ing with your ears, before any digital equipment is added. The students thought I had lugged two turntables and a mixer to Haiti just to teach the class. What a feeling it was to tell them that this setup was now theirs!
There is an inevitable sense in Haitian culture that, despite a world in need of help around us, there is still much to celebrate. So of course it was only fitting that the evening after the class we had a big party. And this is how I ended up with my first DJ gig in Haiti! When doing a set in another country, I'm always nervous as to whether or not I'll be able to truly connect with an audience whose language, culture, and favorite songs are different than my own. But Haiti amazed me! The dance floor was packed, we all knew the lyrics, and there were smiles and booty shakin' all around. That's the beauty of music, the language is universal.
I'm both grateful and humbled by the class at Audio Institute. Helping students foster their passion for music woke me up to what lies ahead for my career, namely mentoring others to start their own journeys. Although I was only in Haiti for a short time, and I still have so much to learn about their culture and politics, the value of the experience was immeasurable. Long story short, hip-hop brought me to Haiti. And Haiti opened me up to a new part of myself. And you know what? I wouldn't have it any other way.
Follow Marie Claire on Facebook for the latest celeb news, beauty tips, fascinating reads, livestream video, and more.
Celebrity news, beauty, fashion advice, and fascinating features, delivered straight to your inbox!