The Orlando Shooter Was My Ex
On June 12, Sitora Yusufiy awoke to find herself ensnared in a terrible tragedy: Her ex-husband, Omar Mateen, had killed 49 people at a gay club in Orlando, Florida. Here, she tells her story.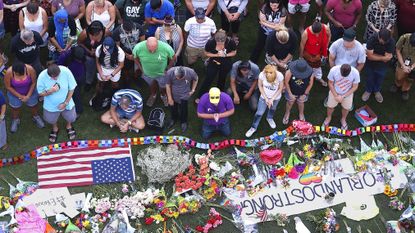 (Image credit: Joe Raedle/Getty Images)
I woke up on a Sunday morning in June to find several missed calls from my parents. When I called back, my father said, "Sitora, your ex-husband was involved in a mass shooting." At first I didn't understand. "What do you mean?" I asked. My dad said, "He's the one who did it."
Everything in me froze. There were reporters at my parents' house in New Jersey within hours of the crime, their cars clogging the street. My dad said to expect reporters at my house, too. I live on top of a secluded mountain in Boulder, Colorado, with my fiancé. I hung up the phone and told him the horrific news. I said, "I don't think I want to be involved in this. It's too heavy, too negative." Our friends started calling, saying they had seen my name and photos of me all over the Internet. Some posts were calling me the current wife of the killer, Omar Mateen. But I was his former wife: I had fled from him seven years earlier after just five months of marriage.
We turned on the TV. Forty-nine people had been killed and 53 injured at a nightclub in Orlando, Florida, the deadliest mass shooting in American history. I started shaking. Soon reporters started knocking on our front door. Suddenly, there were around 10 of them outside, and their cars blocked our narrow lane down the hill. We couldn't leave our home. I realized I had no choice but to speak. I talked to them in my yard, saying that my former husband was deeply disturbed, mentally ill. I described how my parents had rescued me from his abuse. That same day, the FBI came and asked me about him as well.
I met Omar through Myspace in the fall of 2008. He messaged me, saying, "Salaam, how are you, you're very cute." I replied, "Salaam, thank you, I'm good, how are you?" I was 19, studying at Montclair State University in New Jersey. He was 23, working as a security guard in Florida, with ambitions of becoming a police officer. We began talking on the phone, having long conversations about family, about how we envisioned our future. Omar asked me about my past, and shared his. He talked about heartbreak with his ex-girlfriend. He said all he wanted was to find someone who could love him for himself. Omar was a good listener, and I felt like I could talk to him forever. He said he wanted to settle down and have a family. Omar came to visit me and meet my parents a few months later. We had both grown up practicing Islam, and the tradition is to marry young, so before long, we were engaged. His parents traveled from Florida to meet mine. We wed in 2009.
The first month of marriage was actually quite nice. I moved to Orlando, and he took me around to see the sights—Universal Studios, Daytona Beach. But soon I saw another side to him. We were shopping in a supermarket one day when I wandered into a different aisle. Suddenly, I heard him shouting my name. When I found him in the next aisle, he grabbed my arms and dug his fingernails into my veins, hard. He said it was a technique he had learned from his officer friends to make the opponent surrender. The look on his face was pure control and domination. I started crying, and we left the store. Outside, he yelled at me, saying my tears would get him in trouble. A concerned couple asked if everything was OK.
After that, he became increasingly violent and also afraid that I would leave him. He didn't want me to call my family or go anywhere except the day care center where I worked. Still, I risked calling my family from time to time when he was sleeping or wasn't around. Once, he woke up to find me on the phone with my cousin and started kicking me. He threatened to kill me if I left him. Another time, I was asleep in front of the TV when he pulled me up by the hair and started slapping me, and then choking me until I gasped for air. He claimed it was because I hadn't done the laundry. Later he apologized, saying it was misplaced anger from a fight with his father. I knew he took steroids for bodybuilding, and I wondered if that was the reason his temper would change so quickly.
My mom realized how bad things were when I called her, crying, around four months into the marriage. When Omar heard me talking to her, he slapped the phone from my hand, causing me to bang my head on the headboard of the bed. My parents came to visit soon after. They met with us and his parents, and my dad said, "My daughter is miserable." Omar's father started shouting insults, and my parents told me, "Let's go." They grabbed me away from Omar, with my mom holding on to one of my arms and Omar pulling the other. Then he reached for the back pocket of his shorts, and I worried he was carrying a gun. I knew he owned one. He had never threatened me with it, but still I feared he would shoot me. As he reached for his pocket, my mother screamed, and my dad pulled us free. We jumped in the car and drove off as Omar banged on the hood. That was the last time I saw him. I filed for divorce, and it was finalized in 2011. (Omar dragged it out, hoping I would go back to him.)
Even after what I went through, I never imagined he would do something so extreme. I never imagined he would do something so unthinkable as he did in Orlando. I had seen Omar raise his voice to his family, but I had not seen him be violent to anyone other than me. My heart is broken for the victims, and their families and friends. Their faces flash in my head every day. The tragedy has turned my life upside down. In time, perhaps I will find some peace. I want everyone to know I respect all cultures, all faiths, all perspectives. My former husband was the opposite of everything I stand for in life.
This article appears in the October issue of Marie Claire, on newsstands now.
Marie Claire email subscribers get intel on fashion and beauty trends, hot-off-the-press celebrity news, and more. Sign up here.
Abigail Pesta is an award-winning investigative journalist who writes for major publications around the world. She is the author of The Girls: An All-American Town, a Predatory Doctor, and the Untold Story of the Gymnasts Who Brought Him Down.