Can You Be a Feminist and Still Love the NFL?
Because I do.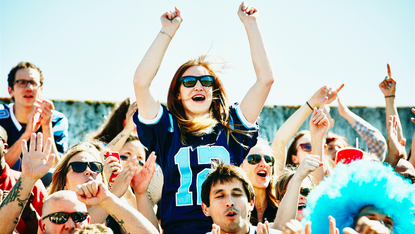 (Image credit: Getty Images)
It's Game Day Sunday, and I'm not at the Dome. Instead, I'm in my well-worn Saints sweatshirt staring at the arrivals and departures board at the airport, realizing my flight is delayed—and that my layover, which I'd painstakingly timed so I could watch the game at a mediocre sports bar, is now botched.
But that's not really why I'm pissed. I just read the news that Darren Sharper—who played 14 seasons in the NFL and was sentenced to 20 years in prison last month for raping three women and sexually assaulting a half-dozen more—is a candidate for the Pro Football Hall of Fame.
That's the rub with being both a football fan and a feminist: The sport we love lionizes the kinds of men we hate.
Just ask Amy Trask, football analyst for CBS Sports and former CEO of the Oakland Raiders, who wrote this month's new book You Negotiate Like a Girl: Reflections on a Career in the National Football League. "There have certainly been events that have disturbed me—some of which have disturbed me to a considerable degree," she says. "That said, those events have not impacted my avidity for football. As do many fans, I compartmentalize. I engage in some cognitive dissonance. We may abhor certain things, but we still watch. As such, our criticism of the teams we watch and cheer on is, to some extent, intellectually dishonest—we are complicit."
I grew up in Southern Missouri, where Friday nights were devoted to high-school football games—cozying up in bleachers on a crisp fall evening, eating 75-cent Frito-pies, and hoping to one day make the pep squad. Saturdays were for cheering on our college teams, and Sunday meant the NFL. It was a weekend-long affair of innocently rooting for "our boys" to get the W.
When I was old enough to play sports (poorly at best), our coaches were like those hometown heroes you see in the movies—the Remember the Titans kinds of guys who were disciplinarians on the field and your sub-in dad off it.
But then I grew up and the players got bigger, the salaries got exponentially higher, and I learned that those cheerleaders—the ones I had one day wanted to be—are underpaid women in very short skirts.
In 2009, Jeff Pearlman published the book Boys Will Be Boys: The Glory Days and Party Nights of the Dallas Cowboys Dynasty about star players from the '90s and their behind-closed-doors infidelity, cocaine use, affinity for strippers, and massive hangovers at practice. But what would the game be like today—what would the burden (or lack thereof) be on fans—if, say, one of them were to capture a night partying at their infamous "White House" on Snapchat? In our digital world, so much more is exposed. Now, the actions of players like Michael Vick, Ray McDonald, Ben Roethlisberger, and most famously, Ray Rice—who punched his then-fiancé Janay Palmer in an elevator and dragged her unconscious body out, not even bothering to pull her skirt down—go viral within minutes. Rice's gut-churning 35-second video was posted online for the world to view, and then it was the responsibility of the league to determine rightful punishment.
Trask believes that if there were video of Michael Vick drowning and hanging dogs with his own hands—which he admitted to doing in his plea, "he would not have been given a second chance." That's probably true, but should we really require video evidence of horrific crimes before we punish the men responsible?
Laurie Brookins, a New York City-based journalist, considers herself to be one of those "weird cross-sections of women who identify as both a feminist and a football fan." But it's not as easy as it used to be: "With all that's emerged in the NFL the past couple of years, especially Ray and Janay Rice, and [NFL commissioner] Roger Goodell's incredibly inept handling of that situation, being a fan is harder to justify."
After the pathetic two-game suspension of Ray Rice in 2014, I actually wrote a letter to Roger Goodell explaining how profitable his female fan base is to the league (we make up roughly 45% of football fans), and how important it is to enforce strict and consistent policies across the board for acts of violence. No response; no surprise. That was the year that I almost gave up on my beloved sport, not to mention my long-standing ladies' fantasy football league. I don't think I was the only one.
Abby Gardner, a writer who's been a football fan for almost as long as she can remember and a feminist since when she was too young to have a word for it, says, "Those two things—my love of the sport but my disgust at how it's disciplined—definitely feel conflicting at times. I've felt and expressed so much anger toward the NFL, how it has handled situations and of course certain players. But I haven't stopped watching."
I haven't either. So how do we reconcile it all?
For me, being proactive is important. My fantasy league gives a portion of our winnings to a domestic abuse charity, and I continue to push for the league to enforce stricter policies. Maybe, as fans, we can have louder voices—and more impact. Maybe it's our particular responsibility to push for change.
We can also focus on the NFL players who are true leaders, both on the field and off. "I certainly do not in any way want to dismiss or minimize the actions of players who commit heinous acts, but I do believe it's important to note that those players constitute a small minority—the overwhelming majority of players are terrific men," says Trask. "I know this from personal experience borne of an almost 30-year career in the NFL." Gardner, too, commends the good guys: "I feel very lucky that my Colts quarterback is Andrew Luck, by all accounts a very evolved and nice guy—a book nerd who also happens to be an awesome athlete."
So another autumn rolls around, and I'm ready to celebrate the greatest season of all...along with the ever-present reminder that being a lady fan isn't easy when you love the NFL. I just hope that our 45-percent fan base is the key to progress. Until then, here's to fall and football and feminism, and figuring out how they can all work together.
Follow Marie Claire on Facebook for the latest celeb news, beauty tips, fascinating reads, livestream video, and more.
Celebrity news, beauty, fashion advice, and fascinating features, delivered straight to your inbox!