Lifetime Holiday Movie Rejects: 9 Plots That Would Never Fly
"A woman goes home to visit her family for the holidays. The entire time she is there, no one asks her why she isn't married yet."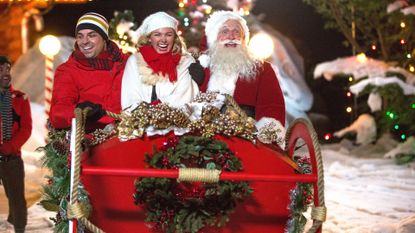 (Image credit: Lifetime)
Channels like Lifetime and Hallmark are godsends when it comes to cheesy holiday movies—which can offer good, mindless entertainment and a chance to see what Dylan McKay looks like now—but they aren't exactly grounded in reality. See: The girl always manages to save the candy cane factory from shutting down and ends up with a great guy.
But what if the plots of romantic made-for-TV movies mixed things up a little? Here are some ideas that should really be considered.
A single woman's friend decides to set her up on a blind date. "I know the perfect guy for you!" she says.
They meet on New Year's Eve at a hip restaurant. He spends the entire date talking about himself and his exciting career in dentures sales.
The next day the woman asks her friend, "What did you think we had in common?"
"You're both single!" she says.
An all-female cast spend the movie talking to each other about things other than men. Instead they discuss things like the space-time continuum and how to construct the best storm drain runoff systems. Then they eat some cookies decorated like reindeer.
A woman's son writes a letter to Santa asking that he bring her mom a husband for Christmas. On Christmas Eve the son stays up late waiting for Santa. Santa arrives and doesn't have a husband in his magic bag.
"What's the deal?" the son says.
"Listen, there aren't any stellar options out there right now. I can't just whip up a compatible husband in the toy shop, and your mom is doing fine on her own."
"Okay," the kid says. "But did you at least get me the Wiffle ball I asked for?"
The first woman president works through the holidays. She wears a tasteful snowflake pin on her pantsuit lapel and gets shit done.
Plot 5: A Hired Holiday
A man who doesn't want to spend the holidays single again asks a barista to pretend to be his girlfriend.
She declines. She doesn't feel like spending a few days stuck at a stranger's house arguing with his uncle about politics.
A woman brings a man home to meet her family for the holidays. The man looks really put together while he makes elaborate meals and cleans the kitchen. As he puts the finishing touches on a detailed ginger bread house the woman's mom thinks: maybe they will get engaged soon!
At Christmas Eve dinner, the mom says, "So what do you do for work, Partridge?"
"He is in the toy business," the daughter says.
"Oh, like distribution?" asks the mom.
"No, he works in a small toy shop. In the North Pole. For Santa."
"Wait, what?" her mom says.
A ghost transports a woman to an alternate reality where she is married to the guy she regretted breaking up with in college instead of her current husband.
They have a cozy house together and have a lot in common. Her alternate life really does seem better than her actual one.
"Sorry," the ghost says. "Sometimes things work out this way. Well—time to get back to your real life!"
A woman has had a rough year and her co-workers try to cheer her up by decorating her cubicle with Christmas lights and bringing her food.
One co-worker drops off some pears and cookies at the woman's desk and asks, "Are you getting into the spirit of Christmas yet?"
The woman says, "Listen, I appreciate the gestures, but it's just not going to happen for me this year. The only kind of spirit I'll be getting into is the kind that comes in a bottle."
A woman goes home to visit her family for the holidays. The entire time she is there, no one asks her why she isn't married yet. It's a Chrismukkah miracle.
Follow Marie Claire on F (opens in new tab)acebook (opens in new tab) for the latest celeb news, beauty tips, fascinating reads, livestream video, and more.
Julie Vick is a writer living in Colorado. Her work has appeared in The Washington Post, The Christian Science Monitor, and McSweeney's Internet Tendency.