"I Think About My Son Every Day": Trayvon Martin's Mother on Life Five Years Later
Sybrina Fulton has turned her sorrow into a mission to ensure no other mothers join her sorority of heartbreak.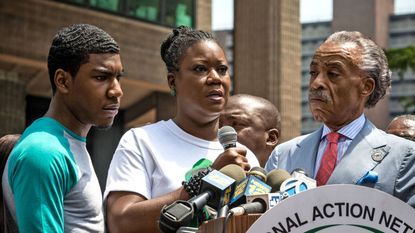 (Image credit: DREW BURTON/GETTY IMAGES)
Sybrina Fulton kissed her youngest son, Trayvon Martin, goodbye on February 21, 2012, as he headed to Sanford, Florida, with his father, Tracy Martin. Six days later, Tracy, her ex-husband, called with devastating news: Their 17-year-old had been fatally shot by a neighborhood-watch volunteer. The unarmed, hoodie-clad teen's death reignited debates about racial profiling, and the jury's not-guilty verdict for shooter George Zimmerman the following year sparked rallies across the country and birthed the Black Lives Matter movement.
Today, the activist-mother is using the foundation she started in her son's name to end senseless gun violence and heal those affected. She's testified before Congress and the United Nations, and campaigned for Hillary Clinton at the Democratic National Convention along with other moms who lost children to police or gun violence (known as the Mothers of the Movement). This month, she and Tracy publish Rest in Power: The Enduring Life of Trayvon Martin.
Here, Fulton opens up to Marie Claire contributing editor Janet Mock.
Janet Mock: How did you handle Hillary Clinton's loss, and how will your work advance in a Donald Trump presidency?
Sybrina Fulton: We're still in mourning. What has transpired is a hard pill to swallow. It's very discouraging because Secretary Clinton was really on board with police reform, community policing, and gun reform. But we're willing to work with whoever is in place to try to make positive change. I want the new administration to make sure they are for all people. We're going to have to do a lot more convincing and motivating them about what is needed in our communities, so we're thinking of ways that we can fit into this puzzle and still make a difference. That's the sweet part of this bitter fruit—we will come back.
JM: How has the outpouring of support you've received helped you push past grief?
SF: When this first happened, we felt like it was just us—that nobody was interested in the fact that a 17-year-old unarmed teenager had been killed. We felt it would be in the news for a day or two and then they would move on. But then we had so many people standing with us. I had people praying for me, donating to the foundation, and sending artwork, hoodies, books, cards, and letters. To see so many rallies across the U.S., and to have President Barack Obama say if he had a son, he would look like Trayvon, was amazing—just to know the president knew who he was and knew our circumstances. Initially, a lot of people felt this was an isolated incident, but the movement sent a clear message that, yes, on a daily basis, black and brown kids are being killed and nobody is held accountable. Now that we have acknowledged there is a problem, we can move forward with solutions.
JM: What are some of those solutions?
SF: One of the things that I want to see happen before I rest in peace is, if you take a life, we need to do a background check and a drug and alcohol test at the scene. Trayvon was dead on the ground, and the police department saw fit to do a background check and a drug and alcohol test on him. But there was no background check or drug and alcohol test done on the person who killed him. The other thing is, there needs to be an independent investigation; it should not be led by the state attorney's office, which is working side by side with police. We also need more training with the police department. We need more training with our citizens. We need to make sure we have better, stricter gun laws. Nobody wants to take away anyone's Second Amendment rights, but at the same time, it is too easy for people to get guns. That's why there's so much crime going on. I don't want to see my circle of mothers get bigger!
JM: Since Trayvon's death, we have seen other black lives tragically end. You've taken a leadership role by connecting with other grieving mothers. How have they affected your resolve?
SF: I tell mothers who are just coming into this awful sorority that I found my healing by helping someone else. The only thing I could offer the other mothers, because I was still broken, was words of encouragement. I would tell them, "You have to think about yourself. You have to make sure that you're eating and sleeping, that you get up and shower, brush your teeth, and put on clothes. You've got to do those things, because there comes a point where you don't even want to get dressed. You just want to lie in bed, stay home, and cry." They have to start the healing process by doing some of the things they enjoyed before they lost their child. That's how you get back up. Once I started working with other mothers, it wasn't as heavy a burden. I cannot tell you that I am healed—every single day, I think about my son in heaven—but helping others kind of took the pain away.
JM: What was it like to reflect on Trayvon in your book?
SF: It took me back to the day it happened. It always makes you think, Was there something I could have done or said to save my son? The book brought back those feelings and made me realize that it was just a few years ago that he was here and we were laughing and we were a family. I might not know what God's plan is, but I just trust God. I refuse to not say anything, but to be the voice for my son. And I will continue to let my light shine.
MC: Your book comes out on January 31, five days before what would have been Trayvon's 22nd birthday. How will you commemorate?
SF: We always do a remembrance weekend. We have a peace walk to let young people know that they have a right to walk in peace without being followed, chased, pursued, profiled, or murdered. We also want to bridge the gap between our young people and law enforcement, so we have police there. They tell young people, "We are not just here to get you. We want to make sure you are safe and protected." We cap it off with our foundation's annual fundraiser dinner, where we have Jamie Foxx or somebody of that nature sing happy birthday. Every year, I say I won't cry, and every year, I cry.
JM: You held a photograph of Trayvon in Beyoncé's visual album, Lemonade. How have your connections with pop-culture and political figures raised awareness?
SF: Whether I was meeting Beyoncé and Jay Z or President Obama and Michelle Obama, my focus was always on my children. Most of the people I connect with have children and can feel my pain. Appearing in Lemonade was a good experience. Beyoncé's husband's grandmother said, "I was served lemons, but I made lemonade." I'm trying to do the very best I can to make my lemonade.
Rest in Power: The Enduring Life of Trayvon Martin is available January 31. This article appears in the February issue of Marie Claire, on newsstands now.
Celebrity news, beauty, fashion advice, and fascinating features, delivered straight to your inbox!