Subversion by Satellite: This All-Female Talk Show Is Making Waves in Iran
Meet the women talking taboos in Tehran.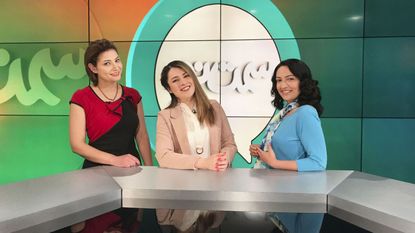 (Image credit: Courtesy)
Iran's first all-female talk show judges its success by an unusual measure: how much the government hates it. The pioneering weekly show, Samte No ("New Direction"), launched last October and caused an instant outcry among Iran's religious hard-liners. With a format similar to that of The View, it features three educated, stylish Iranian hosts in Western dress discussing topics ranging from President Donald Trump's state visit to the Middle East to voting rights to fatwas against wearing nail polish or riding a bicycle. "Women expressing their opinions on TV is very threatening to our ultraconservative rulers," says Maryam Faghihimani, one of the show's hosts. "They label us 'criminals who shamelessly promote women's empowerment.'"
Iran's regime is unable to ban the show, however, because it is filmed in London by liberal Persian station Manoto TV and beamed into the country via satellite. While YouTube and other "un-Islamic" websites are easily blocked by the authorities, international satellite television reaches an estimated 70 percent of Iranian households. "Our station has around 30 million viewers in Iran, so a lot of women watch our show," says Faghihimani, a human-rights expert now based in Norway (for the tapings, she flies to London, where the two other hosts live). "We have the freedom to talk about important issues such as politics and sex that are taboo inside the country."
Faghihimani is considered particularly dangerous by the government, as she is the rebellious daughter of an Iranian ayatollah, a high-ranking religious ruler. "You can imagine how angry they are that I am speaking out," she says. When Iran's state media runs stories condemning the TV show and its female hosts, it blurs out their bare arms and legs. "They can censor our Western outfits all they like," says Faghihimani, laughing, "but it will take much more than that to censor our voices."
RELATED STORIES
This article appears in the September issue of Marie Claire, on newsstands now.
Celebrity news, beauty, fashion advice, and fascinating features, delivered straight to your inbox!