Behind the Documentary: Pussy Riot and their Punk Prayer
We spoke with Maxim Pozdorovkin, the director of the Oscar short listed documentary, Pussy Riot: A Punk Prayer about the nation-dividing protest that landed its members in prison and why Pussy Riots' actions are significant to women everywhere.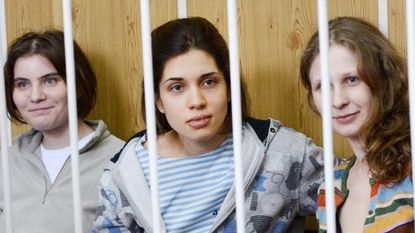 (Image credit: Archive)
Marie Claire Newsletter
Celebrity news, beauty, fashion advice, and fascinating features, delivered straight to your inbox!
Thank you for signing up to Marie Claire. You will receive a verification email shortly.
There was a problem. Please refresh the page and try again.
Balaclava-clad and armed with guitars, feminist group Pussy Riot performed a 40-second "punk prayer" in Moscow's Cathedral of Christ the Savior — an act against the oppressive Russian government that would enrage a nation and result in prison time.
Over a six month period, director Maxim Pozdorovokin went to Moscow to film the trial and conduct interviews with officials and Pussy Riot's family members. His documentary, whose premier was banned in Russia, digs deep into the lives of Pussy Riot members, often including footage of the group sitting in a glass cage throughout their trial. Vilified by the Russian press, Pozdorovokin sheds a different light on Pussy Riot — behind their brightly colored masks and behind the government's glass cage. We spoke with Pozdorovokin about the significance of Pussy Riot's acts and what they mean to Russia, human rights, and women.
Marie Claire: What's Pussy Riot's feminist agenda?
Maxim Pozdorovkin: There isn't just a feminist agenda, they also have a political agenda — they are basically trying to transform society and to come up with an alternative kind of protest strategy to make people listen, to help build a more humane and just society for their children for their friends, family, and everyone else. They were revolutionary in a very real sense of what they wanted to change, change the place where they live and for the better and since the release now, they are working on human rights programs called Justice Zone which is focused on researching prison conditions in Russia.
MC: The opening scene when member Nadia Tolokinikova explains the meaning of "Pussy Riot" to the interrogator locked me right in. She's so forward, calm, yet strikes hard with her point — it's an inspiring moment. Have you gotten the same response from viewers?
MP
: My favorite thing about the Pussy Riot movie is especially when high school age or young woman watch the film — it's incredible because they are so enamored by the confidence and the eloquence of it. Making the film, that was the main idea to let Pussy Riot speak as much as possible.
MC: What happened in Moscow with officials banning the film?
MP:I just came back from Moscow two weeks ago and the film was banned there officially by the government. It was very funny because they [Russian officials] wrote in response to the ban that "the art is supposed to fix the world" and that "Pussy Riot doesn't do anything of that nature."
MC: How was it attending the Pussy Riot trial?
MP: Being at the trial was one of the most surreal experiences of my life. I was really fortunate to be able to obtain some of the trial footage in which the camera man kept on rolling even before the trial started. When you see the girls talking among themselves, that material was such a window into what they were going through. They realized then that you could make a present tense film about what was happening and hopefully demystify some of the coverage in the west and in Russia and find a middle path that's more true.
MC: How did the Russian press cover it?
MP: The Russian press is different because [the government oversees everything], which vilified Pussy Riot and were incredibly against them, which probably played a large part in shaping an overall negative public opinion of them. Most of the liberal Moscow press and newspapers were all very much for Pussy Riot and glorified them. The Russian media sort of flips between federal media and liberal media.
MC: The channels were very anti-Pussy Riot, even the presenters was anti-Pussy Riot.
MP: One of the greatest parts that didn't make it into the film was the footage from the cathedral, and there's a freeze frame on Nadia kicking her leg up so it is a freeze frame on her crotch, and then this deep, masculine voiceover, "People what shall we do?" That is how the segment ended right before the public talk show debate that you see in the film
MC: What is your personal stance on Pussy Riot? What do you think of them?
MP: We tried to be fair to the different sides of the story and all of the varying opinions in the documentary. For me, I come from the same background as them — both in terms of interest, performance art, punk rock, radical art, and Russian avant garde, and so I feel we're a bit of the same generation. We have similar political views too — I'm interested in the idea of bringing theatre into life so in that sense I support them, but would I do it? I'm not sure, I don't think so. I know that they aren't motivated by religious reason. The more I know about something, the more I work on something, the less capable I am of making a judgment on the subject in any way, positive or negative.
MC: The charges stated that they were inappropriately clothed while performing on a church altar and that's a huge reason why they went to prison. Do you really think that is the real reason why they were sent to jail?
MP: It was this idea of a "public spanking" and making an example of them. That's when there was this mass rally against them — people were hoping that these three woman would apologize, demean themselves, cry and beg for forgiveness and then, they probably would have been let off. The fact is that Pussy Riot firmly believes they had the right to do what they . They apologized for possibly offending people, but they believed they had a right to voice their opinions. They felt the charges should have resulted with an administrative violation that deserved a fine and not charged as a hate crime, which is a greater accusation.
MC: What is the feminist atmosphere in Russian right now? I understand that Russia was one of the first European powers that gave women the right to vote.
MP: Oh yes. That's one of the interesting things about Russia is that they never had a second wave of the feminist movement and it is true that during the first years after the revolution it became the first European county where women had the right to vote. The act of abortion and reproductive health was available, and it became a lot easier for woman to divorce from their husbands. Then what became associated with the second wave of feminism, never really took place in Russia and so as a result, it remains a deeply patriarchal society
MC: What does the general public of Russia think of Pussy Riot?
MP: After the trial and after the punk performance it was overall very negative, largely because they were vilified on national television. People didn't understand the political nature and some found it to be bad taste. In Russia, and formerly socialist countries, the idea of punishing people for civil disobedience and hooliganism and giving jail sentences is very real — that was commonly practiced and they [Pussy Riot] were sentenced to two years. That wasn't a surprise really for many people.
MC: It was interesting when you interviewed the parents because one of the parents straight out said what Pussy Riot was doing was, "very bad."
MP: The film for me is very much about generational conflict as well as political conflict. Pussy Riot represents millennials—making themselves heard by any means necessary. One of the important reasons to have the parents of the Pussy Riot members there was to show this great big generational divide. Masha's mother and Katya's father were very much against what they did. By seeing how cruelly the justice system reacted to Pussy Riot, they understood the point of what their daughters were doing, which they didn't before. This is when the transformation takes place in the film.
MC: Do you think the most effective way to get things done in Russia is by a public art protest?
MP: I think it is an alternative form of protest because what they're trying to do is ultimately confuse the government because the government doesn't know how to react to these things. A lot of times the crimes are strange and confusing petty crimes but the ideological impact and political impact is massive so the whole idea behind Pussy Riot is the idea to make people think differently and provoke debate and conversation.
Get Pussy Riot: A Punk Prayer on DVD from Cinedigm on February 11 on Amazon.com.
Celebrity news, beauty, fashion advice, and fascinating features, delivered straight to your inbox!