We Chat With Olympic Gold Medal Winner, Kaitlyn Farrington
Oh yes, we fan girled.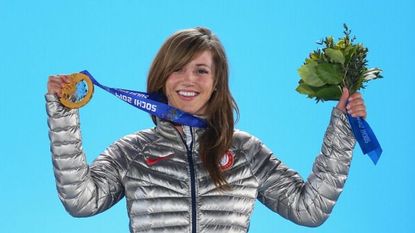 (Image credit: courtesy of getty)
Fresh off of her gold medal win for the women's snowboarding halfpipe during the 2014 Olympics in Sochi, Kaitlyn Farrington stopped by the MC offices to give us the lowdown on what led up to her victory — we're talking a victory filled with death-defying, vertigo-ensuing, mid-air suspension tricks. Laid back and natural, Kaitlyn dished to the team everything from her signature snowboarding move, must-have snack, and of course, how literally, the sky is the limit.
Marie Claire: Why snowboarding and how did you initially get involved in it?
Kaitlyn Farrington: I started skiing when I was three. My older sister switched over to snowboarding and you always want to follow your older siblings so I made the switch to snowboarding when I was 11 or 12. I got into competing when I was in high school because one of my friends was on the Sun Valley snowboarding team. I used to ride with her all the time so she just said, "Kaitlyn, why don't you join the team with me, we get to ride with all these guys and have a good time, we have a crew!" I ended up joining the Sun Valley snowboarding team and started competing.
MC: What are some of your signature moves?
KF: I think one of my favorite moves is an "alley-oop backside 540", which is something I started doing a couple years ago. It's just a trick that is so fun for me to do. I think I am one of the only girls that does it so I really think it separates me from the other girls— it's one of my favorite tricks to do.
MC: Advice for girls that want to pursue a male dominated sport?
KF: For me the sky is the limit — if you want to do something, you can do it. If you put your mind at anything, if you have the passion, and if you stick with it, you can get there.
MC: Have you had any push back? Sports in general have been mainly male dominated, is there is memory where you say eff that and just go for it?
KF: When I was younger, I was a tomboy and wanted to be a part of the guys club. It was fun for me to go snowboarding. And, there are so many cute boys in snowboarding, I was like "Oh, I do it for the dudes!" which was our joke in Sun Valley. We used to say "Kaitlyn is only along because she meets at all these guys." But really it's fun—women's halfpipe snowboarding is growing so much and so quickly that it is fun to be in the mix and be somebody who is pushing a sport forward like that.
MC: Do you think that the men and women in all sports should be judged equally?
KF: In snowboarding we're all judged equally, we all get the same amount of prize money, and everything is equal. I think for every sport it should be that way because we're doing the same things the guys are—we are putting ourselves out there.
MC: So, you grew up on a ranch? I understand your father had to sell some of the cattle to fund your snowboarding competitions.
KF: I grew up on a ranch in Sun Valley and it was really fun. I was a farm girl and I used to barrel race! I used to say "Dad, I'm hurt, I hurt my knee, I hurt my wrist!" My dad would say, "put it on a list Kaitlyn." I feel like it made me stronger as a person because I was out on a ranch getting my butt kicked, getting bucked off horses and getting stepped on by horses. Also helping my dad feeding all of the farm animals even though I didn't want to, it was still something that I had to do. It definitely mad me a stronger person.
When I started snowboarding, and going to bigger contests, we started selling cows to fund my snowboarding because it was so expensive and that was our way of making it work. So we just sold cows. And now that I went to the Olympics and won the gold medal, I don't think my dad is bummed out that we had to sell the cows.
MC: Any weird superstitions or customs that you wear or do before?
KF: My friend had dreadlocks which she cut off this year. She gave me one at the beginning of the season which I call my "shreadlock." I put it in my pocket and now I just can't ride without it.
MC: What do you fuel up with?
KF: Really anything, I'm not picky about food.
MC: Anything that you missed while you were away that you're happy you came back to?
KF: I missed potato chips. We were staying at this hotel and we had cooks with us but we didn't have any potato chips. When I came back, it was the first thing I bought in the airport— I was like "I need some of these!"
More from Marie Claire:
Meet Team USA's Women's Snowboarding Team
Jamie Andersen Wins Our Hearts - We'd Tinder in the Olympic Village, Too
Snowboarder Sarka Pancochova Splits Helmet After Nasty Crash on Slopestyle Course
Celebrity news, beauty, fashion advice, and fascinating features, delivered straight to your inbox!