Snowboarder Sarka Pancochova Splits Helmet After Nasty Crash on Slopestyle Course
The 23-year-old snowboarder experienced one of the worst slopestyle spills in Sochi, bringing concerns about the safety of the course and prevalence of concussions front and center.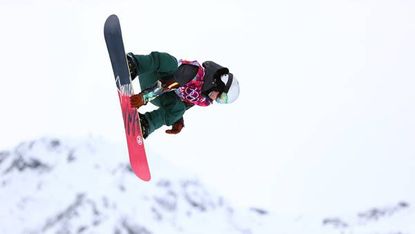 (Image credit: Getty)
Marie Claire Newsletter
Celebrity news, beauty, fashion advice, and fascinating features, delivered straight to your inbox!
Thank you for signing up to Marie Claire. You will receive a verification email shortly.
There was a problem. Please refresh the page and try again.
Over the weekend, snowboarder Sarka Pancochova of the Czech Republic was poised to medal in women's slopestyle, the first year the tournament appeared at the Olympics. As she took her final run, she suffered one of the worst falls seen on the Sochi slopestyle course, which caused her helmet to crack in half and the snowboarder to fall like a rag doll down part of the mountain.
She lay still for a few seconds before sitting up as medics ran to her assistance. She eventually stood on her board and rode down the rest of the course, but was unable to complete her rotation. She appeared to be somewhat woozy when she reached her fellow competitors at the bottom of the mountain. She placed fifth in the competition.
According to the Wall Street Journal, a spokesperson for the Czech team said Pancochova might have suffered a "small concussion" and was taken to the hospital as a precaution.
The horrific spill, which caused her fellow competitors to yell and flinch on the sidelines, has brought concerns over the safety of the course and the prevalence of concussions among snowboarders front and center. As Cosmopolitan.com reported last week, research suggests that female athletes face a greater concussion risk than men. And Pancohchova is not the first female snowboarder of the Sochi Olympics to potentially suffer this injury.
One day prior, New Zealander Christy Prior withdrew from the semifinals after she crashed during practice and team doctors said she might have suffered a concussion. With more research linking cumulative concussions and degenerative brain disease (as seen among football players), snowboarders could also be at risk for potential head problems later in life.
In an interview with USA Today, Olympic snowboarder Lindsey Jacobellis said that for American riders, team officials require athletes to take baseline tests before the season and are tested again three weeks after concussion symptoms dissipate. Doctors must clear athletes for competition.
But concerns about the course's safety started when athletes first arrived in Sochi, and even after Olympic officials made improvements to the course by waxing a rail and adjusting the landing on a jump, some snowboarders were still concerned.
Last week Olympian Shaun White decided to withdraw from the slopestyle competition. White said in a statement on NBC's Today show, "With the practice runs I have taken, even after course modifications and watching fellow athletes get hurt, the potential risk of injury is a bit too much for me to gamble my other Olympics goals on."
Celebrity news, beauty, fashion advice, and fascinating features, delivered straight to your inbox!