You Think You Have Daddy Issues?
By the time I moved to New York City from the midwest to be a gossip columnist, my born-again Christian father thought I was going to hell. Why did I think we could make up on a weeklong European cruise?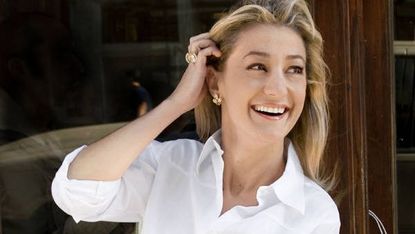 (Image credit: Courtesy of the Subject)
Marie Claire newsletter
Celebrity news, beauty, fashion advice, and fascinating features, delivered straight to your inbox!
Thank you for signing up to . You will receive a verification email shortly.
There was a problem. Please refresh the page and try again.
One evening last spring, I helped my 74-year-old father into his dinner chair at a steak house on board the Azamara Quest cruise liner. It wasn't easy—at 6'3", he's a big man with a bad back and a bum knee. As the ship set sail from Barcelona to Sète, France, we were joined by four women. Introductions were made, the conversation flowed, and all the while I kept an eye on my right-wing, born-again, gun-collecting Tea Partier father, who can be a polarizing figure. My fears were unfounded. My dad was in the midst of telling a story about his travels when the woman to my right leaned in to me. "You and your dad are so sweet," she said. "My dad and I were never close like you two. I really wish I'd have grown up with a father like yours." She had no idea.
My father and I did not speak to each other on a regular basis for close to 20 years. I was 2 when my parents divorced. We were living in Saudi Arabia while he taught English at the University of Riyadh. My mother, who is Jewish, would often get stopped on the street and harassed by the religious police. There were cracks in their relationship before they moved, but the stress of living in a closed-off Middle Eastern country created unbridgeable fissures. After three months, my mother had had enough. The government had taken our passports upon arrival, so she got a job as a secretary in the U.S. Army and convinced them to fly her; my older sister, Sophie; and me back to America, saying to my father, "See you in Cincinnati, Bob!" When he showed up stateside several months later, he was promptly served with divorce papers.
I visited him every other weekend until I was 8. Most of our time together was spent watching TV or driving to this place or that. During summers, he took my sister and me to Mammoth Cave in Kentucky, where he set us free among the stalactites and stalagmites for hours. Meanwhile, he had remarried and had another daughter. After he moved his new family to Minnesota, we saw each other only sporadically. I tended to take his absence personally, and in my defense, it was hard not to. He often forgot my birthday. He would tell me he was closer to Sophie because they'd had more time to bond, and to his younger daughters—he had two by now—because he had learned from the mistakes he made with his first family. He paid child support but always with the underlying message that we were bankrupting him. Out of all his children, I was the only one whose high school graduation he missed (college, too, eventually).
Paula (left) at 2 with her dad and older sister, Sophie, c. 1975, in Saudi Arabia shortly before her mother took the girls back to the States.
I felt invisible, rejected, unworthy of his love. For years, I thought there was something wrong with me not to rate in his affections. These insecurities drove a wedge between me and Sophie. As for my half sisters, I would not have a relationship with them at all until I was in my 30s.
When I left for college, my dad refused to contribute to bills, so I got grants, scholarships, and multiple jobs to pay tuition. We would talk on the phone every six months or so. He'd gotten another divorce, moved back to Ohio, and embraced Pentecostalism. God started talking to him. He would call to tell me I was going to hell if I didn't accept Jesus Christ as my Lord and Savior. He got me a subscription to Jerry Falwell's newsletter. He offered to pay for school if I transferred from Emory to Oral Roberts University.
I had internalized his absence and felt it every single day, and it turned into a deep, simmering anger I didn't even realize was there. I cut off all ties with him, and that would last for years.
Something changed when I turned 30. I took a long look at my life and wasn't happy with what I saw. I had always been determined to succeed, to show the world I was good enough. Now I was flourishing as a gossip columnist for a New York newspaper and as a TV talking head. The downside was, I was a bit of an attention-seeker—the dancing monkey at the table constantly performing for people so they wouldn't lose interest. I surrounded myself with people who were, oddly enough, just like who I thought my father was: flaky, judgmental, depressed, and angry. As if, to paraphrase Freud, I could undo the original hurt by making someone like my father love me. And if I am to be really honest, after all those years of estrangement, I had also (ironically) turned out a little flaky, judgmental, depressed, and angry.
I was at the zenith of a career I didn't particularly want and desperately unhappy and exhausted from doing a daily tap dance all for one man several states away. I decided to try to fix myself by going to the source with no expectations or preconceived notions of who I thought my father should be.
Paula, as a New York gossip reporter and author, hung out with celebrities like Diane Sawyer, above, and Sean Combs, below.
I started calling him, and coincidentally, he had made a decision to try to get to know his daughters. He had stopped having to pay my ex-stepmother child support, and it was as if he had been released from the bitter grip of full-time anger. While I didn't want to replicate the experience I'd had growing up—being ignored in the filial crowd, inadvertently insulted—I wanted to try to get to know him, too. And so we began to find our way back to each other by going on family trips.
It was neither easy nor instant. After years of hurt and separation, the slightest thing he said or did would set me off. He was equally at a loss about how to build a bridge and sometimes had an odd way of going about things. Once I brought a guy to meet the family, the first time I had ever done so. My dad promptly held a gun to his head, then didn't understand why the guy took it so "personal," as the gun wasn't loaded (a fun fact that no one but my father knew). It was his way of showing his newfound love and support for me ("No one's going to mess with my little girl"), which was sweet in a psycho sort of way. A family bus tour of Italy ended in a public blowup after he misconstrued my innocuous comment about Italian churches as a denigration of his religion. Then one summer, under a shade tree in Maine, my father broke down crying, something I'd never seen before. I was horrified and didn't know where to look or what to do.
"I've got something to say to you," he said. "I failed you."

"Daddy," I said, patting his knee. "It's OK."

"It is not," he said, wiping away tears. "I was never there for you. I let you down again and again. I'm just so sorry … I have always loved you. I always will."

"Thanks, Daddy," I said and held his hand. "I love you, too."
After that, our relationship thawed, and I stopped taking everything he said so personally. My youngest half sister, Emily, and I would visit him over the summer, and I would sometimes see him during holidays. His preference for road trips turned into a love of cruises, something I was never interested in. But last March, I was offered a cabin with a balcony on the Quest cruise line from Barcelona to Monaco. And before the Ambien I'd taken the night before could wear off, I was on the phone asking my father to go with me. A month later, we met in Spain.
The first night of the cruise was rough, and I got seasick. By the next morning, I'd identified eight different snores that came from my father's hulking form. The second night, I got food poisoning. Sleep deprivation and illness aside, we quickly settled into a routine: breakfast, a tour of whatever city we were in, dinner, and then quality time on the smoking deck, where he would huff down cigars and we'd both drink scotch. On the boat, he blossomed like I'd never seen. At home in Ohio he can often be reticent and solitary, locked in the blunders of his past. On the water and during tours of Nice, Aix-en-Provence, Marseille, Saint-Paul de Vence, and Saint-Tropez, he was engaged, asking questions and full of curiosity. I caught him bragging about me to other passengers a few times. He stayed away from some of his more extreme views on homosexuality, President Obama, Muslims, and … well, anything generally found in the breaking-news sections of websites.
Father and daughter on a tour bus outside Aix-en-Provence, 2013.
On our final evening in Monaco, during our nightly scotch-and-cigar break, another passenger looked at my dad and commented on our last name.
"Froelich means 'happy,'" she said.
Dad snorted, "Yeah, well, my first name means wisdom … this after a lifetime of mistakes. Take Saudi Arabia. I signed a contract I couldn't read. I was there nine months, seven days, and 21 hours. The longest prison term I ever served. I should've known. On the flight over, the girls' mother didn't want to get off the plane. They forced her off. We were herded through the pitch-black night to a building where they took our passports. That was the beginning of the end of my family. For me."
I realized I'd had very little compassion for him, for what his life had been like. I couldn't as a child, and wouldn't when I was old enough. I finally understood that he had done the best he could in the only way he knew how.
The next morning, I asked him, "You once told me I was going to hell. Do you still think so?" He refused to answer. But before we left for the airport, he stopped me and said, "You asked me if I thought you were going to hell. And the answer is: I don't know." That was good enough for me.