40 Photos of Princess Diana You've Probably Never Seen Before
It's all about the lesser-known moments.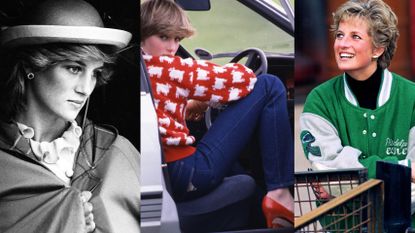 (Image credit: Getty Images)
Marie Claire Newsletter
Celebrity news, beauty, fashion advice, and fascinating features, delivered straight to your inbox!
Thank you for signing up to Marie Claire. You will receive a verification email shortly.
There was a problem. Please refresh the page and try again.
There are certain Princess Diana moments that will live in our memory forever—like her wedding day with Prince Charles in that monumental silk and taffeta-lace wedding gown, or her leaving the hospital after Prince William was born. But considering that the royal English rose was practically always in the spotlight, we treasure lesser-seen moments that were captured during her tragically short lifetime. Ahead, rare photos of the late Princess of Wales throughout her life.
1/40
1963
A young Diana Spencer riding in a pram stroller at her home on the Sandringham Estate in Norfolk.
2/40
1964
Diana wearing a bright red puffer jacket and blue corduroy pants while playing with dolls at her family home in Norfolk.
3/40
1965
Posing for a portrait in a peacoat as a child.
4/40
1967
A six-year-old Diana sporting a red collared smock dress with a matching headband and blue cardigan, proving she was always stylish.
5/40
1968
Standing in the doorway of her family's home, Park House, with her younger brother, Charles, who later became the 9th Earl of Spencer.
6/40
Summer of 1971
During a summer holiday in West Sussex donning a wide-brimmed felt hat.
7/40
1974
Getting kissed by her pet pony, Scuffle.
8/40
January 1980
Navigating her way through paparazzi, who started hounding the 19-year-old whenever she left her apartment after news of her relationship with Prince Charles broke.
9/40
November 1980
Making her way through the press (again) during her engagement to Prince Charles, who she was officially set to marry in July 1981.
10/40
November 1980
Working as a nanny for an American family living in London before officially becoming a royal.
11/40
12/40
January 1981
Wearing a plum jacket and feather cap as she greets well-wishers at a royal engagement in 1981.
13/40
February 1981
Accepting a daffodil and a kiss on the hand from a smitten schoolboy as she greets a group at Cheltenham in 1981.
14/40
March 1981
Attending her first high-profile event in March 1981 with her fiancé, Prince Charles. It was one of the first times the media took notice of Diana's impeccable style. She wore a black strapless taffeta gown designed by her wedding dress designers, David and Elizabeth Emanuel.
15/40
May 1981
Watching Prince Charles play polo in a peasant top and plastic aviator sunglasses.
16/40
June 1981
Sitting in her car sporting her iconic sheep sweater while attending a polo match.
17/40
July 1981
Attending a polo match at Cowdray Park Polo Club with her friend and future sister-in-law, Sarah Ferguson, a week before her wedding.
18/40
July 1981
Flashing Princes Charles a smile while visiting the Cheshire Regiment in Tidworth.
19/40
April 1983
Sheltering herself under an umbrella, wearing a bowler hat and ruffled top.
20/40
June 1983
Wearing The Diamond Spencer Tiara and an outfit designed by Bruce Oldfield for a dinner hosted by The Province of New Brunswick.
21/40
October 1985
Playing the piano with Prince William and Prince Harry in Kensington Palace.
22/40
April 1987
Visiting the Sandhurst Royal Military Academy in Surrey wearing a Catherine Walker suit and a hat by Graham Smith.
23/40
1985
Dancing with Prince Charles wearing a blue dress by David Emanuel.
24/40
August 1987
Posing for a quick snap in Majorca, Spain, with sons Prince William and Prince Harry.
25/40
November 1987
Wearing a chic black-and-pink ensemble for a royal visit to Bonn, Germany, in 1987.
26/40
November 1987
Sipping from a water glass during a visit to Portugal while being hosted by the President at Ajuda Palace in Lisbon.
27/40
November 1987
Joining her older sister (and Charles's ex-girlfriend), Sarah McCorquodale, for a visit to their former school in Kent in 1987.
28/40
January 1988
Taking Prince Harry for a ride on his pony in Sandringham, United Kingdom.
29/40
January 1988
Wearing a bright yellow floral printed sundress with Prince Charles in a jeep on a visit to a beach in New South Wales, Australia.
30/40
May 1988
Watching Prince Charles play polo at Smith's Lawn Windsor in an oversized blazer, T-shirt, jeans, and boots.
31/40
June 1988
Coordinating her white-and-green outfit with Prince Harry at the Royal Trooping the Colour in 1988. The mother and son were with the royal family on the balcony of Buckingham Palace.
32/40
June 1988
Attending an official visit at the Royal College Surgeons, where she dressed the part in a student's traditional cap and gown.
33/40
June 1988
Again dressing for the occasion in an army green button-down and pants for a maneuvers demonstration by the Royal Hampshire Regiment in Tidworth.
34/40
August 1988
Looking back at the cameras on a walk with the royal family—and a corgi, of course—at Clarence House. The family gathered in 1988 to celebrate the Queen Mother's 88th birthday.
35/40
September 1988
Wearing a plum cape jacket as she greets well-wishers during a visit to St. Catherine's Hospice in Crawley, West Sussex.
36/40
October 1988
Ditching the traditional tennis whites for a blue pinstripe set and a pale pink cardigan at a doubles match with David Verney, professional tennis player Steffi Graf, and the club secretary Charles Swallow.
37/40
April 1990
Sunning herself in a leopard swimsuit and sarong on holiday in the Caribbean's Necker Island.
38/40
April 1994
Wearing a Philadelphia Eagles letterman jacket at Alton Towers Theme Park.
39/40
November 1994
Speaking with Hillary Clinton during a luncheon at the British Embassy—each of them clad in a gold buttoned skirt suit.
40/40
January 1997
Attending the Neves Bendinha Orthopaedic workshop with 13-year-old Sandra Thijika, who lost her leg to a mine in 1994.
Celebrity news, beauty, fashion advice, and fascinating features, delivered straight to your inbox!