The Essential Audrey Hepburn Movie Viewing Guide
There's more to her filmography than 'Breakfast at Tiffany's.'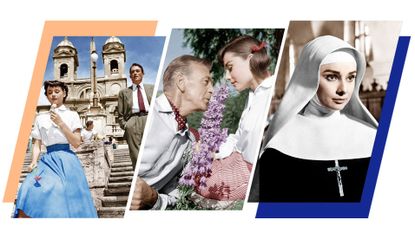 (Image credit: Future)
Before she was fodder for Instagram quotes, Audrey Hepburn was an actress with a separate Wikipedia page for her work on the screen and stage. ("Ooh, like Breakfast at Tiffany's! I love that 'Moon River' song," Karen pipes up from the back row. We've all seen it, now sit back down, Karen.) Here, a few more essential films from her oeuvre, because you can't call yourself a fan otherwise.
1. 'The Nun's Story'
What it's about: Girl is nun. But Girl is not sure she really has the spiritual commitment necessary to stay nun.
Why it's on here: Everybody in this delivers excellent performances, while Hepburn delivers what might be her personal best.
2. 'Roman Holiday'
What it's about: Royal Girl runs away and manages not to get Taken. Gregory Peck contemplates the meaning of journalistic integrity.
Why it's on here: She won a well-deserved Oscar for it.
3. 'My Fair Lady'
What it's about: Girl who sells flowers becomes embroiled in a bet between some bored white dudes. No spoilers, but have you read Pygmalion?
Why it's on here: Hepburn might've lost out on an Oscar nom—perhaps due to the fact that she had to lip-sync to Marni Nixon's vocals—but here, you get to see her work her comedic chops and a respectable Cockney accent. Plus, the wardrobe is lush.
4. 'Funny Face'
What it's about: Girl learns that modeling is hard, but love is even harder. Otherwise, catchy tunes, dance numbers, and Givenchy costumes to die for. Say, have you read Pygmalion?
Why it's on here: Visually like Pierre Hermé's fruitiest, pinkest confection, it's one of those ones you put on when you want to be whisked away to Paris from this godforsaken place that's probably about to be nuked to kingdom come in a sec anyway.
5. 'Sabrina'
What it's about: Girl glows up and ends up with the brother (classic). I said, "HAVE YOU READ PYGMALION?"
Why it's on here: It's fun and clever, and you might be curious after having seen the 1995 remake. You could also try to detect any hints of the BTS drama, where Humphrey Bogart didn't like Hepburn (inconceivable), but William Holden did—in a like-like sense.
6. 'Charade'
What it's about: Rich Girl's husband is murdered. Rich Girl runs for her life while maybe hanging with the actual murderer.
Why it's on here: Well, Cary Grant, for starters. The bad guys are funny but sufficiently scary, and the clothes are magnificent (as usual).
7. 'Two for the Road'
What it's about: Couple has couple problems.
Why it's on here: This is super, deliciously '60s, it's set in Europe, and who among us doesn't want to watch another thoughtful film about people falling in and out of love?
8. 'Love in the Afternoon'
What it's about: Girl thinks she can literally save the bad boy.
Why it's on here: That ending.
9. 'Wait Until Dark'
What it's about: Blind Girl outwits scary heroin dealers.
Why it's on here: Betcha didn't know she dealt in the thriller department, did ya? And she's good.
10. 'Breakfast at Tiffany's'
What it's about: Girl with unspecified job and a cat named "Cat" gets annoying neighbor who won't leave her alone. Something about marriage to some tycoon happens, but it's mostly about the aesthetic and people putting themselves in cages/not letting others love them. Or something.
Why it's on here: You know why.
Chelsea Peng is a writer and editor who was formerly the assistant editor at MarieClaire.com. She's also worked for The Strategist and Refinery29, and is a graduate of Northwestern University. On her tombstone, she would like a GIF of herself that's better than the one that already exists on the Internet and a free fro-yo machine. Besides frozen dairy products, she's into pirates, carbs, Balzac, and snacking so hard she has to go lie down.