The 100 Best Movies of All Time: The Ultimate Must-Watch Films
These must-watch films are essentials.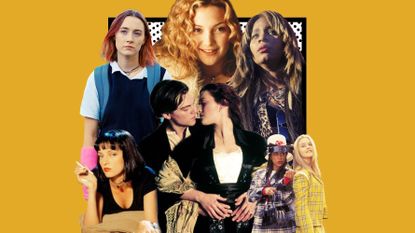 (Image credit: Alamy / A24 / Getty Images)
The popcorn's been popped, the sweatpants are on, and the evening is your oyster. Your next challenge: Figuring out exactly which of the best movies available to you is the one you're going to watch tonight. No matter what you're looking for—a rom-com, a murder mystery, a sad film, a great musical movie—there are plenty of must-watch films in your chosen genre to settle in with for the first (but probably not the last) time.
We movie lovers at Marie Claire know how time-consuming picking a great movie can be, so we did the work for you. We combed through movie rankings, critical reviews, and award nominations, and spoke to fellow pop culture fans to bring you this list of crucial must-watch films. Of course, you can expect to see well-known classic films like Casablanca and The Sound of Music on this list, in addition to movies from iconic directors like Steven Spielberg, Stanley Kubrick, and Alfred Hitchcock. But modern masterpieces like Everything Everywhere All At Once and Get Out stand up just as well and are on this list, too.
The must-watch movies below are modern classics, the best of the best, the essential films that millions of people are probably jealous that you're getting to see for the first time. They span multiple countries, languages, and decades. (A bonus: You'll also find must-know facts and exactly why each film is considered the "best.") And because pulling these movies was a hard enough task in itself, we've decided to leave this list unranked. Feel free to decide for yourself how your favorites stack up to the rest on this list, and if we've left a title off, don't yell at us too harshly. A list as subjective as this is meant to be debated, after all. Without further ado, in no particular order: The best movies of all time.
The Best Romance Movies of All Time
There are a few things you can (almost) always expect from a romance movie: a love story (duh!); attractive protagonists; and a happy ending—usually. Maybe you need to be reminded that true love is out there. Or maybe you need to show your partner what real romance looks like. Some of the movies on this list are funny, and some are the ultimate in sad romance films, but there's one thing all of these romantic films have in common: They're sure to pull on your heartstrings and make you believe in love all over again.
Casablanca (1942)
Director: Michael Curtiz
Stars: Humphrey Bogart, Ingrid Bergman, Paul Henreid
Rotten Tomatoes Score: 99%
For fans of: black and white films and worldly settings
Set in the early years of World War II in Casablanca, Rick Blaine's (Humphrey Bogart) nightclub is an oasis for refugees despite the warnings he gets from local authorities. But things get rocky when an ex-lover and her boyfriend show up, bringing with them a challenge that Rick has to face. One of the most famous classic Hollywood romance films of all time, Casablanca is a love story you won't forget.
The Notebook (2004)
Director: Nick Cassavetes
Stars: Ryan Gosling, Rachel McAdams, James Marsden
Rotten Tomatoes Score: 53%
For fans of: unwavering love stories and steamy kisses
Ryan Gosling. Rachel McAdams. An on-screen kiss that's impossible to forget. The Notebook, based on Nicholas Sparks's 1996 novel, is a must-watch for all of the hopeless romantics out there who believe they'll eventually find their way back to their one true love. "It wasn't over. It still isn't over!"
Titanic (1997)
Director: James Cameron
Stars: Leonardo DiCaprio, Kate Winslet, Billy Zane
Rotten Tomatoes Score: 87%
For fans of: tragic love stories and real-world disasters
Need we say more? If you haven't watched Titanic yet (please don't admit this out loud), do yourself a favor and stream it on Netflix immediately.
A Star Is Born (2018)
Director: Bradley Cooper
Stars: Bradley Cooper, Lady Gaga, Sam Elliot
Rotten Tomatoes Score: 90%
For fans of: musical movies and remakes
If you were alive in 2018, you most definitely heard about Bradley Cooper and Lady Gaga's on- and off-screen chemistry thanks to their roles in the hit adaptation of A Star Is Born. The movie centers on rockstar Jackson Maine (Cooper) and struggling artist Ally (Gaga) who fall in love while Maine pushes Ally into the spotlight and confronts his own demons. Make sure to have a pack of tissues handy.
Before Sunrise (1995)
Director: Richard Linklater
Stars: Ethan Hawke, Julie Delpy, Erni Mangold
Rotten Tomatoes Score: 100%
For fans of: Europe and love at first sight
In this swooningly romantic movie from Richard Linklater, Julie Delpy and Ethan Hawke play a pair of travelers—she French, he American—who have a chance meeting in Vienna and decide to spend the evening before his departing flight walking around the city and talking to one another. In 2005, the sequel Before Sunset continues the story, and then in 2015 the trilogy is wrapped up with Before Midnight. All of them are worth watching over and over.
You've Got Mail (1998)
Director: Nora Ephron
Stars: Tom Hanks, Meg Ryan, Greg Kinnear
Rotten Tomatoes Score: 69%
For fans of: online dating and rivals
The Marie Claire team is *very* passionate about You've Got Mail. Starring Tom Hanks and Meg Ryan, the 1998 drama/romance tells the story of two neighborhood bookstore rivals who absolutely hate each other in real life, then fall in love online, and well...we won't spoil the rest for you. (The good ol' AOL days.)
In the Mood for Love (2000)
Director: Kar-Wai Wong
Stars: Tony Leung Chiu Wai, Maggie Cheung, Kelly Lai Chen
Rotten Tomatoes Score: 91%
For fans of: love never realized and beautiful costumes
The elaborate costumes, the stunning visuals, and the beautiful art direction are all key features of art house movie In the Mood for Love, by Chinese director Wong Kar-Wai. And though there's sparse dialogue, sit back and prepare to be enchanted by the slow but captivating scenes of two married neighbors falling in love.
Roman Holiday (1953)
Director: William Wyler
Stars: Audrey Hepburn, Gregory Peck, Eddie Albert
Rotten Tomatoes Score: 97%
For fans of: royals and European getaways
Breakfast at Tiffany's is terrific, of course, but Audrey Hepburn won the Academy Award for her turn as a princess who ditches her schedule (and her entourage) in favor of exploring Rome, only to fall asleep on a bench and get rescued by a hunky American reporter played by Gregory Peck.
Dilwale Dulhania Le Jayenge (1995)
Director: Aditya Chopra
Stars: Shah Rukh Khan, Kajol, Amrish Puri
Rotten Tomatoes Score: 100%
For fans of: opposing families and Indian cultures
Dilwale Dulhania Le Jayenge, the highest-grossing Indian film of 1995, is an absolute delight. The Bollywood rom-com about two young star-crossed lovers who fall in love despite their parents' critiques ended up winning 10 Filmfare Awards—India's Academy Award equivalent—and changed the game forever.
When Harry Met Sally (1989)
Director: Rob Reiner
Stars: Billy Crystal, Meg Ryan, Carrie Fisher
Rotten Tomatoes Score: 91%
For fans of: fall and friends-to-lovers
If you haven't seen When Harry Met Sally, you probably know it from this famous "I'll have what she's having" scene. But it's worth seeing in full to relive Nora Ephron's groundbreaking screenwriting, plus the easy banter between America's sweetheart Meg Ryan and Billy Crystal (it kind of set the stage for modern rom-coms as we know them).
Love Jones (1997)
Director: Theodore Witcher
Stars: Larenz Tate, Nia Long, Isaiah Washington
Rotten Tomatoes Score: 80%
For fans of: Chicago and dramedies
A photographer (Nia Long) and a poet (Larenz Tate) fall in love in one of the best romance movies of all time.
The Princess Bride (1987)
Director: Rob Reiner
Stars: Cary Elwes, Robin Wright, Mandy Patinkin
Rotten Tomatoes Score: 97%
For fans of: fairytales and adventures
There are so many things packed into The Princess Bride: historical fantasy, sweeping romance, laugh-out-loud comedy, subtle satire, Robin Wright and Mandy Patinkin! If you haven't seen yet, just think of every time you've heard, "My name is Inigo Montoya. You killed my father. Prepare to die," as little nudges to watch.
Silver Linings Playbook (2012)
Director: David O. Russell
Stars: Jennifer Lawrence, Bradley Cooper, Robert DeNiro
Rotten Tomatoes Score: 92%
For fans of: football and dysfunctional relationships
What looks from the outset like a typical rom-com delves deeper into the motions of mental illness, as a bipolar man tries to reconnect with his estranged wife following his release from a psychiatric ward. He meets a recently widowed woman (Jennifer Lawrence) with her own problems, who convinces him to join a dance competition with her to help him win his wife back.
Like Water for Chocolate (1992)
Director: Alfonso Arau
Stars: Lumi Cavazos, Marco Leonardi, Regina Torné
Rotten Tomatoes Score: 87%
For fans of: magical cooking and family dynamics
This sumptuous story follows the life of a Mexican girl who's subjected to a family custom that demands she stays unmarried and take care of her mother through old age. She ends up pouring her lifetime of unfulfilled passion into her cooking, where her family literally feels her emotions while eating, thanks to a helping of magical realism.
Pride and Prejudice (2005)
Director: Joe Wright
Stars: Keira Knightley, Matthew Macfadyen, Rosamund Pike
Rotten Tomatoes Score: 87%
For fans of: Jane Austen novels and the enemies-to-lovers trope
Sure, there have been plenty of Jane Austen adaptations over the years, but not all of them have Matthew Macfadyen dreamily walking across a field at sunrise in a billowing coat. This period piece takes the cake for its beautiful scenery and in-your-face chemistry between Macfadyen and Kiera Knightley.
Moulin Rouge (2001)
Director: Baz Luhrmann
Stars: Nicole Kidman, Ewan McGregor, John Leguizamo
Rotten Tomatoes Score: 75%
For fans of: over-the-top musicals and
A little bit quirky and a little bit extravagant, Baz Luhrmann creates a visual spectacle of a musical that's still so much fun to watch, despite a sad ending. Complete with a perfect soundtrack and fairytale romance, this is a musical you can watch again and again.
Portrait of a Lady on Fire (2019)
Director: Céline Sciamma
Stars: Noémie Merlant, Adèle Haenel, Luàna Bajrami
Rotten Tomatoes Score: 97%
For fans of: Lesbian love stories and slow burns
Set in 18th-century France, a young painter named Marianne (Noémie Merlant) is commissioned to paint the wedding portrait of Héloïse (Adèle Haenel), the daughter of a French countess, only she must keep it in secret. By day, Marianne and Héloïse spend time together and eventually grow a mutual attraction, while Marianne attempts to paint Héloïse at night. Each shot of this rich period piece is like a painting itself, and the love story is so intimate to watch unfold.
Notting Hill (1999)
Director: Roger Michell
Stars: Julia Roberts, Hugh Grant, Hugh Bonneville
Rotten Tomatoes Score: 84%
For fans of: London and star-crossed lovers
Julia Roberts is just a girl—a beret-wearing, world-famous movie star, to be exact—standing in front of a boy—Hugh Grant, as a decidedly non-famous travel bookstore owner—asking him to love her. His response, of course, comes with a supersized dose of that classic, bumblingly awkward Hugh Grant charm.
The Best Comedy Movies of All Time
Sometimes, we all need a little cheering up, and what better way to do that than with a feel-good movie that makes you laugh? These comedy films are guaranteed to bring a little levity to your evening, whether it be through jokes or characters in insane situations. With typically universally relatable stories, comedy movies remind us that it's okay to poke fun at ourselves once in a while.
Ferris Bueller's Day Off (1986)
Director: John Hughes
Stars: Mathew Broderick, Alan Ruck, Mia Sara
Rotten Tomatoes Score: 81%
For fans of: playing hooky and fourth wall breaks
Every kid in high school dreamed of having a day off like Ferris Bueller's and, frankly, I still aspire to have one like his as an adult. Come for each character's hilarious antics, stay for the inevitable comparisons between Alan Ruck's character, Cameron Frye, and his current character on Succession, Connor Roy.
Mean Girls (2004)
Director: Mark Waters
Stars: Lindsay Lohan, Rachel McAdams, Tina Fey
Rotten Tomatoes Score: 84%
For fans of: teen comedies and high school clichés
No movie has ever spoofed high school culture as brilliantly as Mean Girls, whose hilarious script by Tina Fey has become iconic, bringing the phrases "so fetch," "I know, right?" and "cool mom" into our modern language. It lives on in countless memes and GIFs, even though the movie's more than 10 years old at this point.
Clueless (1995)
Director: Amy Heckerling
Stars: Alicia Silverstone, Brittany Murphy, Paul Rudd
Rotten Tomatoes Score: 81%
For fans of: Jane Austen adaptations and classic '90s movies
Cher Horowitz stole everyone's heart in the '90s as the well-intentioned Valley Girl with an enviable revolving closet who set out to prove she wasn't "just a ditz with a credit card." Inspired by Jane Austen's Emma, Clueless sees her trying to play matchmaker at school, until she gets caught up in her own love triangle.
His Girl Friday (1940)
Director: Howard Hawks
Stars: Cary Grant, Rosalind Russell, Ralph Bellamy
Rotten Tomatoes Score: 99%
For fans of: journalism and screwball comedy
Carey Grant and Rosalind Russell play a formerly married couple—he an editor, she an investigative reporter—who have to team up for one last assignment. Of course, the fact that he hired her only after finding out she was engaged to someone new might have something to do with it, but Russell is hilarious and their chemistry is bananas in this romance.
Some Like It Hot (1959)
Director: Billy Wilder
Stars: Marilyn Monroe, Jack Lemmon, Tony Curtis
Rotten Tomatoes Score: 94%
For fans of: impersonations and comedic duos
If you don't know why Miss Marilyn Monroe was and is such a big deal, take a look at this one. The film shows off her vocal chops as the lead singer of an all-girl band who dreams of wooing a millionaire. As her band travels to sunny Florida, she makes friends with two new musicians in the group, who she doesn't realize are men in disguise and on the run.
Monty Python and the Holy Grail (1975)
Director: Terry Gilliam, Terry Jones
Stars: Graham Chapman, John Cleese, Terry Gilliam
Rotten Tomatoes Score: 98%
For fans of: silly humor and cult classics
You'll never think of coconuts the same way after watching this silly British slapstick comedy set in the time of King Arthur and the fabled Round Table. God sends a group of knights on a quest to find the Holy Grail, where they encounter several nonsensical obstacles along the way—a classic Monty Python premise.
The Wedding Party (2016)