The 27 Best True Crime Documentaries and Series of 2022 (So Far)
From suburban killers to millionaire scammers.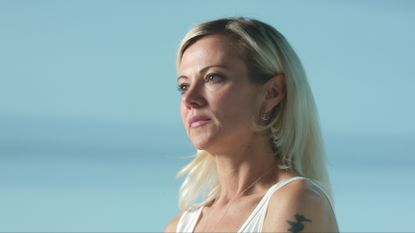 (Image credit: Netflix)
Marie Claire newsletter
Celebrity news, beauty, fashion advice, and fascinating features, delivered straight to your inbox!
Thank you for signing up to . You will receive a verification email shortly.
There was a problem. Please refresh the page and try again.
Calling all true crime aficionados: A new year means a new roster of engrossing new documentaries and scripted true-crime series to watch. As new projects are announced, we can see trends forming for what true crime themes will follow. For 2022, it's all about scams, as the stories of crimes that caught our attention years ago (the Summer of Scam (opens in new tab), anyone?) are fleshed out into series, laying out everything we now know about what went down. For everyone dying to hear the whole story of your favorite scammers, here are the 2022 true-crime documentaries and series to watch out for.
'The Puppet Master: Hunting the Ultimate Conman'
This three-part docuseries follows a conman who posed as a British spy and stole money from several victims. Though he was convicted in 2005, the crime comes full circle as a family in the present day starts fearing for their mom's safety.
Watch on Netflix (opens in new tab)
'We Need to Talk About Cosby'
This is a must-watch documentary for anyone who grew up watching Cosby as "America's Dad" before his crimes came to light. Director W. Kamau Bell shows how the disgraced comedian's crimes were happening at every stage of his career, and gives his victims the space to tell their stories.
Watch on Showtime (opens in new tab)
'Pam & Tommy'
This Emmy-nominated miniseries tells the story of Pamela Anderson and Tommy Lee's sextape, which was stolen by contractor Rand Gauthier and leaked on the early Internet. The show follows both Anderson and Gauthier's sides of the story, giving it a true-crime edge.
Watch on Hulu (opens in new tab)
'Inventing Anna'
Based on the viral The Cut (opens in new tab) article, Inventing Anna (opens in new tab) dives into the story of Anna Delvey (opens in new tab), a mysterious NYC socialite who scammed her way into a life of luxury. This scripted series from Shonda Rhimes will follow the journalistic investigation into Delvey (played by Ozark's Julia Garner) building the story of the leader of 2018's Summer of Scam.
Watch on Netflix (opens in new tab)
'Tinder Swindler'
This romance scam doc follows the victims of Shimon Hayut, a con man who wooed the women he met on Tinder into giving him hundreds of thousands of dollars, posing as a Russian oligarch called Simon Leviev. The team behind this juicy docs includes producers and director Felicity Morris from another Netflix hit, Don't F*** With Cats.
Watch on Netflix (opens in new tab)
'The Dropout'
The story of Elizabeth Holmes and Theranos has already spawned several books and an HBO Max documentary (opens in new tab). Now it's getting the scripted treatment, with Amanda Seyfried (opens in new tab) playing the tech CEO who claimed to revolutionize medical blood testing (and whose trial just ended in a guilty verdict).
Watch on Hulu (opens in new tab)
'Perfect World: A Deadly Game'
One day in 2019, a group of gamers who've played together for years wake up to group chat messages of another friend confessing to three murders. A fourth is planned, and the friends rushed to find the murderer's identity before he can kill again. Based on a Vice article, this two-part docuseries lays out the real-life events of this quadruple homicide.
Watch on Peacock (opens in new tab)
'Worst Roommate Ever'
This docuseries covers several stories of the worst roommates people have encountered, with the stories ranging from murder to fraud to squatting and intimidation. It's definitely worth the watch, whether you're fascinated by extreme fraud or just want to start learning about tenants' rights.
Watch on Netflix (opens in new tab)
'Bad Vegan: Fame. Fraud. Fugitives.'
In 2015, celebrity restauranteur and "Queen of Vegan Cuisine" Sarma Melngailis (opens in new tab) disappeared after embezzling millions of dollars from her raw-food eatery Pure Food and Wine (opens in new tab). The investigation, laid out by Vanity Fair (opens in new tab), found that she had been conned by her husband, Anthony Strangis, who convinces her that he could expand her food empire, and "make her beloved dog immortal"(?!). This Netflix docu-series will lay out how the couple went from vegan dreamers to runaway fugitives.
Watch on Netflix (opens in new tab)
'WeCrashed'
Another series about a tech company's massive rise and fall is coming in March. This drama is based on Adam Neumann (Jared Leto) and his wife Rebekah (Anne Hathaway) and their love story at the center of WeWork, the co-working giant that went from a $47 billion valuation to bankruptcy in less than two months (money is fake, etc.).
Watch on Apple TV+ (opens in new tab)
'Trust No One: The Hunt for the Crypto King'
2022 is the year Netflix dives into crypto scams with the story of Gerry Cotten's suspicious death. When his death was announced in 2018, Cotten controlled the largest cryptocurrency exchange in Canada at the time, and was the only person with access to $217 million worth of crypto, according to his widow. Crypto King follows a group of investors turned amateur detectives who think believe the couple ran away with the money.
Watch on Netflix (opens in new tab)
'The Girl from Plainville'
In 2017, Michelle Carter was found guilty of involuntary manslaughter for proding her boyfriend Conrad Roy III to kill himself when she was 17 and he was 18, primarily over text messages. This new series, starring The Great's Elle Fanning as Carter, is based on the lead up to Roy's death and the trial after, showing how the real-world events affected everyone involved.
Watch on Hulu (opens in new tab)
'Jimmy Saville: A British Horror Story'
Here's another docuseries about the rise and fall of a previously-beloved entertainer. The two-parter follows Saville, an English DJ, television, and radio personality who was discovered to have sexually abused hundreds of women and children during his time as one of Britian's biggest stars.
Watch on Netflix (opens in new tab)
'The Staircase'
The first modern-day true-crime docuseries was released in 2004, with The Staircase (opens in new tab) capturing the trial of Michael Peterson, a crime novelist from North Carolina who was accused of killing his wife Kathleen. Now, an all-star cast led by Colin Firth and Toni Collette will portray a fictionalization that spans from the weeks before Kathleen's death to the end of the media circus trial.
Watch on HBO Max (opens in new tab)
'Under the Banner of Heaven'
Adapted from Jon Krakauer's book, this miniseries depicts the gruesome 1984 killings of Brenda Wright Lafferty and her baby daughter, which shocked their Mormon town. As devout Detective Jeb Pyre (Andrew Garfield, playing a character created for the show) investigates the crime, he has to reckon with difficult questions about his own faith.
Watch on Hulu (opens in new tab)
'Gaslit'
In this Watergate-era scripted series, Julia Roberts plays Martha Mitchell, the outspoken wife of Nixon's attorney general who spoke out against the president. When she discovers that her husband John Mitchell authorized the Watergate break-in, she goes public and becomes an enemy of the administration.
Watch on Starz (opens in new tab)
'Candy'
In 1978, Texas housewife Candy Montgomery (opens in new tab) was accused and eventually acquitted of killing her friend Betty Gore with an ax. This scripted miniseries depicts the women's friendship and fatal fallout, with Jessica Biel as Montgomery and Yellowjackets (opens in new tab) star Melanie Lynskey as Gore.
Watch on Hulu (opens in new tab)
'Diamond Hands: The Legend of WallStreetBets'
In 2020, members of the sub-Reddit WallStreetBets challenged the financial industry and created a social phenomenon by betting big on GameStop. This documentary tells the story of the stock-market event in plain language and speaks to both those who got rich off their trades and those who lost it all.
Watch on Peacock (opens in new tab)
'Our Father'
This Netflix doc tells the story of Dr. Donald Cline (opens in new tab), a fertility doctor who illicitly inseminated dozens (and still counting) of women with his own sperm, and his victims' journey towards justice. Several of the women and their children lay out their discoveries of Cline's activities, and how their fight for justice has shifted their lives.
Watch on Netflix (opens in new tab)
'Keep Sweet: Pray and Obey'
This four-part docuseries follows the rise and fall of Warren Jeffs, the leader and prophet of the Fundamentalist Church of Jesus Christ of Latter-Day Saints (FLDS), who ruled over the polygamist, patriarchal community with an iron fist. In the doc, former FLDS congregants and Jeffs' victims speak out on the now-incarcerated leader's mass abuse.
Watch on Netflix (opens in new tab)
'Web of Make Believe: Death, Lies, and the Internet'
This six-part anthology series that covers crimes that come from people using digital misinformation and deception to its worst extremes, from swatting to conspiracy theorists to sextortion.
Watch on Netflix (opens in new tab)
'The Girl in the Picture'
This doc starts at the end of a life and goes backwards, as the tragic story of Suzanne Sevakis' life is investigated in the wake of her untimely death. Sevakis (a.k.a. Sharon Marshall, a.k.a. Tonya Hughes) was abducted by Franklin Delano Floyd (opens in new tab) as a child, who raised her as his daughter and later married her.
Watch on Netflix (opens in new tab)
'The Most Hated Man on the Internet'
This three-part docuseries follows the rise and fall of IsAnyoneUp.com, the site that brought revenge porn to the mainstream, and its unrepentant founder Hunter Moore (opens in new tab). It also features the site's many victims and the people who worked to bring it down, including an anti-bullying activist and a devoted mom.
Watch on Netflix (opens in new tab)
'Black Bird'
This lauded Apple TV+ miniseries depicts the true story of Jimmy Keene, a former athlete who's imprisoned to 10 years without parole for dealing cocaine. When he's convinced to obtain a confession from a alleged serial killer in exchange for getting out early, Keene has to navigate the dangers of a maximum-security prison while also gaining a killer's trust.
Watch on Apple TV+ (opens in new tab)
'Untold: The Girlfriend Who Didn't Exist'
This installment of Netflix's sports doc series tells the story of the 2013 catfishing scandal involving pro football player Manti Te'o. While he was a college player at Notre Dame, Te'o gained sympathy from sports fans nationwide when his grandmother and his girlfriend died on the same night. When the public learned that Te'o's girlfriend wasn't real, there was a huge media backlash against him, with people theorizing that he was in on the hoax. Now, nearly a decade later, the doc explains Te'o's side of the story.
Watch on Netflix (opens in new tab)
'A Friend of the Family'
True crime fans who've seen the doc Abducted in Plain Sight are familiar with the story of Jan Broberg, who was kidnapped by a friend of her family several times over a period of years. This scripted miniseries depicts the true story, with The White Lotus star Jake Lacy playing Robert 'B' Berchtold. (Jan and her mother Mary Ann serve as producers.)
Premiere: October 6 on Peacock
'Love and Death'
Love and Death is HBO's spin on the Candy Montgomery story. Produced by Nicole Kidman and David E. Kelley and starring Elizabeth Olsen, the show's sure to be an engrossing hit.
Premiere: TBD on HBO Max
Contributing Culture Editor
Quinci LeGardye is a Contributing Culture Editor who covers TV, movies, Korean entertainment, books, and pop culture. When she isn't writing or checking Twitter, she's probably watching the latest K-drama or giving a concert performance in her car.